There was a sombre mood in Brixton last night as fans flocked to a mural to remember David Bowie on the first anniversary of his death.
Brixton has become a Mecca for Bowie lovers since his death on January 10 last year, and fans of the Starman were out in small crowds on Tuesday laying flowers and tributes at the mural opposite the tube station.
An image of the Brixton-born singer's 1973 album Aladdin Sane was projected onto the iconic Bovril wall in Windrush Square until midnight, with organisers hoping for a large-scale gathering to take place outside the Ritzy Cinema at the same spot as last year.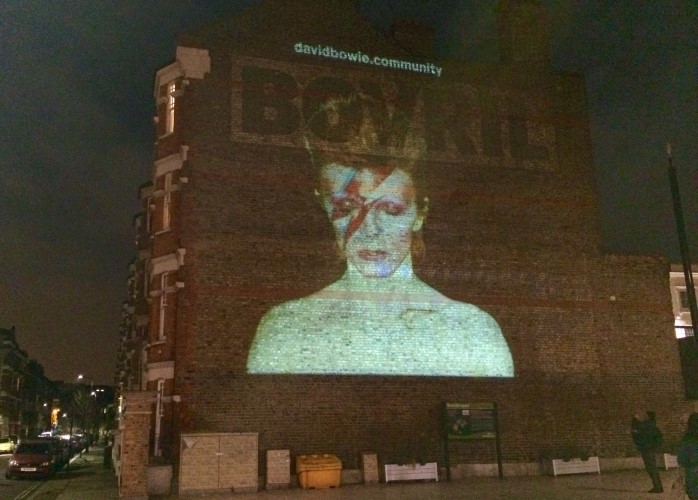 Police had to cordon off areas of the square on the night of the singer's death in 2016, as huge crowds congregated to sing songs and pay tribute to the star who died of cancer two days after releasing his last album, Blackstar.
Crowds this year weren't as big as expected, but the spirit of the Starman remained as fans recreated last year's sing-a-long at the mural next to department store Morleys.
Superfan Jess Barlow Thorpe, who organised a meet-up at on the night via Facebook, said: "Big thanks to everyone who came. I know it wasn't as huge as last year but we still had fun and celebrated David's life."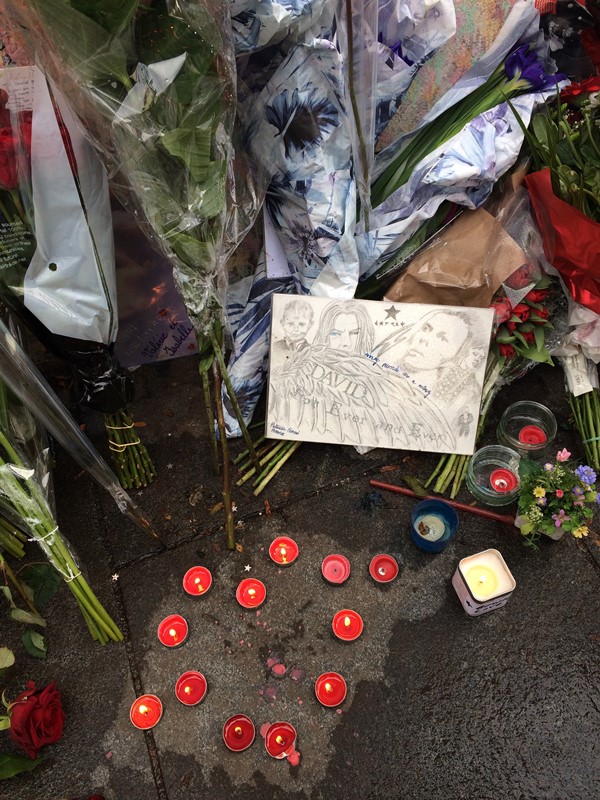 London cycling group IBikeLondon organised a free 14-mile bike ride in fancy dress from the BFI Southbank cinema in Southwark, to Brixton's Windrush Square, ending in a street party at the mural at around 10:30pm.
It's clear from fans who travelled from as far as Scotland to get to Brixton last night that celebrating Bowie's legacy will not be a once-yearly occasion for many years yet.
A new Bowie Walking Tour that launched last weekend proved popular to those making the glam rock pilgrimage to SW9 on Sunday, on what would have been the late singer's 70th birthday.
The two-hour tour tells the story of the singer's formative years growing up in south west London and how his Brixton roots paved the way to global superstardom.
Musician Nick Stephenson, who sings Bowie hits at each point of the tour, decided to set it up with his partner Kate in August last year after going on a rock 'n' roll walking tour around Camden.
Planning the launch to coincide with the singer's 70th birthday, Nick's research began in December.
Nick said: "It really was a great excuse to watch every single YouTube clip and read every book about Bowie that I could find.
"I really tried to find facts and anecdotes that people might not have heard before."
The tours will be held at 11am and 2pm every Wednesday and Thursday, and at 2pm on Sundays.
Tickets can be bought here.