Usain Bolt might not be attending this year's Brixton Bolt, but the annual event named in his honour promises to answer one burning question: who is the fastest in Brixton?
On Sunday September 14, Pope's Street will be the arena for aspiring athletes to stake a claim to that coveted title.
The event, in its third year, will see age groups ranging from under-3s to over-60s compete in a 100 metre dash for glory.
Brixton businesses are sponsoring the day which, as always, will be hard-fought. Local bragging rights are at stake after all.
Brixton Bolt project manager and 2013 gold medallist, Laurice Laird, 24, knows all about that.
The Camberwell freelance journalist was working at last year's event but ended up winning one of the races.
He said: "I went down there last year and I saw who was running and I thought, 'I can do this'.
"I borrowed my sister's shoes, I started running and I won. I was reporting and winning at the same time – it was amazing!"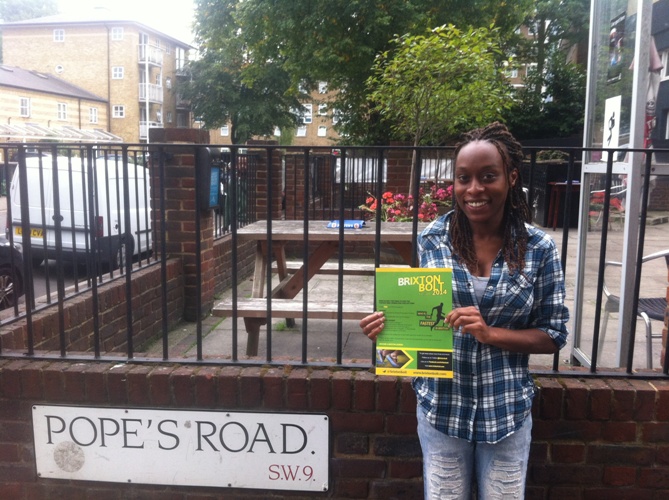 Her winning time of 15.21 seconds may take some beating but as she explained the day is more of a family event than a competition for aspiring Olympians.
"It's going to be a lot more community orientated this year," she said. "I've organised a barbecue, face-painting and there are free refreshments from Brixton Recreation Centre. We want to get a lot more people involved.
"It's just really fun. I didn't even have trainers last year and it was such a good atmosphere.
"You enjoy it as part of the crowd or participating – either way you're going to enjoy the day."
Prizes on offer range from a three-month gym membership at Brixton Recreation Centre or, for the less athletically-inclined winners, a case of lager and ten pasties. There will also be pizzas and drinks provided by the Dogstar pub.
The organisers are also hoping to encourage more female competitors down this year.
"We need to get more women involved, especially more teenage girls, because there are more men than women," said Laurice. "We do need a broad range of girls involved for the fun of it."
She won't however be defending her title this year. She said: "I thought it would be a bit unfair to run and organise. I want someone else to have the victory this time."
For anyone thinking about dusting down their running shoes, it's not too late to get involved, email to register or sign up on the day.
For more information visit http://brixtonbolt.com/ 
Featured picture courtesy of Timothy Takemoto, with thanks