Leaders of Bexley, Bromley, Harrow and Hillingdon councils are opposing the expansion of the ULEZ in their boroughs and have refuted claims made by the Mayor of London about improving air quality.
In a letter, the leaders reminded Mayor Sadiq Khan that the outer boroughs enjoy good air quality with low NOx and PM2.5 levels in comparison to central London.
Bexley, Bromley, Harrow and Hillingdon council leaders said: "The conclusion was shared by your own Integrated Impact Assessment that states 'The Proposed Scheme is estimated to have a minor (NO2) to negligible (PM2.5) beneficial impact on exposure to air pollution and achieving WHO Interim Targets across Greater London.'
"It also concluded "The Proposed Scheme is estimated to have a negligible beneficial impact on carbon emissions in Greater London.
"With such little benefit to be gained from the expansion of ULEZ, very careful consideration must be given to the adverse impacts it will have on residents and businesses, and we believe that you have failed to give sufficient weight to this."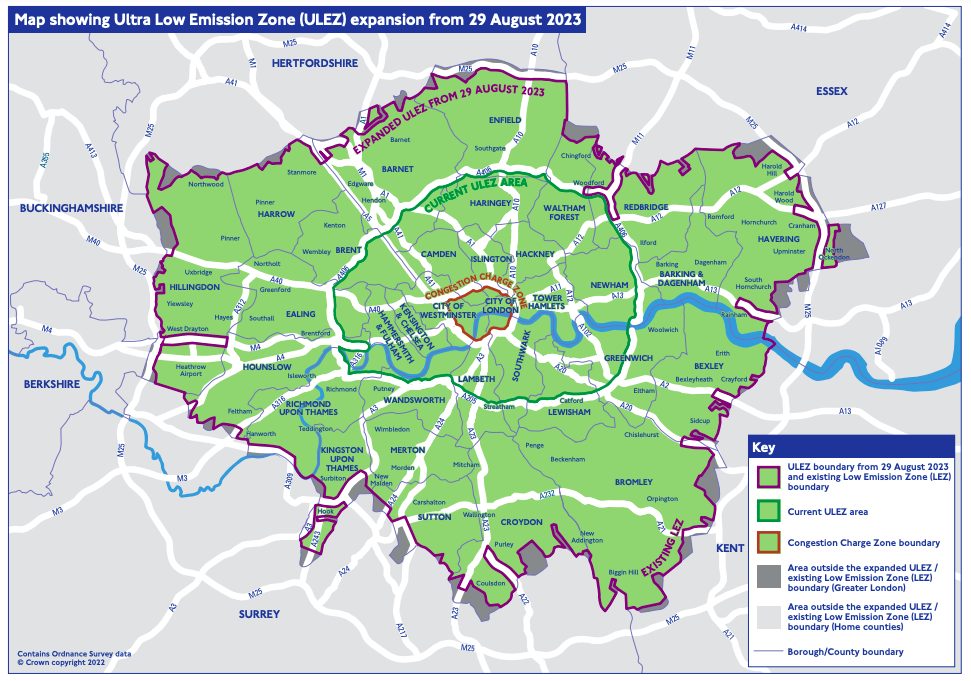 The group also opposed Khan's suggestion to use public transport instead of non-ULEZ-compliant cars and said that many elderly, disabled and low-income residents and small businesses would face numerous problems in mobility.
Some of the problems they noted were the loss of retail spending by those living outside Greater London, poorer health outcomes for people who receive domiciliary care, mobile healthcare services and/or informal care in outer London, increased costs and contraction of the local labour market due to fewer commuters entering Greater London.
The letter also said: "Based on the research paper 'Has the ultra-low emission zone in London improved air quality', Imperial College London concluded, 'ULEZ on its own was not effective in the sense that the marginal effects caused by the ULEZ on improving air quality were small, either at particular locations or averaging across London.'"
In a press release on February 10 by the London Assembly, Khan stood by his position and said: "With the majority of deaths attributable to air pollution in outer London, it's vital that we expand the ULEZ London-wide.
"As Mayor, I simply won't accept that the five million people in outer London shouldn't be able to benefit from the same life-saving health impacts that ULEZ has already brought to the rest of our city. Everyone has the right to breathe clean air."
Khan's office has been contacted for comment.
Featured image credit: David Hawgood via Attribution-ShareAlike 2.0 Generic (CC BY-SA 2.0)