Wimbledon residents were left frustrated after last night's CrossRail 2 consultation evening left the majority of people with more questions than answers.
The public meeting, organised by MP Stephen Hammond, gave residents, businesses and housing associations the chance to voice their views to CrossRail 2's Head of Scheme Development Sarah Johnson, and Transport for London colleagues.
Residential and business areas of Queen Street have been highlighted as possible future construction sites for CrossRail2, including Queens Court Care Home, where Shaaron Caratella is the manager.
"There's a lot of talk about what's happening to Centre Court, but nothing about the care home I manage," she told the panel.
"I have 41 vulnerable people who live there and they may be in the last phase of their life. What do you suggest I tell them?"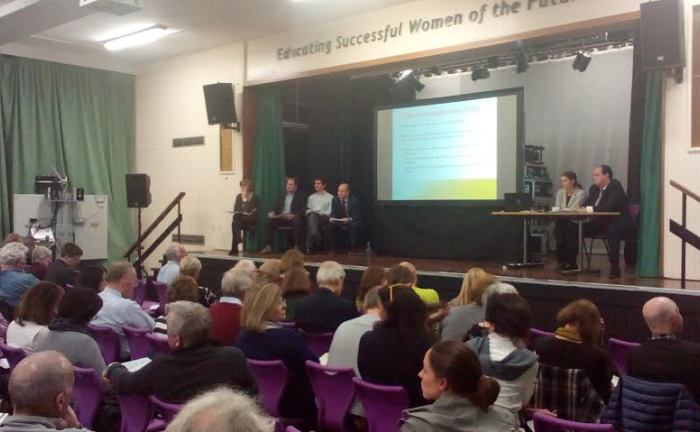 PANEL: Stephen Hammond (far right) chaired the consultation, beside Sarah Johnson

But chairman of Wimbledon Residents' Association, Peter Hirsch, was among those feeling underwhelmed after the two-hour Q+A session.
He said: "I'm leaving here a bit disappointed to be honest.
"There are a lot of unknowns and a lot of people are quite rightly saying that CrossRail will eventually have a benefit, but that won't be for at least another 15 years – following ten years of hell!
"Couldn't it be done with less disruption? I personally don't think they've looked carefully enough about the use of space within the station."
It is thought CrossRail 2, should it go ahead, would not become operational until 2030, and the early stages of the process left many questions unanswerable at the evening at Ricards Lodge High School.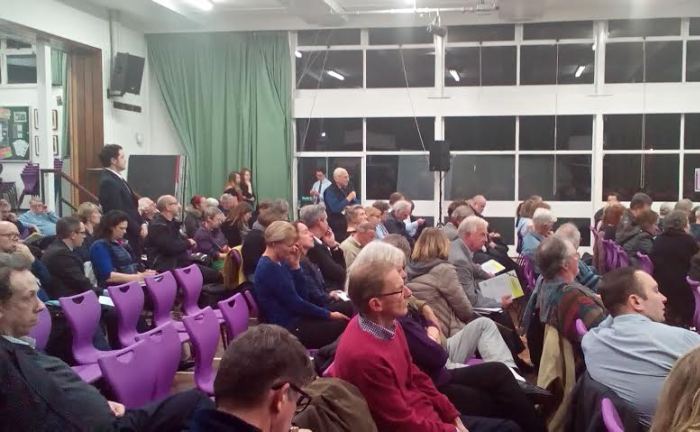 LOOKING FOR ANSWERS: A resident of Hartfield Crescent (centre) puts a question to the panel
While it left some feeling unfulfilled, others praised the TfL representatives for taking the time out to respond to people's queries.
Claire Evans, of Worple Road, said: "It's good that they've come to talk to us tonight.
"Some people I've spoken to have said they haven't heard enough, but if the details haven't been sorted, then what can they do?"
One of the proposed changes would involve a new entrance to Wimbledon Station via Queen Road, while as much as 65% of Centre Court shopping centre could be forced to give way.
While this issue is likely to impact on younger generations, another Wimbledon homeowner, who wished to remain nameless, highlighted the lack of young people present at the consultation, questioning whether CrossRail are doing enough to inform the public of the propositions.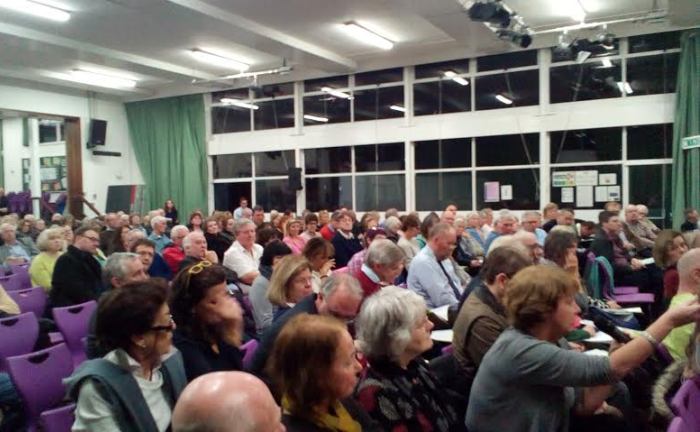 FULL HOUSE: More than 200 people attended the public consultation

He said: "Just look around you. The average age of the people in this room is higher than 50.
"It's those people who this will affect, this is a project that is going to effect the next generation.
"A number of people are concerned that word isn't getting around, so there may need to be other ideas to get the younger people – perhaps in schools – engaged with this."
MP for Wimbledon MrHammond, who himself has expressed his objection to some of the ideas for CrossRail, felt the occasion was beneficial to voice ideas, opinions and strategies transparent between all parties.
"I feel it's very important that local residents have their chance to ask as many questions as they want," he said.
"I think that we'll need to run other open sessions to get more of the detail, which wasn't able to be given this time, to be made known, but I was delighted that over 200 people on a cold night in December bothered to come out and ask questions.
"I am concerned at this stage that there is not enough detail for anyone to make a really sensible opinion, so it's really vital that people take part in these consultations.
Despite the lack of positive feedback from the audience, CrossRail followed up Mr Hammond's claims, reaffirming that the process remains in its early stages and further developments will once again come through public consultations.
Sarah Johnson said: "We're still in the early stages of this scheme, and the consultation remains open until January 8.
"It really does make a difference. This idea will continue to develop, and that feedback is so vital for that to be able to happen."
Featured picture courtesy of Ryan Taylor, with thanks