A woman was left with a head wound on Saturday following a Betfred shop sign falling on top of her.
The betting shop has now launched a full investigation into the incident that occurred just after 12.30pm on London Road, Twickenham.
Emergency service personnel treated the woman at the scene. Her condition remains unknown.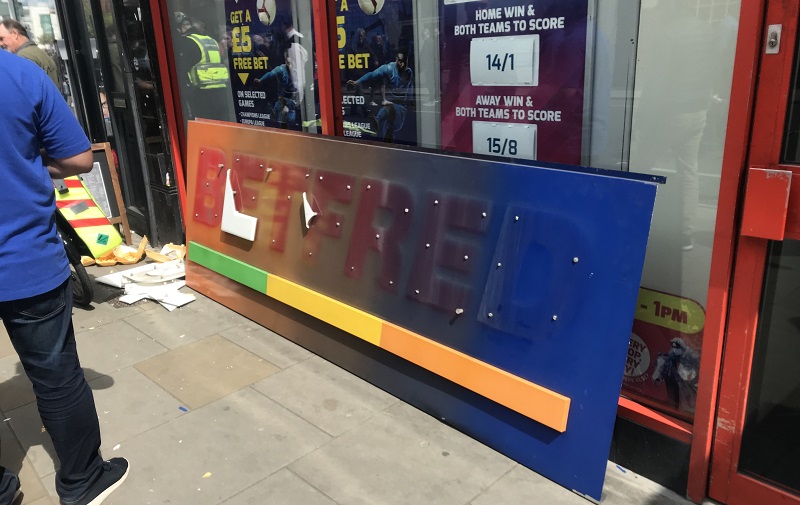 FALLEN: The sign fell from the shopfront and letters also came off.
Eye witness William Dodd, 23, said: "I was outside the shop and saw a man grappling with a fallen sign that had struck a woman on the head. She was on the floor receiving treatment.
"The victim was sitting down and looked to be distressed.
"There was quite a lot of blood.
"It was bonkers. It's not the kind of thing you expect to see on your lunch break."
Fragments of the display sign's letters remained intact with the rest having fallen off during the incident.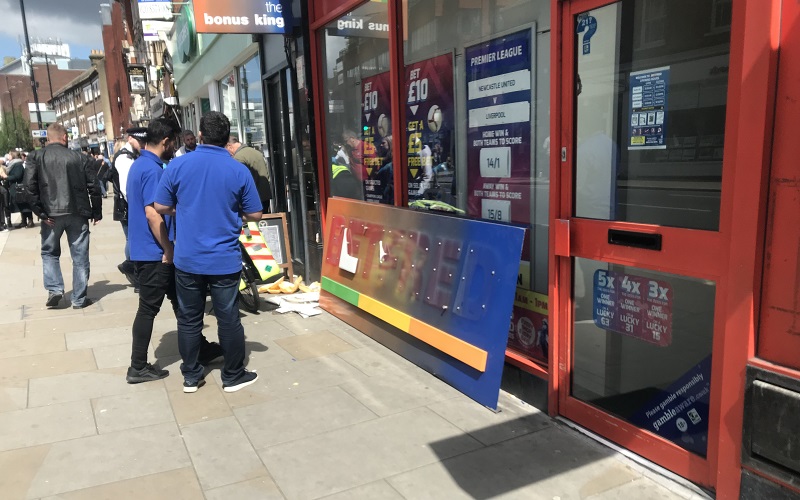 INVESTIGATION: Betfred are looking in to the incident at their Twickenham store.
Mr Dodd said that the police arrived around two minutes later, while a Betfred employee tried to sort out the sign.
He added: "There were lots of witnesses, it was a very busy road. At least 10 people were directly on the scene."
The remaining half of the sign was removed following the incident.
A Betfred spokesman said: "We are in contact with those involved and we have launched a full investigation."
Thousands of rugby spectators flooded into Twickenham town centre on Saturday to watch the annual match between the British Army and Royal Navy.