The Green Party have released what could be the funniest Party Election Broadcast of all time depicting top politicians, including Mayoral candidates Zac Goldsmith and Sadiq Khan, as squabbling school children.
The #GrownUpPolitics video has been viewed more than 300,000 times since it was uploaded as the party take an obvious swipe at Westminster politicians.
The three-minute clip features a toddler Boris Johnson standing atop a climbing frame exclaiming "I'm prime minister!" much to the dissatisfaction of his peers gathered below.
Meanwhile, a pint-sized George Osborne watches on with a miffed expression brandishing a mini red lunch box who says he will be the next prime minister with his 'long-term lega-monic plan'.
"I'm not getting involved in this," a diddy David Cameron says, "No ifs and no buts".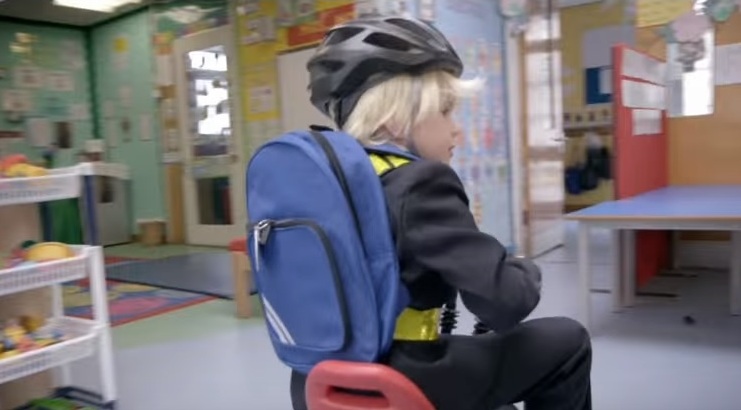 BABY BORIS: A mini Mayor of London zooms into school on his trike
The tiny PM throws a tantrum in the playground by kicking over some plant pots in a clear nod to the controversy over fracking.
A teeny Theresa May is seen shown trying to kick non-EU citizens – or stuffed animals in this scenario – out of the country before becoming apoplectic with rage.
"Are you still here?" she quizzes a stuffed elephant. "I don't think you've got enough money to stay here!" she says before lobbing a stuffed dog out of the room.
Hats off Green Party. PPB is brilliant (though they should have been brave enough to do without drearyspeak at end) https://t.co/DHKaQg16nz

— ALASTAIR CAMPBELL (@campbellclaret) April 6, 2016
Alastair Campbell, Tony Blair's former spin doctor, heartily endorsed the parody even though it was just as barbed when addressing the Labour in-fighting.
Leader of the opposition Jeremy Corbyn chairs a crisis meeting in the nursery with a defiant little Liz Kendall whose adult counterpart saw the funny side, after he discovers a note which reads 'Jeremy wears silly clothes' in the toilets.
"Everybody's saying bad things about me and it has to stop," he complains. As he leaves the room, another sign stuck to his back reads 'kick me out'.
I SWEAR I didn't do it, Seamus, you can check my handwriting and everything… pic.twitter.com/TkPCCNF158

— Liz Kendall (@leicesterliz) April 6, 2016
Mini mayoral candidates Sadiq Khan and Zac Goldsmith are shown arguing in the sandpit about the housing crisis ahead of next month's London elections.
A diminutive Jeremy Hunt hides from junior doctors behind a wendy house, while a despondent Tim Farron sits alone with nobody to play with complaining Nick Clegg 'ruined everything'.
"It was Nick's fault," a glum Tim Farron says. "He got really friendly with David and then David lied to him and stitched him up."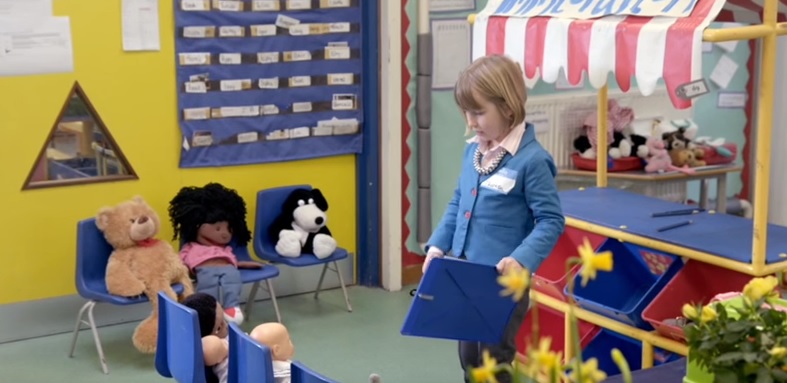 PRESCHOOL POLICY: A tiny Theresa May deports her toys
At the end of the footage, the party make a pitch for votes for grown-up politics.
"This political infighting isn't helping anyone. And while the other parties throw around insults we've been working hard for you," says
"We are a party that believes in an economy that gives everyone their fair share.
The Greens have a history of mocking British politics with their video content. Just last year in the run up to the general elections uploaded a clip portraying politicians as boyband members which now has nearly 1million views.
Images from The Green Party of England and Wales via Youtube, with thanks