Churches across south west London are working with a charity to tackle homelessness during the winter months.
St Michael's Church in Southfields is one of seven churches in the Wandsworth 'circuit' to support Glass Door, a London-based charity which operates across the capital.
As the nights get colder, the charity houses hundreds of homeless people every week, while also providing them with a warming evening meal.
Liz Burrell, head of social action at St Michael's Church, said: "There are lots of people who haven't got anywhere to stay. We want to feed and give shelter to people who don't have that."
"We have space for 35 people, 30 men and 5 women. We can feed them and sleep them in separate rooms," she added.
Shortly before it opened as a shelter, the Church was a hub of activity. A team of volunteers were busy chopping vegetables, cooking sausages and arranging the tables.
"If you were in that position yourself, you would want to know there were people there to help," said volunteer Aidan Elliott, who was helping to co-ordinate the evening.
"Homelessness has gotten more and more prevalent," he added, "If the churches don't do this, you wonder who would?"
A recent study by Shelter reflected the growing issue of homelessness in the capital. Among several findings, the report outlined how one in 52 Londoners are homeless.
Abiola Dada, a co-ordinator for Glass Door, said: "The aim of working with people who are homeless, out in the cold, is to help move them forward into stable accommodation which is suitable for them."
Accordingly, the charity runs drop in centres throughout the week, with the Ace of Clubs serving as the Wandsworth circuit's venue.
Here, homeless people can wash, clean their clothes and seek support from Glass Door's team of case workers.
"As civilised as the country has become, you still see homeless people being beaten up and being treated with suspicion," said Ms Dada.
"Just acknowledging that homeless people are human beings would go a long way."
This need for empathy is shared by Ms Burrell, who is proud that St Michael's is active in the community.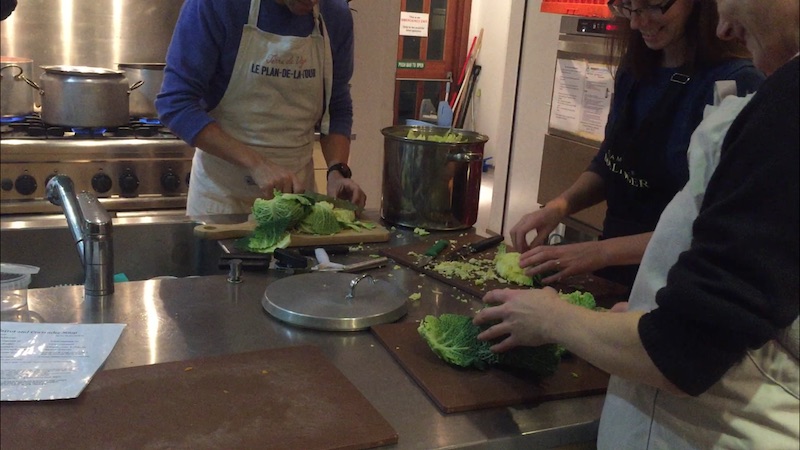 HELP AND SERVE: Volunteers prepare food for those in need of a warm meal.
As well as their work with Glass Door, St. Michael's runs a food bank and community lunch every week.
"As Christians we are called to help and serve our communities. Not just opening the Church on a Sunday, but opening the building to those who need support," she said.
"That's very much what we're about here," she added.