Every primary school pupil in Hammersmith and Fulham will be offered a free breakfast from September.
The council will also be the first in England and Wales to launch a pilot scheme to deliver free lunches in two secondary schools.
The free school lunches will start in January 2020 and be offered to pupils at Fulham College Boys' School and Woodlane High School as part of a four-year pilot programme.
Leader of the London Borough of Hammersmith & Fulham Council Councillor Stephen Cowan said: "It's appalling that children are still going to school hungry in one of the world's wealthiest capitals.
"We must put an end to that. Our schools are now the frontline in our war against hunger."
The scheme will be paid for entirely by community contributions as the council will charge extra to those applying for planning permission to fund the scheme.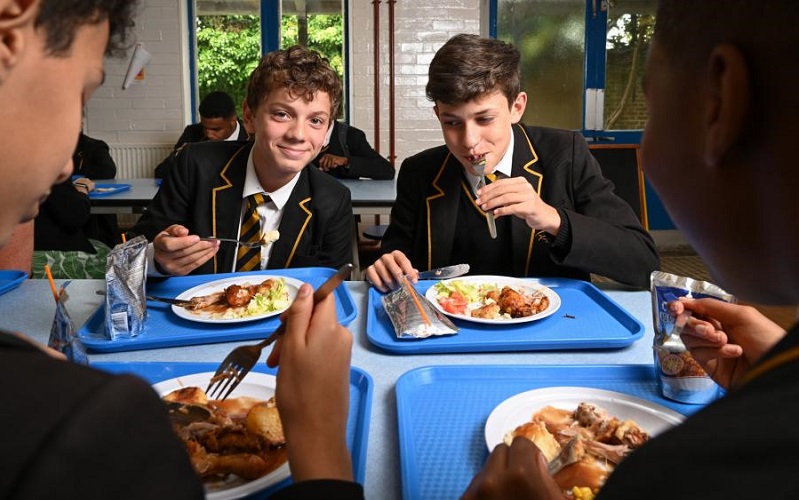 EAT UP: Students at Fulham College Boys' School will enjoy free lunches from 2020.
Hammersmith & Fulham's new universal breakfast and pilot lunch schemes are part of the council's new approach to tackle food poverty.
The council says it is working with schools, volunteer organisations and local part of a key aim in the council's Industrial Strategy to harness the areas economic prosperity.
Headteacher at St Paul's CE Primary School in Hammersmith Claire Fletcher said: "I welcome H&F's commitment to tackle the very real issue of food poverty.
"I look forward to working closely to create the most innovative and effective solutions to this problem, ensuring that no child in H&F starts or ends the school day feeling hungry."
The £3.7 million breakfast scheme means Hammersmith and Fulham will now fund all primary schools who provide school breakfast clubs to make them free to parents.
Headteacher at Fulham College Boys' School Sally Brooks added: "The impact of free school lunches for our students – especially those who are disadvantaged – will be immeasurable.
"Providing the boys with a nutritious meal will not only allow them to compete in an academic environment but will also give them the nutrition needed to go above and beyond what is required of them at school and actively participate in extra-curricular activities."
A free breakfast club offer could save a struggling family £380 per year for every child in primary school. The new breakfast funding from Hammersmith and Fulham could also save every primary school £5,700 a year.
Headteacher at Woodlane High School in White City Claire Maynard agreed: "We're delighted to be part of H&F's efforts to tackle child poverty. The pilot means our most vulnerable pupils can always gain a hot, nutritious meal without stigma.
"While it is widely known that hunger can impact on progress, attainment and behaviour, the impact on families is likely to prove a significant boost in challenging financial times."
Kellogg Foundation research shows that, according to teachers, if a child arrives at school hungry they lose one hour of learning time a day.