More than 100 black taxi drivers brought Parliament Square to a standstill in protest against decisions to make some London streets accessible to buses and bikes only.
The plans put forward by individual boroughs are supported by TFL and mayor Sadiq Khan and include the £35million scheme to ban cars, lorries and black cabs from Tottenham Court Road.
The cabbies gathered together to send a message to TFL who they say have not considered either the taxi drivers or their customers when developing the plans.
Independent Taxi Alliance (ITA) spokesman SeanPaul Day said: "The blame lies with TFL. They have a strategy and the mayor has the mayor's transport strategy and taxis are being left out."
The cabbies have been protesting every Monday, Wednesday and Friday between 1pm and 4pm for more than seven weeks and plan to continue until something changes.
An on-duty policeman at the scene confirmed the cabbies are very well behaved and are fully complying with relevant laws.
The plans in question would see major through roads such as Tottenham Court Road and Tooley Street at London Bridge open only to buses and bikes between 8am and 7pm Monday to Saturday.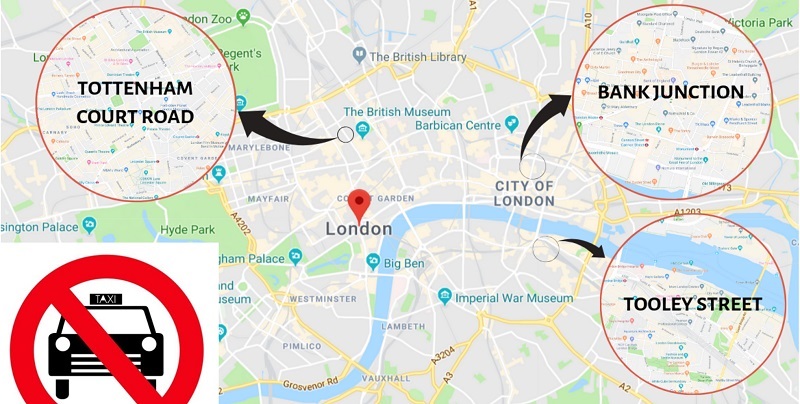 Similar schemes were recently introduced at Judd Street in King's Cross and Bank junction in the city much to the disdain of the ITA and other black cab groups.
Mr Day thinks TFL are working towards a mini Holland cycle haven and believes ultimately it is the taxi passengers who suffer as a result.
Sam Monck, TfL's Head of Network Sponsorship, said: "The Mayor's Healthy Streets programme is making London safer, more attractive, accessible and people-friendly, enabling Londoners and visitors to walk, shop and enjoy their streets.
"The Euston Road junction with Judd Street and Midland Road is one of the most dangerous on our road network.
"The improvements we've made with Camden will significantly reduce road danger for people in the area by providing improvements to pedestrian crossings.
"The junction works also connect to cycle routes in the area and will enable people to cycle safely from King's Cross to Elephant and Castle, along CS6, and assist pedestrians at this junction through simplifying it.
"These vital schemes will reduce danger to the most vulnerable road users and will help to clean up our toxic air."