Stroke survivors are being helped on the road to recovery with a therapeutic horticultural programme funded by Wandsworth CCG.
The 12-week Battersea Park programme is run by charity Thrive and uses gardening to bring positive changes to the lives of people living with disabilities or ill health after a stroke.
The initiative focuses on improving mobility, dexterity, communication and muscle strength – all things that can be affected greatly for those who have suffered from a stroke.
Thrive volunteer Katharine Reid said: "It helps so much. When people first join they struggle with movement, but they become a lot more communicative and able."
Patients with a Wandsworth GP now have the opportunity to be referred to the programme, where activities such as digging and planting have been proved to help increase their strength.
Not only does it help people physically, but the course also offers a social environment for those struggling to adjust to life after a stroke.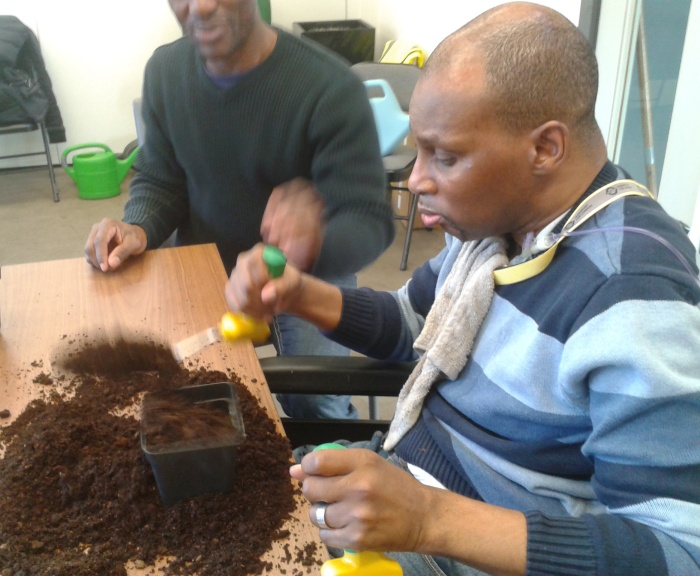 ROAD TO RECOVERY: One patient gets stuck into gardening at Battersea Park
"It really is a great atmosphere and so much fun – even for the volunteers," explained Katharine.
"There's definitely a social aspect to it. People can come and talk with each other."
In Wandsworth around 380 people suffer from strokes each year, with nearly 3,000 living in the borough who have previously experienced the condition.
The CCG approached Thrive when their Life After Stroke group identified that staying active and social was necessary for patients, even after initial medical rehabilitation was completed.
"As a GP I know that getting out, interacting socially, being active and engaging with tasks are all things that can help promote wellbeing for patients," said Clinical Lead at NHS Wandsworth CCG Dr Lauren Bloch.
"I am always looking for services that will help people to do these things, and I really feel that the Thrive project can help to fill the gap and get people making those first efforts in a supportive and enjoyable way."
Thrive has also launched a Healthy Hearts programme this month which aims to help people who have suffered from, or are at risk of, a cardiac event.
It encourages a healthy lifestyle, incorporating walks around the park into a weekly gardening routine.
Regional Centre Coordinator for Thrive, Ellen Swygart, said: "It's all about getting people with heart problems or potential heart problems to keep active and healthy."
If you or someone you know is interested in the programme, call 020 7720 2212 or email [email protected]