Activists set up a pop-up solar park complete with giant inflatable sun outside Westminster this week calling on the government with the phrase 'don't steal our sunshine'.  
Around 30 campaigners from 10:10 Climate Action were joined by members of the public on Wednesday to open a 'pop-up' solar installation to object to government plans to cut the export tariff on solar panels.
The export tariff pays solar panel owners to export the clean energy they do not use in their homes to the national grid, allowing them to profit from their initial investment in solar panels.
But the government plans to scrap this tariff from March 2019, meaning new investors in solar energy will receive no financial benefit for energy used by the national grid – which 10:10 describes as 'daylight robbery'.
Leo Murray, director of strategy at 10:10 Climate Action, said: "We are in a better position than some countries like the United States. At least the Conservatives acknowledge the climate change science and the need for action.
"But they don't seem to be able to enact any policies that are commensurate with the threat, and meanwhile they keep doing things that make it worse."

The group gathered in the Old Palace Yard, directly opposite Parliament and beneath the imposing statute of King George V.
One of the campaigners, Quentin Given, sported a bright yellow jacket and came out of the way from his work in Tottenham to support the demonstration.
He said: "Climate change is a massive emergency and we should be foot to the floor doing everything we can to cut our carbon emissions. Solar is an important way we can do that, and the government is really messing things up.
"The changes to the tariffs are massively reducing the amount of solar being installed which is certainly not what we should be doing, so I hope this protest makes a difference."
Each holding up a solar panel and clearly noticeable under the 10ft inflatable yellow sun, campaigners argued that cutting the tariff will mean fewer investments in solar panels in the future, resulting in the collapse of the solar installation industry and more carbon emissions.
Protesters were joined for a quick photo opportunity by Antoinette Sandbach and Tim Loughton, Conservative MPs who support the campaign.
They snipped a bright pink ribbon to open up the solar park before rushing off to a busy day in Westminster.
Ms Sandbach said: "The latest data shows renewables now contribute a record 31.7% of our electricity, up from just 5% in 2010. Now is the time for Government to double down on our renewable future and put in place a plan for solar that is forward-looking and fair.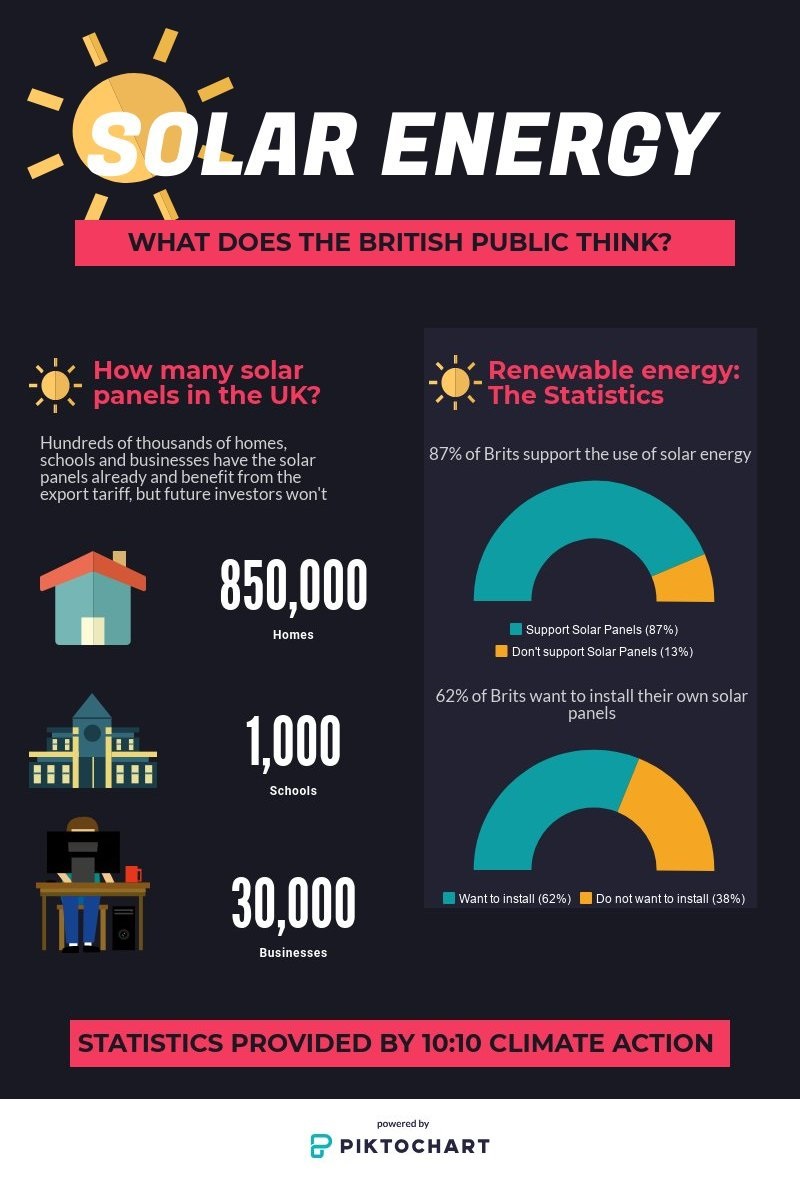 "This government has a good track record protecting the environment and I hope that they will keep this up by rethinking the abolition of the export tariff."
After the Houses of Parliament, the protestors moved to the Department for Business, Energy and Industrial Strategy, along with their inflatable ball, for an additional photo opportunity.
Lisa, a physics student at Imperial College London, said: "We learn so much about renewables energy and solar power.
"The fact that the government is taking steps back goes against everything that we are being taught and things that we want to do in the future. So I think it is important to support it from an educational standpoint as well."
Freya, another student, added: "There is no incentive for normal people to get solar panels off their own back anymore. You have to have so much more money now to be able to go ahead and buy them whereas previously you did have the incentive which made it worth it."
There are 850,000 homes in the UK using solar energy, and 85% of local authorities already have the technology. It is feared that cuts will threaten existing owners, as well as deterring future owners.
Neil Jones, project manager at 10:10 Climate Action, said: "Future solar householders and communities just want fair treatment – it is absurd to expect them to give excess power away for free – and calls into question the government's commitment to clean energy."