Redemption Roasters is helping young offenders rehabilitate back in to society after leaving prison and hoping to reduce the high rates of reoffending.
In 2016 the Ministry of Justice asked coffee wholesalers Ted Rosner and Max Dubiel if they would be interested in setting up a barista academy within a prison with the aim of reducing reoffending.
Ministry of Justice statistics show that prisoners are 50% more likely to re-offend if they leave prison without skills and a job, so Redemption Roasters is there to help bridge that gap.
Mr Dubiel added that 76% of offenders re-offend within one year of being released.
"It is a really shocking statistic and we didn't know this until we got involved," he said.
Since setting up a roastery and training facility at Aylesbury's young offender institution in April 2017, Redemption Roasters has helped 21 young offenders by training them up to be professional baristas.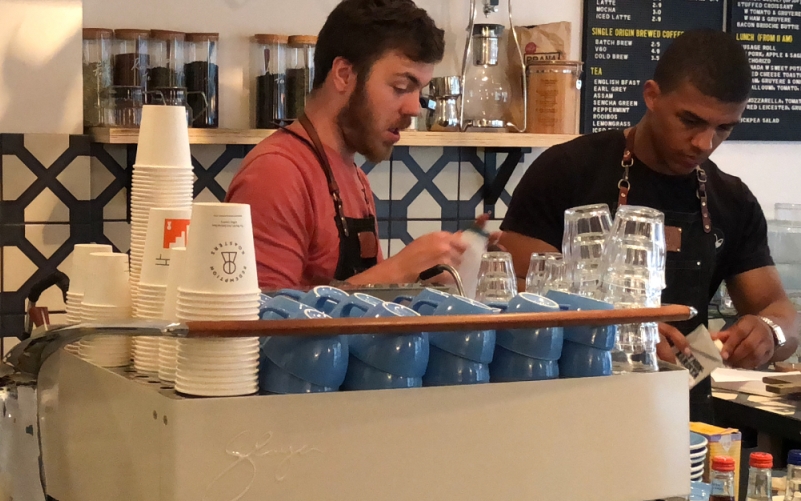 Mr Dubiel said: "To be frank it was a little bit of a shot in the dark for us, we thought it probably wouldn't come about as we were meeting with the Ministry and the wheels turn very slowly there.
"But actually, once we saw how much interest there was in initiatives that would work in a prison from a small enterprise perspective, we thought there was real potential.
"So rather than just offering them training, we thought let's offer them a proper roastery in a prison and build a story around training offenders to be baristas.
"Ted and I didn't sit down to say how can we address this negative state? It was the other way around.
"We already had a business that was commercially viable and then we realised there was something here that would do good, and make our business more interesting and stand out."
Redemption Roasters has two coffee shops in central London with another store and kiosk opening by the end of the year.
It is also working alongside Milton Keynes College to provide Redemption Roaster barista academies at HMP Springhill and HMP Bullingdon.
You can find Redemption Roasters coffee in the following south west London cafes: Battersea Market Cafe, Out of the Brew, Social Pantry, Louis Louis, and Perlant & Press.