A Kingston musician has been left heartbroken after his beloved dog was snatched outside Wholefoods store in Clapham Junction on Sunday evening.
Conn Kennedy, 59, is often seen busking outside Clapham Junction station with his black and white staffie, Queenie, by his side.
Mascot to his band, Music's Fool, two-year-old Queenie has gained hundreds of fans in her own right.
The duo have become a comfortingly, familiar sight to commuters and daytrippers passing through Europe's busiest train station.
But now the spot where Queenie once stood loyally by her owner's side is replaced with a forlorn sign reading, '£1000 reward, find Queenie'.
On Sunday August 28 at 9:17pm, Conn tied Queenie outside Wholefoods in Clapham Junction as he went inside to buy her some dog food.
"It was a split second decision to leave her there. I couldn't take her inside, and I needed to get her some food," Conn said.
"I was in there for less than a couple of minutes, but now I realise that's all it takes for a thief. As I was paying at the till I heard a man shout, 'whose dog is that outside?'
"I looked up surprised, raised my arm and replied, 'that dog is mine'. He turned to me and grinned then replied 'okay!' before turning around and walking calmly out of the store.
"That grin is imprinted on my memory."
At this point, two of the staff went outside to see Queenie while Conn gathered his things, and reported that the man was gone and Queenie was still there.
Conn thanked the staff, and no more than twenty seconds had passed between the staff coming back inside the store and Conn leaving Wholefoods before he went outside and discovered that Queenie was nowhere to be seen.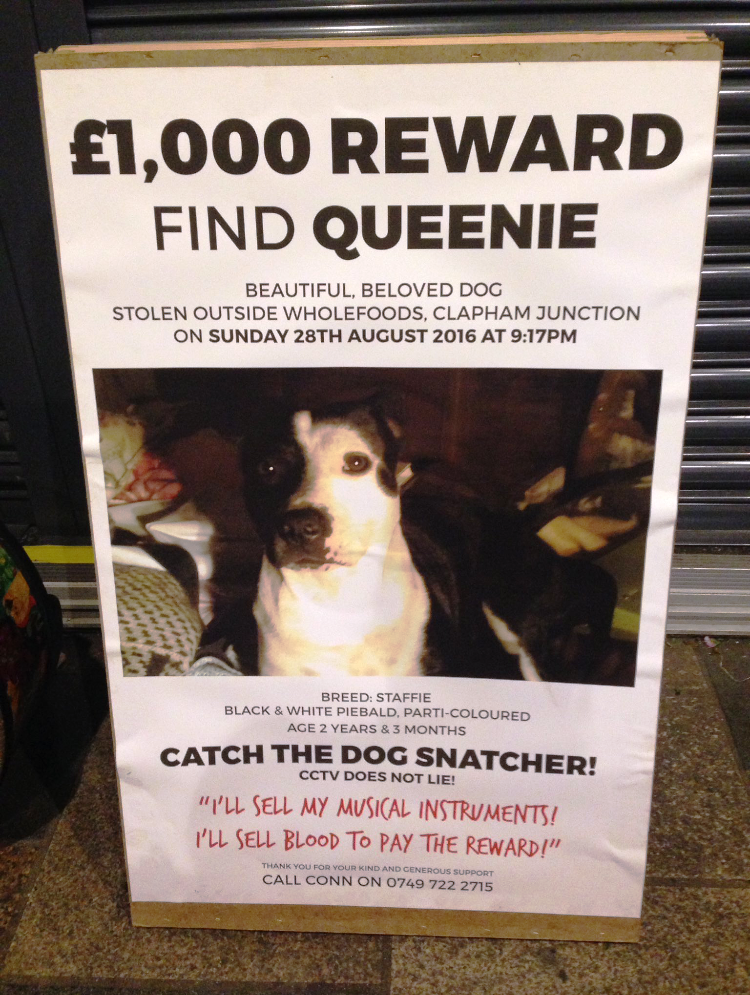 It is believed the man inside the shop may have valuable information as to the whereabouts of Queenie.
Conn estimates the man he spoke to was about 5'10" tall, white, and spoke with a south or east London accent.
CCTV footage is currently being observed and is due to be released at the beginning of next week.
It is thought that the theft has been caught on camera, and Conn is waiting for police to provide permission for it to be passed on to third parties in the hope that the image can be circulated.
Conn has owned Queenie since she was an eight-month-old puppy, since a fellow musician asked him to take care of her as she was not allowed to own a dog where she lived.
Initially reluctant to own a dog due to legislation around pets not being allowed in certain areas such as shops and bars, Conn quickly fell for Queenie and her energetic, loving nature.
The two became best of friends, and Queenie was always by her owner's side.
She spent her days outside with him for around seven or eight hours each day, and slept in his bedroom at night.
"I never had children, but Queenie is my daughter. I love her like a child," he said.
Following a 'deafening silence' in response to the theft, Conn has plans to leave some of Queenie's toys and bedding around south west London, in the hope that she will smell them from a distance and make her way home.
"I walk around in a dream now, but when I sleep, that's no rest for me – I have nightmares. It's mental torture wondering what's happening to Queenie and where she might be," he said.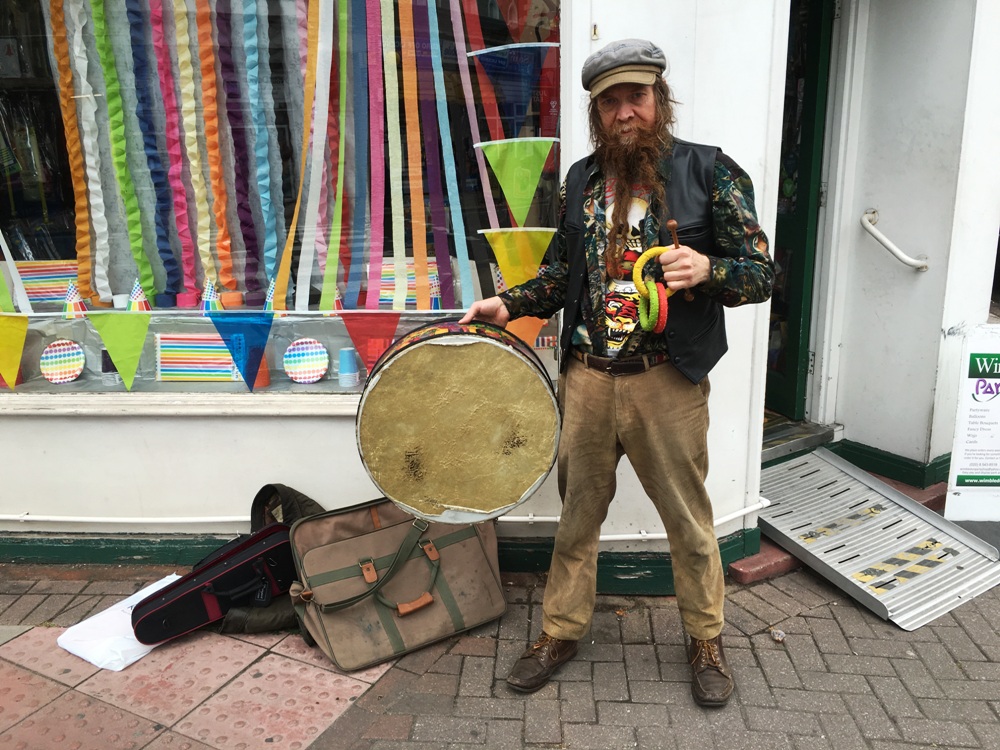 CONN WITH QUEENIE'S TOYS: He's desperate to be reunited with his beloved dog
What concerns Conn most is that pet theft is not a recognised crime in the UK, even after figures have risen by 22% in the last two years alone.
Gareth Johnson, Conservative MP in Kent, has openly called for pet theft to be a specifically recognised crime, with emotional distress to be taken into account in the courts.
Conn strongly backs this notion, suggesting that more MPs should campaign for such changes to legislation.
Conn is offering a £1000 reward for the safe return of Queenie, and is reliant on public support to help him be reunited with her once again.
He said: "I would be prepared to hand over this reward even if she came back to me in the hands of the thief."