World-leading animal welfare charity Battersea has launched virtual training sessions to combat dogs' separation anxiety as lockdown restrictions lift after a tough year.
The one-off classes, conducted via Zoom, are for dogs aged five to 18 months to support them with owners going back to work, and other post-lockdown changes, such as regular socialisation with people, strangers, and other dogs.
Battersea's Canine Behaviour and Training Manager, Rob Bays, warns there is a generation of lockdown puppies who could struggle with the adjustment to normal, pre-pandemic lifestyles.
He said: "Our dogs will have quickly got used to having us around all day so, when we now start to spend more time away from home again, our dogs are going to miss our constant presence."
This year has held unique challenges for animal rescue charities across the UK.
Last year a survey by the Association of Cats and Dogs Homes (UK and ROI), of which Battersea is a member, found that 60% of 99 homes surveyed had reduced staff, 85% had fewer volunteers, and 57% noted their income had halved due to the pandemic.
Bays, a Battersea employee of seven years, added: "Battersea managed thanks to an incredible army of foster carers and matching suitable rescue pets with prospective owners.
"I love being able to give animals that have had a challenging start a second chance."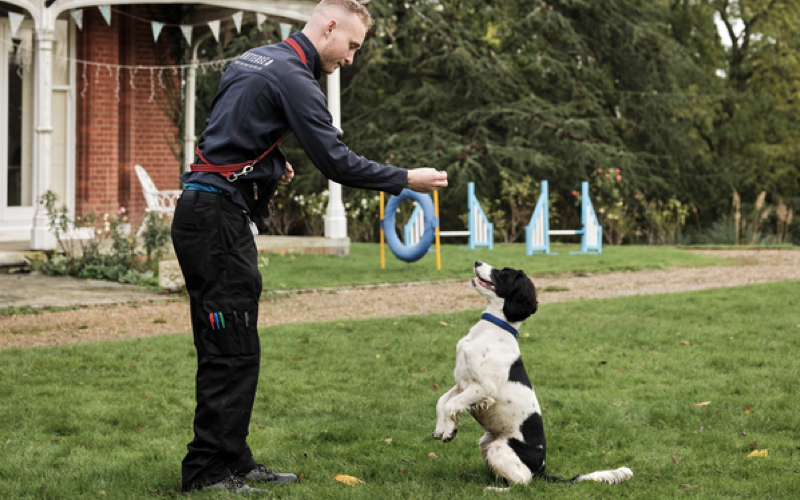 Though demand for dogs has surged over the pandemic, there is concern that new owners might struggle once lockdown lifts.
Bays said: "Fortunately, we've not yet seen an influx of animals being abandoned, but we are prepared if it does begin to happen.
"We know there are so many reasons why people can no longer care for their pets, so if someone has to make the unfortunate decision to bring their pet to a rescue centre, we want them to know Battersea will never judge them.
"It's always more responsible to hand the care of your pet over to a rescue centre than to abandon it or sell it online."
For more information and pet advice, and for Battersea's online training classes, visit the website.
Featured image credit: Battersea Press Office