A "silent majority" favour Lambeth Council's proposal for new controversial traffic restrictions in Streatham Wells despite loud criticism, a community group has claimed.
Streatham Wells residents are currently in a consultation period with Lambeth Council following the council's proposal to implement a Low Traffic Neighbourhood (LTN) in spring.
The LTN would see seven traffic filters close roads to cars and motorbikes and the creation of three bus gates to allow buses, blue badge passes and emergency vehicles to drive within some areas of Streatham Wells.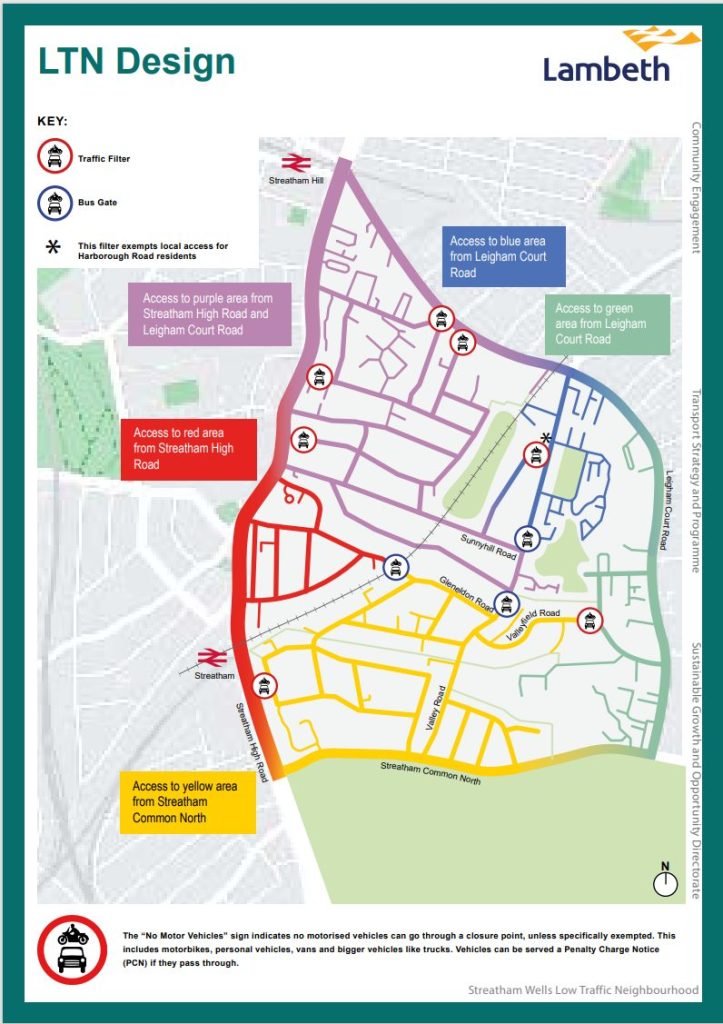 Alex Yedigaroff, an IT consultant for the public sector and representative of Liveable Streatham Wells, a community group working together for a safer, healthier community said: "We have been campaigning on this matter for nearly five years now, and there is a silent majority for the LTN.
"I think it is important that the debate doesn't get drowned out by the loudest voices.
"As a group, we are very enthusiastic about the proposal.
"Streatham Wells has been blighted by heavy volumes of traffic for many years now and it has been getting worse and worse for the last 10 years.
"I'd ask the opponents of the LTN to give the trial a chance.
"We have seen lots of hypotheses across the hundreds of LTNs already implemented across the country and they have had very different results.
"It will affect me personally, but with the LTN there are trade offs, the trade off for having more pleasant safe streets is worth it for some journeys having to be made another way."
Many residents were angry with Lambeth Council, alleging their voices would not be heard in the plans.
Community group Streatham Action held a heated meeting with more than 300 people and councillors about the council's proposal for the planned restrictions at St. Peter's Church on Leigham Court Road on 7 December.
A vote taken at the end of the evening made clear that more than 90% of those in attendance felt the council had not consulted them about the proposed LTN.
Following this meeting, the council extended the design stage consultation period until Sunday 8th January.
Streatham Action have created a petition calling for the council to pause the Streatham Wells LTN once the design stage consultation ends to allow time for all residents and businesses to vote on the planned road closures.
Neil Salt, starter of the petition and vice-chair of Streatham Action said: "Streatham Action is playing a straight bat on this.
"One of our key objectives is to provide a voice for the people of Streatham and to reflect their aspirations and concerns and this is what we're doing with the Streatham Wells LTN.
"The petition will let us truly know what the residents of Streatham Wells think."
The petition raised concern about the impact the Streatham Hill LTN, introduced in 2020, has had on Leigham Court Road traffic, which has increased by currently +19% and initially +26% according to council data.
The petition also expressed concern about the consequent high pollution levels in places, which it alleges would increase further if a Streatham Wells LTN is implemented with Leigham Court Road as one of its boundary roads.
A Lambeth Council spokesperson said: "Since 2021, the council has been engaging with communities in Streatham about the Streatham Wells low traffic neighbourhood both in person as well as conducting online surveys.
"Our survey, sent out to residents, features a range of questions about the proposed improvements and traffic filters to make sure the designs help tackle the inherent inequalities on our streets and in our neighbourhoods.
"These inequalities are the very reasons that make our streets inaccessible for people with mobility difficulties and, for those who cannot afford to own and run a car."
Data from Lambeth Council found 60% of Lambeth residents do not have access to a car.
You can find out more information about the Streatham Wells LTN here.
Featured Image Credit: Lambeth Council