A Fulham charity which supports the elderly was awarded with the Queen's Award for Voluntary Service last month.
The Fulham Good Neighbour Service (FGNS), established more than half a century ago, supports around 500 people over 60 across Fulham every year with around 80 volunteers.
The charity helps to tackle loneliness by providing free services to older, disabled and housebound people so they can remain in their own home and keep their independence.
FGNS director Chris Mikata-Pralat said: "I am very pleased that the hard work of our volunteers since 1966 has been recognised in this way.
"Our volunteers make Fulham a community where neighbours care and look out for each other and I am immensely proud of them."
The charity is financially supported by Hammersmith and Fulham Council and offers a variety of support including gardening and decorating for residents with limited mobility and befriending.
It also runs the Good Neighbour Scheme with practical support such as DIY and basic IT teaching skills.
The charity organises social clubs including art groups, shared reading groups to listen to poems and stories, and Sunday afternoon tea.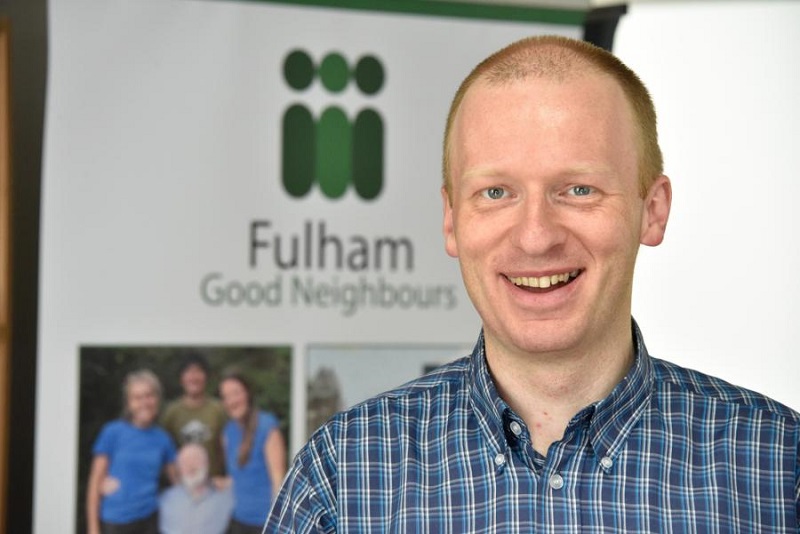 PROUD: Director Chris Mikata-Pralat is pleased the work of the charity has been recognised
Deputy leader of H&F Council Councillor Sue Fennimore said: "This is a richly deserved honour for one of the most active, compassionate groups in our borough.
"Some volunteers have been helping for decades, but Fulham Good Neighbour also does a great job attracting new helpers each year – offering fresh skills and new vigour to such a worthwhile cause."
Many visitors who attend the charity have said it has helped to improve the quality of their lives.
One of the visitors said: "Belonging to Good Neighbour has enabled me to meet new people and make friends and enjoy activities. I also attend the chair exercise which helps with mobility."
Visitor Yvonne Plant said: "Since joining FGNS I have made many new friends. I really enjoy the lunch club which encourages me to get out more. Without FGNS I would be stuck at home, on my own most of the time."
FGNS volunteer Judith Stafford said: "Volunteering for FGNS gives me the opportunity to be involved with the local community, meet a variety of lovely people, and I enjoy helping those who need some assistance."
Another volunteer said: "It makes a huge difference for people at a time in their lives when they have no one to turn to for support, advice, and especially in a crisis or when they are feeling lonely and abandoned. It is a great joy to see older people in a comfortable and supportive environment."
Mr Mikata-Pralat said he is always keen to hear from new volunteers. For more information visit the website.
Images from Hammersmith and Fulham Council, with thanks.