A Richmond project aimed at finding homes for Syrian refugees is celebrating a successful year after housing six families in the borough.
Refugees Welcome in Richmond (RWinR) launched a fresh appeal last month to find private-let properties for Syrians on the Vulnerable Person Resettlement Scheme (VPRS).
RWinR has now housed six refugee families in total, including 12 adults and 15 children, with the support of private property owners who agree to rent their homes via the council.
Volunteer housing officer Simone Webster said: "In Richmond, given the shortage of social housing, the scheme relies upon finding private landlords willing to rent a self-contained home to a refugee family at housing benefit rates."
RWinR are just over half way towards meeting the government's target of 50 individuals resettled per local authority across the UK by 2020.
The first three families were housed between from 2016 to 2018 and a further three families were housed this year.
The VPRS was set up by the Government in the wake of the death of Syrian toddler Alan Turbi, who was found washed up on a Mediterranean beach in 2015.
The scheme aims to resettle around 20,000 vulnerable people from the refugee camps on the boarder of Syria by 2020.
The VPRS has received cross-party support in Richmond upon Thames and both MPs for the borough are fully committed to their work.
MP Zac Goldsmith said: "Refugees Welcome in Richmond does hugely valuable work helping vulnerable people displaced by the conflict in Syria. I very much support their initiative to identify accommodation so that refugee families can find safety in our borough."
Sir Vince Cable MP said: "I fully support the work of Refugees Welcome in Richmond to support refugees in our borough and in particular their drive to find homes for vulnerable families fleeing the violence in Syria."
Mrs Webster said: "We rely totally upon the goodwill of local authorities, who assume responsibility for finding housing and supporting the families when they arrive in England."
She added: "We have been working tirelessly alongside the council to search for suitable homes and also have a dual aim to offer friendship and support to refugee families."
A refugee family can only be accepted onto this scheme by the Home Office if a home is available for them.
Landlords will receive benefits including payment of rent and council tax from the date the property is accepted for the scheme, and an upfront incentive payment of £2,500-£3,500, depending on the number of bedrooms.
They will also receive long-term standard Assured Shorthand Tenancy Agreements of 2-5 years, with the council as guarantor.
Mrs Webster said: "The families all come from different parts of Syria, but all have tales to tell of homes destroyed, loved ones killed, families dispersed and lives lived in limbo in refugee camps.
"All are beyond grateful for the chance to start a new life in safety and all are thriving in their new environment."
She added: "It has been wonderful to see how our original three families have rallied round to welcome the three new families, offering practical support and friendship as well as comforting home-cooked Syrian food and hospitality."
RWinR has been inundated with generous offers from the community including furniture and household equipment.
Mrs Webster said: "One couple who were downsizing offered a whole houseful of beautiful, good quality furniture. Through the donations and efforts of local people, the properties have been transformed into comfortable, well-equipped family homes."
A mother of one of the families told the RWinR: "My children get so excited when I tell them our RWinR visitor is coming to visit; we have no family here, so she is like an aunt to them."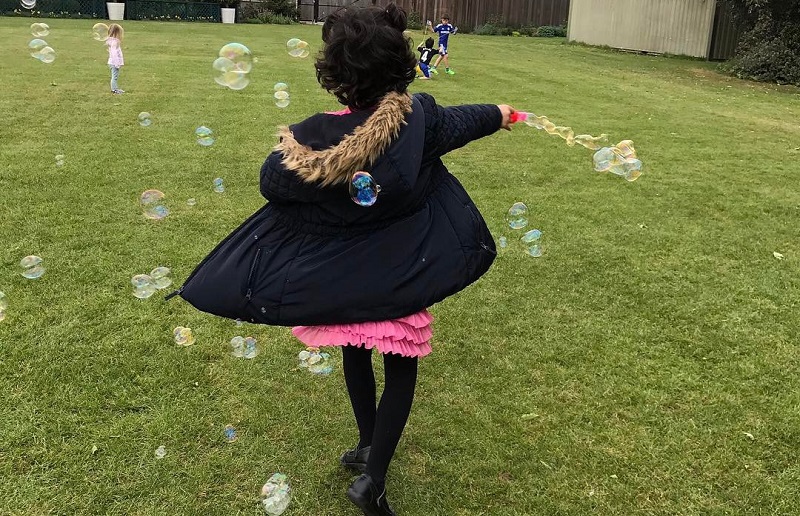 GOOD TIMES: a picnic event for volunteers and refugee families at Strawberry Hill. Image credit: Refugees Welcome in Richmond
Mrs Webster said council liaison officers are responsible for introducing them to their new home and providing intensive practical support.
RWinR also offer practical support, including practice in spoken English, providing clothing and toys and holding events including picnics and coffee morning to promote integration within the community.
Visit the website for more information or email RWinR [email protected]