A six-year-old boy with cerebral palsy who has been trapped inside his Tooting home will finally get the wheelchair he needs next month.
Jack Callaby has been without the necessary specialist wheelchair for around six months but with the help of the Newlife charity he will get some of his independence back.
The charity has helped to pay for the £2,940 specialist wheelchair in order to help Jack and the family gain some freedom, as the six year old who can only crawl is forced to stay at home without the required help.
Jack's mum, Amy Callaby, said: "It's great we will be able to get out and about more than we ever have before, we will be able to walk to school, go to the park, drive around the garden and the battery lasts longer.
"Newlife have been amazing – they helped us originally four years ago to get the double buggy and now they have helped again."
The wheelchair, which will arrive on August 12, will help Jack feel more independent and have more of an enjoyable school experience.
The previous wheelchair Jack had meant he was accompanied by an adult at all times and this restricted his ability to do things on his own which was difficult for both Jack and the family.
Mrs Callaby said: "Jack was very frustrated, he wanted independence and at school kids don't usually want to play with someone who has adults around them."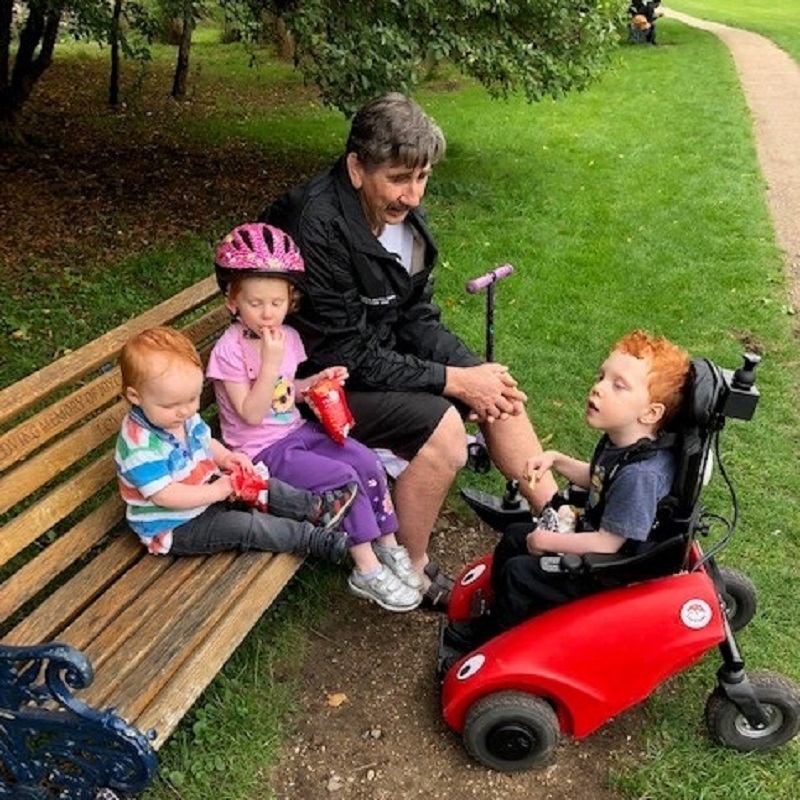 OUT AND ABOUT: Jack was able to use his old wheelchair to enjoy family outings with dad, Mark, brother, Luke, and sister, Chloe.
The news of the new wheelchair came this week and it will last him until he is 12 years old which hopefully signals the end of Jack's time having to be spent indoors.
Mrs Callaby said: "We have all been trapped at home with no way to safely take Jack outside. It's particularly stressful when the weather is good, he can't go out and play like other children.
"Jack's too big for me to carry and his dad, Mark, has severe osteoarthritis in both hips and has recently had his first hip replacement – so it's impossible for him to lift him."
Jack is starting at reception next school year, and Mrs Callaby has said the more suitable disabled facilities coupled with the specialist wheelchair will help Jack's integration into the school environment.
Mrs Callaby said "There will always be barriers in life for Jack because he has cerebral palsy, but with the right equipment it's possible to overcome them – that's all any parent wants for their child!"
The tireless work of both the Callabys and everyone at Newlife has meant that in August Jack and his family will be able to enjoy the school summer holidays outside of their house in Tooting. Help can be given to families like the Callabys through newlife's work here.