HRH The Duke of York reviewed 19 Chelsea Pensioners receiving the Legion d'honneur at the 323rd Founders Day celebration of the Royal Hospital Chelsea yesterday.
It was bestowed to those who served on D-Day and beyond for their efforts towards the liberation of France.
The award, France's highest military and civil distinction, was presented by French Ambassador HE Sylvie Bermann at the start of the day's proceedings.
"Living as we do in a Europe at peace, we must not stop remembering the heroes of June 1944 and later, said HE Sylvie Bermann.
"In presenting the Chelsea Pensioners with France's highest honour today, we demonstrate our immense respect and gratitude to them for the role they played in securing our freedom over 70 years ago."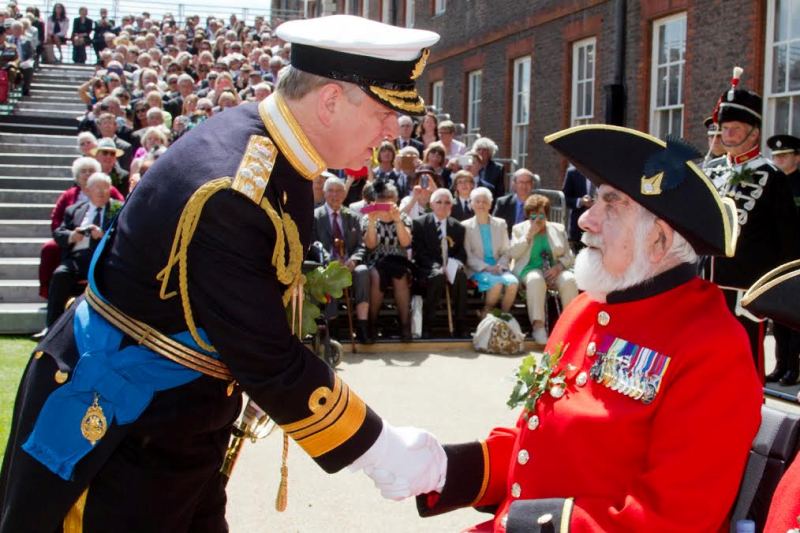 Governor of the Royal Hospital Chelsea, General Sir Redmond Watt, said: "It was a special moment in the history of this remarkable institution that we will remember with pride."
The Royal Hopsital Chelsea Founder's Day, known as Oak Apple Day is always held on a day close to the birthday of its founder King Charles II (May 29).
He wanted to provide a home for 'the relief of veterans broken by age or war' and today the site is home to more than 300 former soldiers of the British Army.
Designed by Sir Christopher Wren, and opened in 1629, the Royal Hospital aims to provide residents with a home, comradeship and the highest standards of care during their advanced years, in recognition of their loyal services to the nation.
The Oak reference commemorates the escape of the future king after he hid in an oak tree following the Battle of Worcester, to avoid capture by parliamentary forces.
Current residents include veterans from WWII, Borneo, Korea, The Falklands, Northern Ireland and Palestine.