Summary:
Over a third of staff picketed the Brixton, Vauxhall and Clapham sites.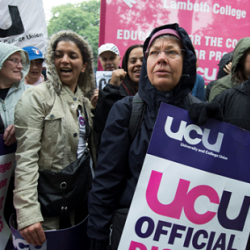 Lambeth faces some of the worst strike action ever seen by a London college after University and College Union (UCU) members went on indefinite strike yesterday.
Over a third of Lambeth College's teaching staff picketed the Brixton, Vauxhall and Clapham sites and say they will continue to do so until the dispute involving contracts for new employees is resolved.
The contract for new staff sees annual leave decreased from 60 to 50 days, an increase in teaching time and a reduction in sick pay.
In May an injunction was taken out by the college to stop an indefinite strike but a recent ballot of union members saw 89% voting in favor of further action.
UCU regional official Una O'Brien said: "The strikers have vowed not to return to work until their increasingly bitter dispute over the erosion of terms and conditions is resolved.
"The college's management has shown no signs that they will sit down with us and try and resolve this through negotiation.
"Opting to challenge members' democratic wishes to take action through the courts has just hardened their resolve and turned our protests into an indefinite strike. The time has come for serious negotiations."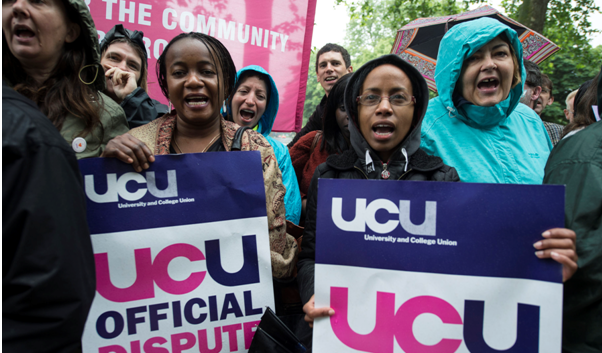 Despite the picketers all three of the college's sites are open as normal as most students have finished or are coming to the end of their courses.
Principal Mark Silverman expressed that he thought the strike was 'unnecessary and wholly irresponsible' and that it was time for the college to change.
"We need to make Lambeth College fit- for-purpose and the new contract is about shifting us to what is normal.
"We are running a number of different courses and many of our students need us to be here 52 weeks of the years," said Mark.
The college had financial deficits of £4.1m in 2012/13 and £3.5m in 2013/14 and Mr Silverman insists that the new contracts are vital to ensuring the future of the institution.
He said: "We have become clearly focused on delivering and improving life opportunities for our learners. 
"We still have a long way to go and remain in a challenging financial position.  It is unfortunate therefore that we have found ourselves constantly blocked by UCU when introducing measures to make change or modernise our operating culture.
"If the College is unable to modernise there will be job losses and, in the worst case scenario, if our financial position cannot be improved, the college could be forced to close."
Follow us @SW_Londoner