Rodent-infested housing and tenant neglect in Wandsworth have prompted a petition for action by residents.
Nightingale Square is meant to provide temporary shelter for people at risk of homelessness in the wait for permanent housing and although the average wait is two years, some say they are forced to stay in temporary accommodation for as long as four years.
One resident, who wished to remain anonymous, described prison-like conditions, rodent infestation and overcrowding.
"It's like being incarcerated," she said. "It's carnage."
A spokesperson for Wandsworth Council said the building had recently undergone a £3m refurbishment and provided 'vastly superior' accommodation to other options such as hotels and bed and breakfasts.
The gates allowing cars into the square are said to be locked at 4pm daily, meaning parents collecting children from school must use on-street parking and carry shopping long distances.
James French, 18, moved into a Nightingale Square flat with his partner and their newborn baby in autumn last year.
He said: "It was a mess. There were mice droppings and holes in skirting boards."
He said the family of three were provided with only a single bed and an oven, and they had to borrow money to buy a bed, cot and essential white goods when they first moved in.
Mr French said he also had to buy an electric heater to keep his family warm when he says the council failed to act promptly, and claimed unsafe plug sockets were left for two weeks without action, creating a safety hazard for their six-month-old daughter Amber.
He will now have to work seven days a week to cover debts incurred from furnishing the flat, but he is determined to provide for his family.
He said: "You just have to live life and get on with it."
Residents in desperate circumstances, including seeking refuge from abusive homes, reported waiting several months before being placed in Nightingale Square, where they were met with problems of a different nature.
Kashmala Azad, who lives with her working husband and 19-month-old son, runs a call centre from home, but has to travel across London to her mother's house every day so she can work because she says her flat has no internet.
Mrs Azad believes she is lucky to have 'one of the best flats in the square' as they only had to deal with fungus when they moved in, but understands other flats are much worse.
She said: "I have heard neighbours shouting to each other 'shut the door! There's a mouse!'"
She said the family pay £113 per week for their small one bed flat in addition to bills and council tax.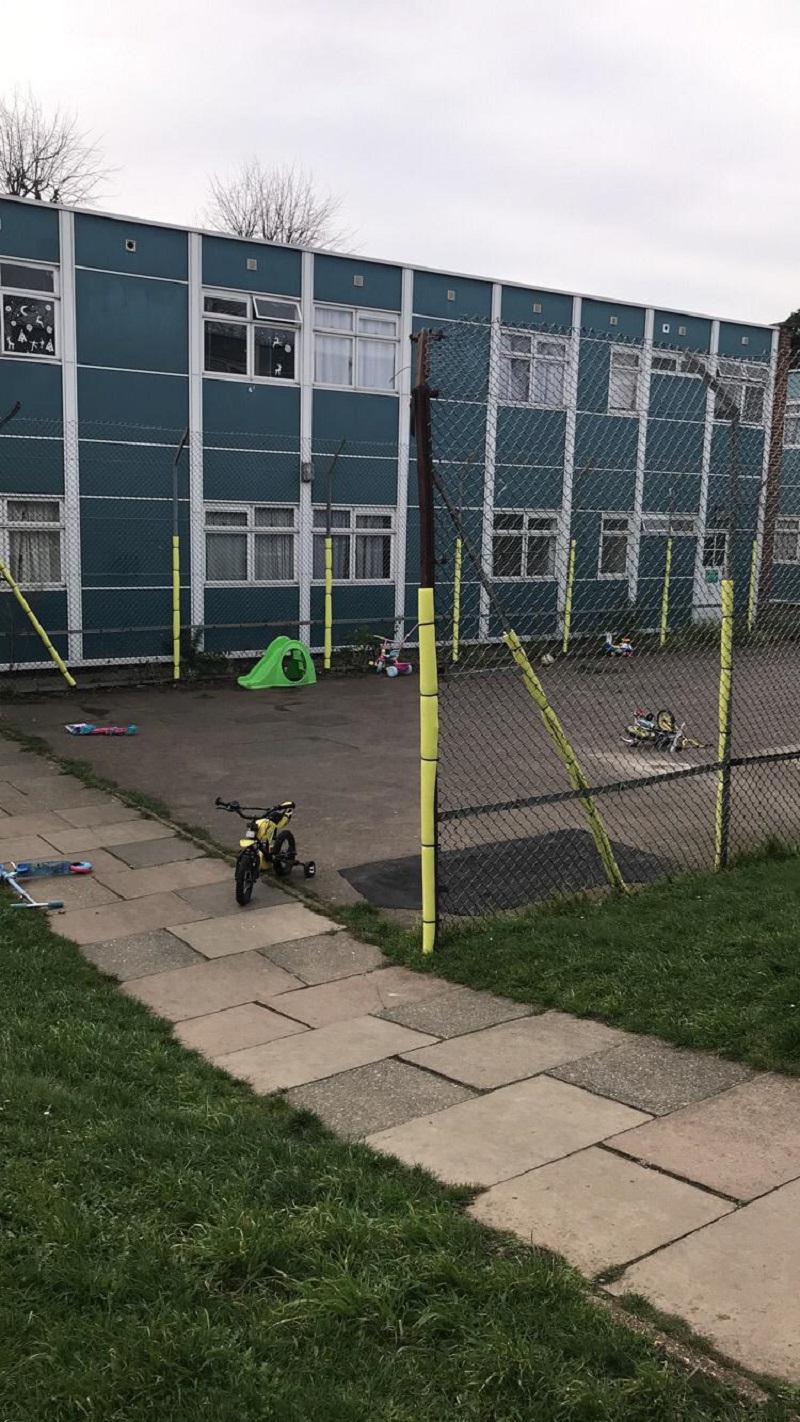 PRISON-LIKE: One resident has described the accommodation as 'like being incarcerated'.
One resident on universal credit, who wished to remain anonymous, said she has to rely on local food banks to feed her and her young daughter because of the high cost of rent and bills, which she says are triple what she paid at her previous accommodation.
She said that with cramped living spaces and no suitable outdoor space, television connection or broadband, she, like many parents, has to buy expensive mobile phone data to keep her daughter entertained.
"At the end of the month, I have nothing," she said.
She said that when they moved in they were greeted by rat droppings and cockroaches in the kitchen, no hot water tap, and a broken extractor fan that had caused a build up of mould in the bathroom.
Residents set up a petition on change.org to push the council into action, and are being assisted by their local MP, Rosena Allin-Khan.
A spokesperson for Miss Allin-Khan stated the council are aware of issues, which have been going on for many years and appear to be taking steps for action.
A Wandsworth Council spokesperson said: "Nightingale Square has been used since the 1950s to provide safe and secure accommodation for homeless families with younger children. It provides temporary homes to 92 families while they await permanent offers of a place to live.
"It is vastly superior to other temporary accommodation options such as hotels or bed and breakfast.
"It recently underwent a £3m upgrade to provide residents with their own self-contained flats so they no longer have to share communal bathrooms and we are currently spending a six figure sum improving the heating system and drawing up plans to use some vacant space there to provide more housing to support other homeless families."
Photographs by Malachi Butt.