An enormous adult-sized ball pool doesn't just appear overnight.
In fact the infamous ball pit at the offices of a Hammersmith branding agency has been a whopping two years in the making.
The pit, which is made up of 81,000 balls filling one of the office rooms, was the brainchild of Senior Creative Strategist at Pearlfisher Jack Hart who pitched the idea back in November 2012.
Logistics meant the initiative could only come to life this Christmas and it was a cold December morning when a truck full of plastic white balls arrived at the Pearlfisher offices, much to the surprise of most of the staff.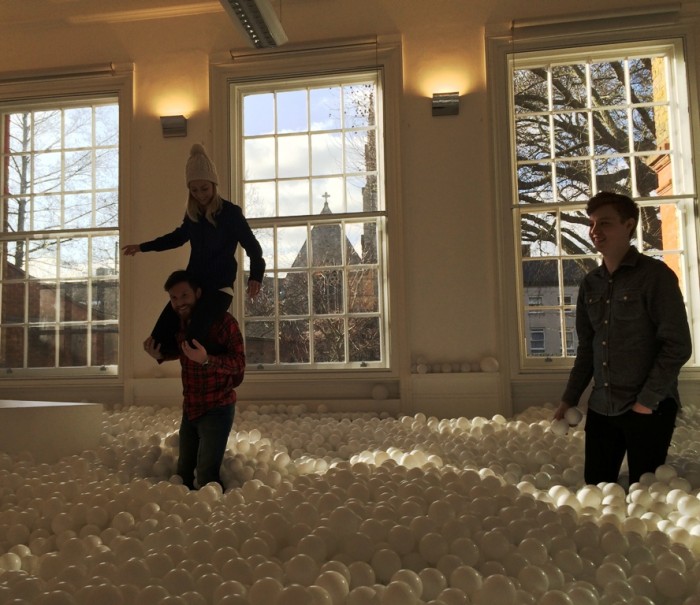 THEY'VE GOT (PLASTIC) BALLS! Staff lark about in the pop-up ball pit
As Pearlfisher's Founding Creative Partner Karen Welman explained to South West Londoner, only a small group knew about the idea.
"It was going to be a Christmas surprise treat," she explained.
"The whole idea behind it was 'how do we make our clients, our staff, and our community smile over Christmas?'"
Her solution was to bypass the usual decision-making process at her company and surprise her staff with a room full of plastic balls.
She said: "Normally there's a massive debate in the business about what we do, whose charity we should give to, how we should do it.
"This year we didn't tell anyone, we just got on with it and surprised them before Christmas!"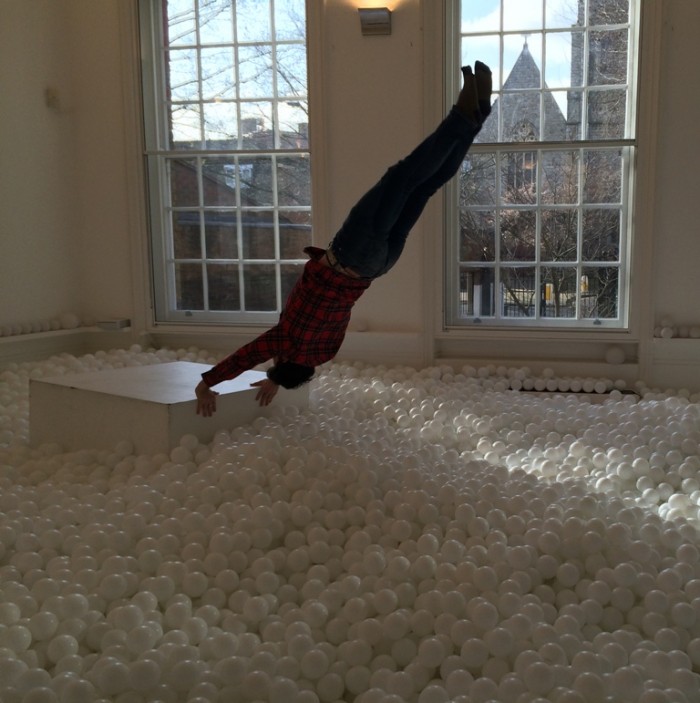 HEAD OVER HEELS: One visitor flexes his gymnastic muscles in the ball pit
After the truck arrived, what ensued was four days of mayhem as the staff tore into the bags holding the balls and transferred them into the room.
The process was not seamless though as the balls were first placed on top of a layer of foam which had to then be removed.
This resulted in a team effort to get rid of the foam in what Karen described as some of the hardest work she has ever done.
What they created is nothing short of a brilliantly simple way of both having fun and sparking creativity.
"The whole idea behind it is that play stimulates creativity," Karen said.
"You only need to look in a playground to see the kids building a sandcastle and what they do with it and how that stimulates the creative process.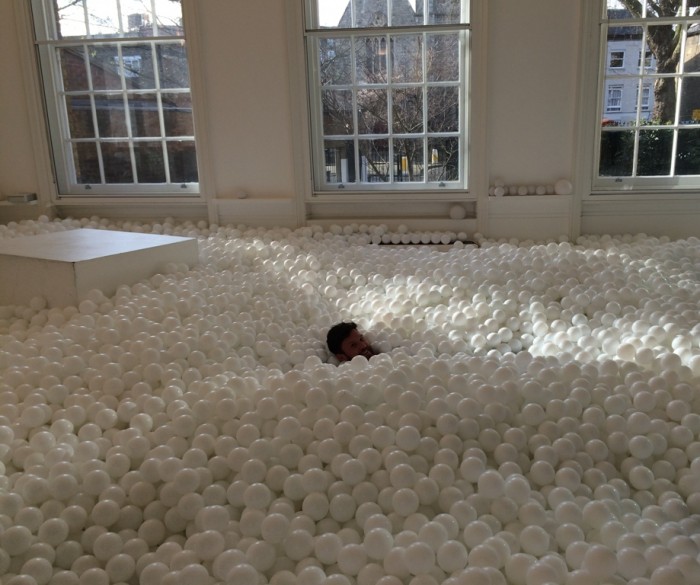 BIG KIDS! This chap proved that it's not just fun for children
"We wanted to emphasise that, that's why we created the ball pit."
It is also, of course, a ridiculous amount of fun.
As soon as you step down into the mass of white balls, you can't help but sink down and let them envelop you.
While the temptation to lie there for hours is huge, you will undoubtedly give in to the far greater temptation of tearing around and wreaking havoc.
The ball pit is open, and free, to the public but is now fully booked, while business and companies have hired it out for events in the past.
Pearlfisher have had a chain of gyms hold their Christmas party there, countless photo shoots have been done there and have even been given a lecture by a professor in the ball pit.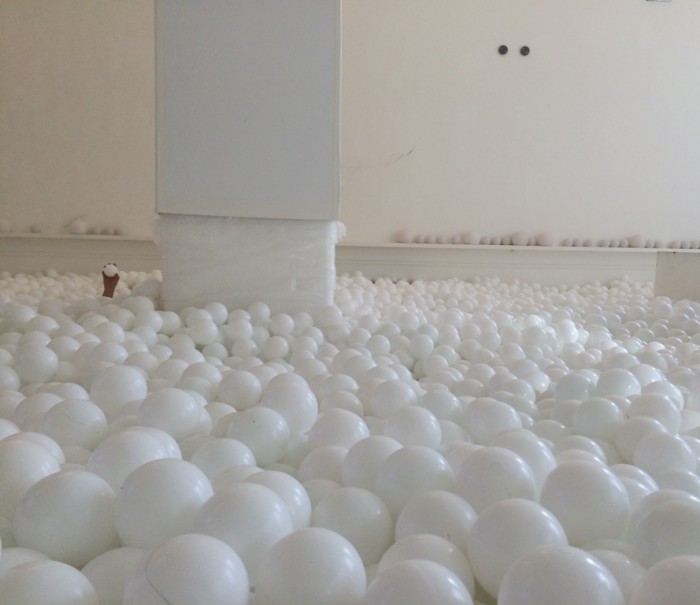 SPOT THE EMPLOYEE: One person got overwhelmed by the pit
Looking back on those that have visited the pit, Karen is impressed with the response they've got so far.
"The reaction has been incredible, the creativity of what people do in there is fantastic!" she said.
"People have really enjoyed it and we've done our utmost to make sure we keep an eye on health and safety.
"Everyone, from kids to older ladies, have found it incredible."
The more serious aspect of the ball pit is the fundraising side of it, with Pearlfisher donating £1 to a children's organisation for every person that visits, while people are also encouraged to donate.
"We've partnered with Right To Play which looks to help kids around the world who have had their childhood taken away from them, and we look to how we can benefit them," Karen said.
"It was the perfect charity to partner with."
@RosieLondoner came to #jumpin & described it as "the best pop up of the year" She's right..h…/buff.ly/1K2Fq6j pic.twitter.com/ElYcAIYBpr

— Pearlfisher (@pearlfisherlive) January 28, 2015
With the closing date looming and with so much interest in the ball pit, Karen is planning on sending it on tour around the country after it leaves their offices.
She said: "I would love to see it go on tour – I would love for it to go to various places across the country, for six to eight weeks at a time.
"Whoever holds it can pick their own charities and do it in their own way."
Karen also revealed that they have received a lot of interest from places such as the National Autistic Society and even the Helsinki Museum of Modern Art to permanently house the ball pit.
While she admits those offers were tempting, Karen would rather give more people a chance to experience the ball pit having seen the affect it has had on people already.
"The smiles on people's faces are fantastic, even if they're in there for a minute or two they still love it.
"There's no better cure than a smile."