The Wimbledon tennis championships are a global event that bring drama, fans, and a boost to the south west London economy every year.
But the tournament is also helping to bring much needed assistance to those who need it most in Merton and Wandsworth.
When tournament visitors have had their fill of tennis their tickets are put up for resale and the proceeds are distributed to charitable causes by the Wimbledon Foundation, the charitable arm of the All England Club.
The foundation was established in 2013 and last year donated £700,000 to charity, with more than half of that money going directly towards helping 5,250 people in Merton and Wandsworth.
This year the Wimbledon Foundation has already awarded grants totalling £50,000 to 12 Merton and Wandsworth community organisations to help those most in need.
One of these organisations is the Inner Strength Network, which provides support for vulnerable women who have suffered domestic abuse, and whose CEO, Maureen Bailey, witnesses the benefits of the donation.
She said: "We go into the refuge in Wimbledon and coach women to help them to get jobs, so they can start to change their lives around, come out of depression and build self-esteem.
"We see some awful situations through domestic and sexual abuse, some are too scared to go outside or even answer the phone.
"But these women have got jobs now, they have got houses, they are living their lives again and they're free.
"They are happy, they are not afraid anymore and that's down to support from the Wimbledon Foundation."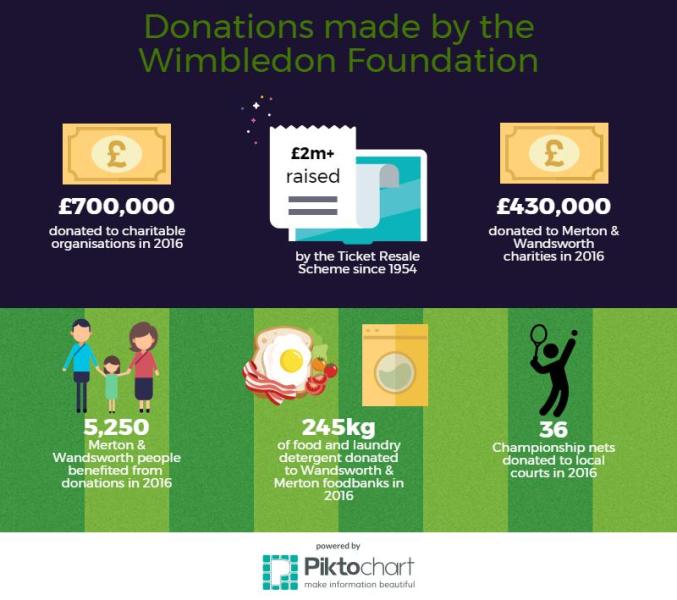 As well as donating ticket resale funds the Wimbledon Foundation also makes use of other tournament items to ensure nothing goes to waste.
Last year 36 Championship nets were donated to south west London courts, and 245kg of food and laundry detergent were donated to Merton and Wandsworth foodbanks.
Rachel Swithinbank, Communications Co-ordinator at the Wimbledon Foundation, helped explain how charities like the Merton Winter Night Shelter benefit.
She said: "People queue up for tickets for days and any camping equipment left behind is passed on to the YMCA in Wimbledon, there's masses left behind.
"Even the towels from the players dressing rooms have gone to that shelter [Merton Winter Night Shelter].
"There are 300 volunteers involved in helping that shelter so when it came to the end of the winter period we held an afternoon thank-you event at the club.
"We also did a special lunch for 15 rough sleepers at the shelter who came and had Sunday lunch and a tour of the grounds."