Tennis doubles champion Jamie Murray served up a surprise to Morrisons shoppers in Wimbledon last week.
Andy Murray's older brother popped into the supermarket on The Broadway to promote Anakena Wines – who he is an ambassador for – on Wednesday lunch time.
Jamie, 31, who has lived in Wimbledon since 2008 said: "For me it's home, so I'm always happy when I get back home."
Jamie and his Brazilian doubles partner Bruno Soares will play their first match of the 2017 Championships on Wednesday, July 5.
The pair come into the SW19 tournament off the back of a win at Queen's in June, beating French duo Julien Benneteau and Édouard Roger-Vasselin – who they lost to in the Wimbledon quarter-finals last year.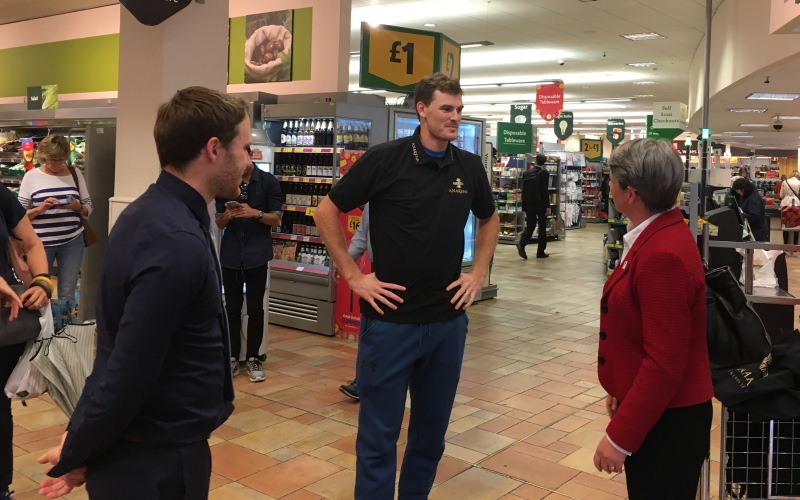 ACE SURPRISE: We wonder if they got him serving…
Unsuspecting shoppers were amazed to see the tennis ace in their supermarket – dubbed 'Murrisons' during the Championships – just days before the famous tennis tournament commenced.
"I'm so thrilled to be here, my son is a huge fan of the Murrays generally. It's absolutely brilliant and nice to see a crowd staying and watching," said one Wimbledon mum.
"He's really friendly as well. It's just a shame it's not after school because I think children would have loved to have seen this, it's really inspiring."
Morrisons produce team manager Mark Sherriff said: "I think this is probably an amazing opportunity for this store, it's the first time we've ever had anything like this so it's absolutely brilliant."
Children's music teacher Paola Caballaro said it was great to have players closer to the community.
She added: "You don't imagine entering Morrisons and then actually meeting them. I'm just wondering now if we're going to have Andy!"
Love Wimbledon CEO Helen Clark Bell said: "It's nice to build a community in Wimbledon town centre, particularly amongst the business community and obviously at this time of year we've got that heightened excitement, so for Jamie to come into town is an absolute delight."
And if that wasn't enough, Judy Murray was spotted on Friday morning walking past Little Waitrose opposite Wimbledon Station, so keep an eye open during the tennis fortnight for more famous sightings.