Easter is a time when we kick back and relax and allow our waistlines to expand as we indulge a little in sweet treats – but this won't be the case for two Battersea residents.
As we tuck into chocolate and hot cross buns, eight-year-old Border Collie Romeo and his chubby chum Woody will be on a special diet to shed their extra pounds.
Battersea vets have drawn up a strict calorie-controlled diet and exercise plan for these portly pooches, which is specially tailored to each animal.
Battersea dogs are taken for at least one or two walks per day, but those needing to lose weight will have additional walks scheduled in as well as dedicated time in the paddocks.
Woody weighed a gargantuan 43 kilos when he was brought to Battersea's Brands Hatch home in March – a medium-sized adult Labrador should weigh 30 kilos.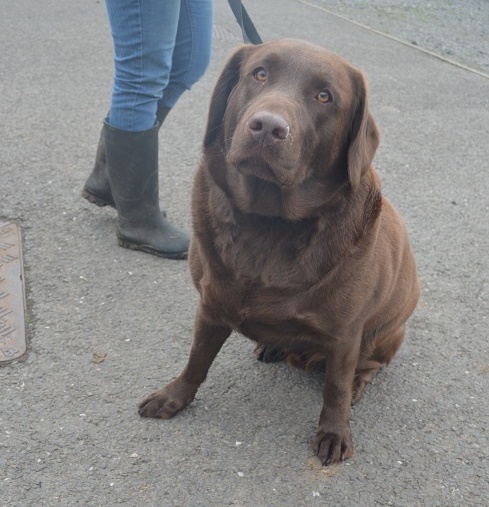 FAT FIGHTER: Woody is on a special diet in bid to tackle weight
His battle of the bulge competitor Romeo weighed a whopping 37 kilos when he arrived at Battersea.
Border Collies, commonly used as sheep dogs, are often very active dogs and usually weigh about 20 kilos.
"Obesity is a silent killer," said Battersea vet Phil Robinson.
"A small dog only needs about 340 calories per day – the equivalent of one can of standard dog food.
"If you're the type to fall for those appealing eyes, think about how your scraps are adding unnecessary calories and fat that your dog doesn't need."
A Battersea Dogs & Cats Home spokesman explained  that giving your dog just one sausage a day can account for half of their daily calorie intake, and recommended a slice of ham as a much less fatty option.
The 2014 People's Dispensary for Sick Animals published their welfare report last week – they estimate that as many as one in three dogs in the UK are overweight or obese, and that this is set to increase.
When it comes to exercise, the report estimated six million dogs across the country go for a daily walk shorter than an hour long with a quarter of a million not getting walked at all.
Battersea Dogs Home spokesperson Claire O'Hagan said: "Some dog owners think they are being kind by overfeeding their dogs and giving them lots of treats.
"But a dog being fat puts tremendous strain on their heart and joints – it ultimately shortens their lives.
"Dogs are simple souls. Save treats for special occasions or as rewards during training and they'll love you just as much."
Pictures courtesy of Battersea Dgs & Cats Home, with thanks