London mayoral candidate Zac Goldsmith signed the letter which was handed into Downing Street today demanding a ban on the 'unbearable' UK ivory trade.
The letter, which has more than 100 signatures from the likes of Ricky Gervais and Joanna Lumley, is calling on David Cameron to fulfil his 2010 election pledge during this year's Global March for Elephants and Rhinos.
More than 1,000 people joined the London march and thousands more were expected to show their support to save elephants and rhinos in more than 100 cities across the world this weekend.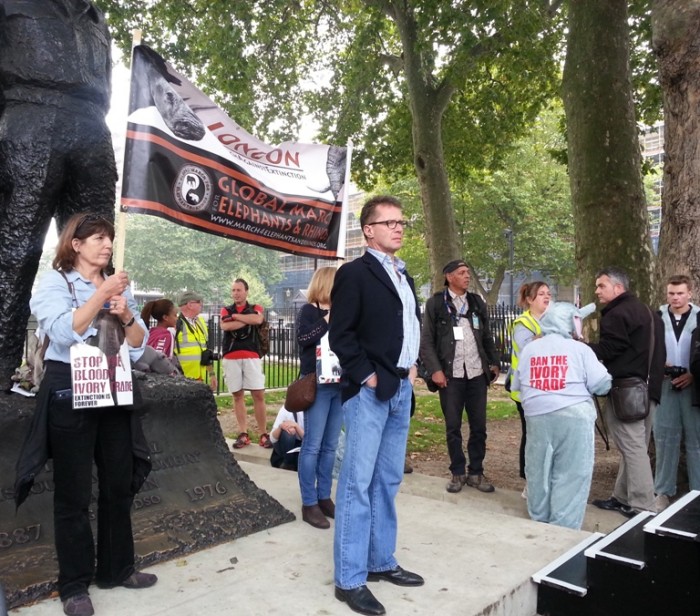 PROTEST: BBC Radio 5 Live presenter Nicky Campbell attended the rally
Though unable to attend the march, Mr Goldsmith said: "It is unbearable to imagine a world without wild elephants, but that is where we are heading, and fast.
"These thoughtful, highly intelligent creatures are being butchered to extinction simply to provide consumer trinkets – in a trade that fuels terrorism and misery.
"For every conceivable reason we must band together and do whatever needs to be done to stop this mindless business."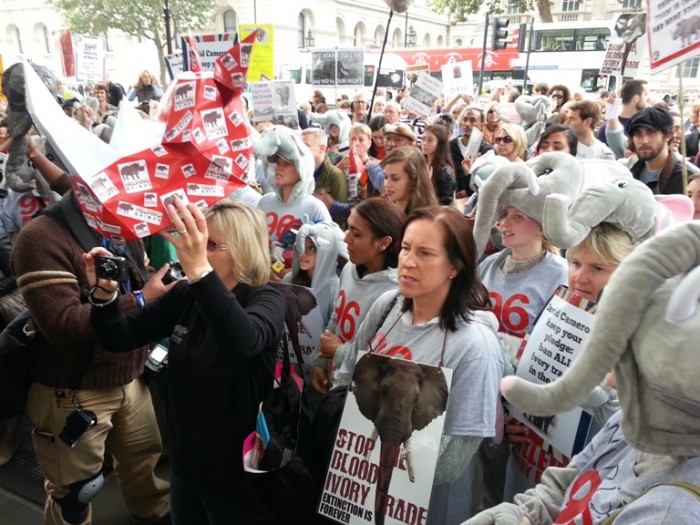 'UNBEARABLE': Marchers wore t-shirts revealing 96 elephants a day are killed for their tusks
The march, led by an African drummer, was organised by grassroots group Action for Elephants UK while The David Sheldrick Wildlife Trust (DSWT) initiated and organised the first march back in 2013.
Amie Alden of DSWT UK said: "We have anti-poaching courses and we know how effective they are."
First Counsellor at the Malawi Embassy, Ian Musyani, opened the speeches today by talking about his government's strengthening efforts to counter poaching and wildlife crime.
TV presenter and broadcaster, Nicky Campbell, also spoke at the march.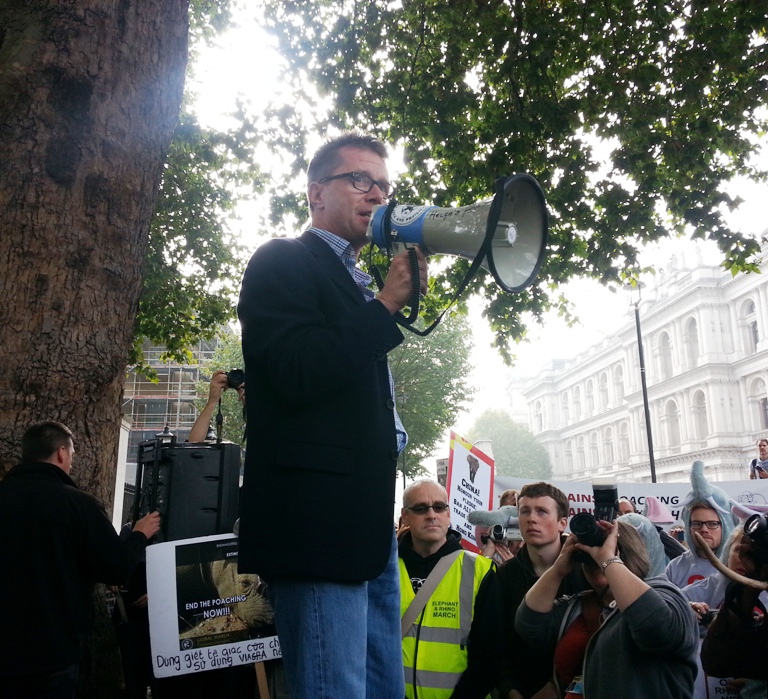 He said: "There is a growing recognition in the corridors of power that something has to be done about this.
"We really need to put the foot on the accelerator. Time is running out."
Today it is estimated that up to 36,000 elephants and 1,000 rhinos are killed annually – that's one elephant killed every 15 minutes.
For more information or to donate visit www.march4elephantsandrhinos.org