Fundraising for refugees has taken off in Merton with students hoping to become the first group of state schools to take part in the government scheme community sponsorship.
St Mark's Church of England Academy in Mitcham Eastfields has teamed up with Merton Citizens, Wimbledon College and Rutlish School to raise £9,000 needed to welcome a refugee family from an area of conflict into their community.
The schools announced at their last event during Refugee Week a fortnight ago they have collectively raised £2,066. 
Head of the English as an Additional Language department at St Mark's Nina Ahmad said: "To fundraise for someone who lives elsewhere is one thing, but to actually see the family, and for that family to then hopefully become involved in the school is quite powerful."
The £9,000 target demonstrates the community has the financial resources to sustain a resettled family and goes towards costs such as additional housing costs, funding English language provision and providing each family member with £200 cash when they arrive in the UK.
St Mark's suggested the scheme to other schools and lead the fundraising events, having raised over £1,000 through a multi-cultural evening alone with a crowd of 150 parents.
54 percent of St Mark's students are bilingual and there are 15 refugee pupils already at the academy.
The stories of their struggles in their native countries persuaded Ms Ahmad to do more.
She said: "Sometimes, they make an innocent comment and you think wow — how did you cope with that?"
The school hopes to educate pupils and the community about refugees through the scheme.
She added: "They have a mixed experience outside, but our school offers a support network."
St Mark's set up a successful school cricket team which won a tournament across all Surrey schools and which included eight refugees.
The school also hosted a fundraising evening organised by students featuring music, performances and food from a range of different cultures on June 18, pictured above.
Ms Ahmad said: "That was when the refugees got their confidence. All of a sudden, they were not the kids who couldn't speak English properly, but they were actually getting awards." 
St Mark's Year 12 student Abdul Salam, 17, said: "The idea that we are making a difference — bringing a family over who are in desperate need — makes us feel really proud."
Haala Naseer, 17, also in Year 12 at St Mark's, got involved with the project because she says she sympathises with refugees.
She said: "I have really enjoyed it because I know what it feels like to live in a country that doesn't have many facilities — I came from Pakistan three years ago.
"It was a nice experience to come here, but very different — it took time to adapt. But going to school made it better."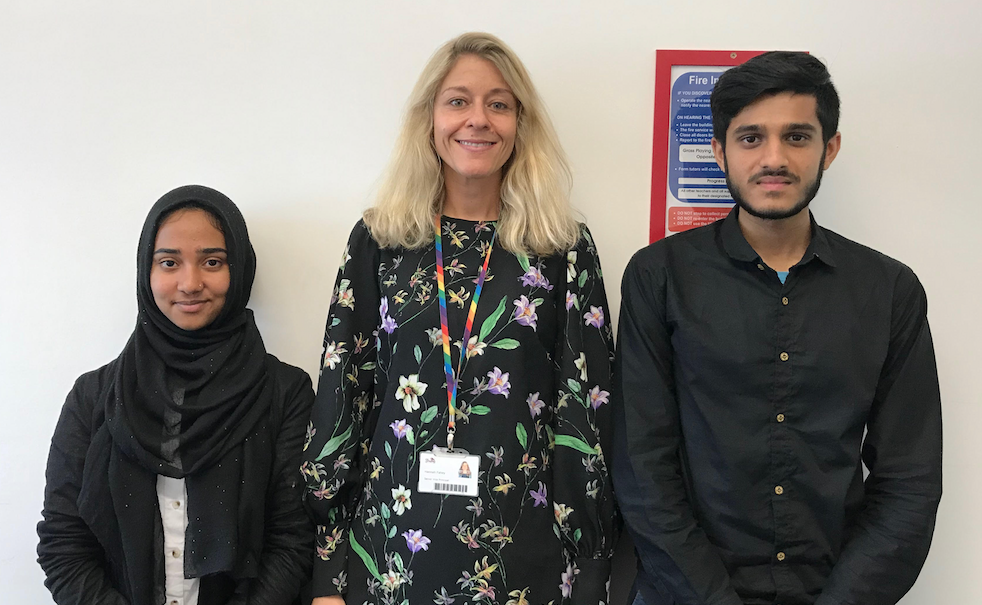 WELCOMING…St Mark's students, Haala Naseer (right) and Abdul Salam (left), pictured with Senior Vice Principal Hannah Fahey (centre)
The UN Refugee Agency identifies vulnerable displaced families who might be suitable for resettlement.
Once communities raise enough money to help refugees settle in, volunteers must welcome them at the airport, provide accommodation and register them with a GP.
There are now more than 150 community sponsorship groups across the country. 
Merton Council have supported the scheme and Council Leader Stephen Alambritis even pledged to welcome 50 child refugees over the next 10 years last month.
Cllr Alambritis said: "It is wonderful that school children in Merton have embraced the community sponsorship scheme to welcome and support refugees and I would like to praise them for their impressive fundraising so far."