Dame Tessa Jowell has rejected Business Secretary Vince Cable's claims that Labour's plans to cut university tuition fees are 'financially illiterate'. 
The Dulwich and West Norwood MP appeared alongside Labour parliamentary candidate Nick Grant at the inaugural St. Mary's University Labour Society meeting on last night.
Mr Grant is aiming to oust Mr Cable from his 18-year tenure as Liberal Democrat MP for Twickenham in May's general election.
Mr Cable attacked Labour's pledge to slash fees by a third in an interview with Sky News last week, claiming it would do harm to universities and 'create a costly black hole in the national budget'.
Great pic of @Nick4Twick and @jowellt following the meeting at @YourStMarys this evening! @LondonLabour #Twickenham pic.twitter.com/haVZwWSxQd

— Nick Grant (@Nick4Twick) March 2, 2015
Speaking to South West Londoner Ms Jowell responded: "That's complete nonsense.
"The policy, and some of the negotiation about the policy, was reported in the press.
"This is a policy that has been worked out with great care.
"It is affordable and it is a policy that has been passionately advocated by Ed Miliband as part of what he calls 'the promise of Britain' – that parents should look at their children as they go to university and feel confident that they are going to do better than they did."
When talking about the Twickenham campaign Ms Jowell said that the team were positive about what they could achieve.
She said: "I think we are all quite clear that just as tactical voting got Vince Cable in, it can also get him out and get Nick in – let's be passionate, optimistic and set our sights high."
"I think we are all quite clear that just as tactical voting got Vince Cable in, it can also get him out and get Nick in."
Around 6,000 students are enrolled at St. Mary's University where students quizzed Ms Jowell and Mr Grant about Labour's plans to reduce annnual fees from £9,000 to £6,000.
Labour plans to meet the £2billion annual cost of the proposed cap by curtailing pension tax reliefs for higher earners.
The pledge to cap fees at £6,000 was criticised in a letter to The Times last month by university vice-chancellors, who claimed it would leave a £10 billion pound funding gap, a claim Ms Jowell rejected.
"Both Ed Miliband and Ed Balls have been absolutely clear – the funding gap as a result of reducing tuition fee income will be met," she told South West Londoner.
Mr Grant, who is aiming to secure Labour their first Twickenham seat at Westminster, backed Ms Jowell.
"It is a policy to do with the principle of fairness, really," he explained to South West Londoner.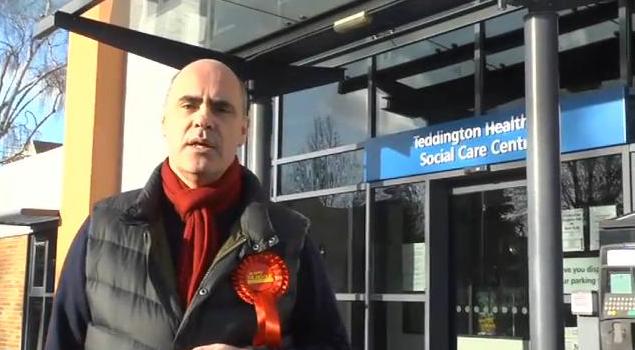 CANVASSING: Nick Grant on the campaign trail (© Twickenham Labour Party)
"That's going to make a significant difference in terms of the type of people who are willing to take on a certain level of debt to go to university, so it's an egalitarian measure."
Ms Jowell will step down as an MP after the election and plans to run for London mayor in 2016.
And the former culture secretary was adamant that housing will be the central focus of her campaign.
"To build more homes that are available to rent by the sort of young people we saw this evening when they leave university and are going into their first jobs," she said.
"Social housing for those who are eligible for social housing, affordable housing and intermediate housing for young Londoners, so that London is a proper live-work city."
Mr Grant highlighted the issue of spiralling housing costs for people in the constituency.
"Twickenham, I fear, is following that London route of being hollowed out for people that should be able to live here.
"I've described it in the past as becoming a luxury dormitory," he said.
"That's not the same as having an actual thriving, lively community where people like doctors, nurses and policemen and teachers can all live in some form of community together," he added.
"That's really a vision for the future and I think Tessa will be well placed to pursue that vision."