By Phoebe Tatham
November 2 2019, 13.25
Follow @SW_Londoner
A provocative mural created by British artist Denzil Forrester was unveiled at Brixton tube station in September.
The installation, commissioned by TFL's 'Art on the Underground' project, was unveiled on September 19 and will be on view until September 2020.
Brixton Blue (2018) joins a plethora of other thought-provoking murals in the area including the likes of Jimmy C's much-loved Bowie portrait.
Speaking of his work, Grenada-born Denzil, 63, said: "My paintings have not been seen much by the general public and this is golden opportunity for a fast-moving audience to see my work on a massive scale.
"Art on the Underground is reaching out to all, helping to make visual art more accessible to the public."
The wall depicts a lively nocturnal scene complete with late-night revelers and truncheon-yielding policemen, all set against a backdrop of electric blue.
His mural effectively encapsulates the Afro-Caribbean experience in London, highlighting the dichotomy in society between diverse communities.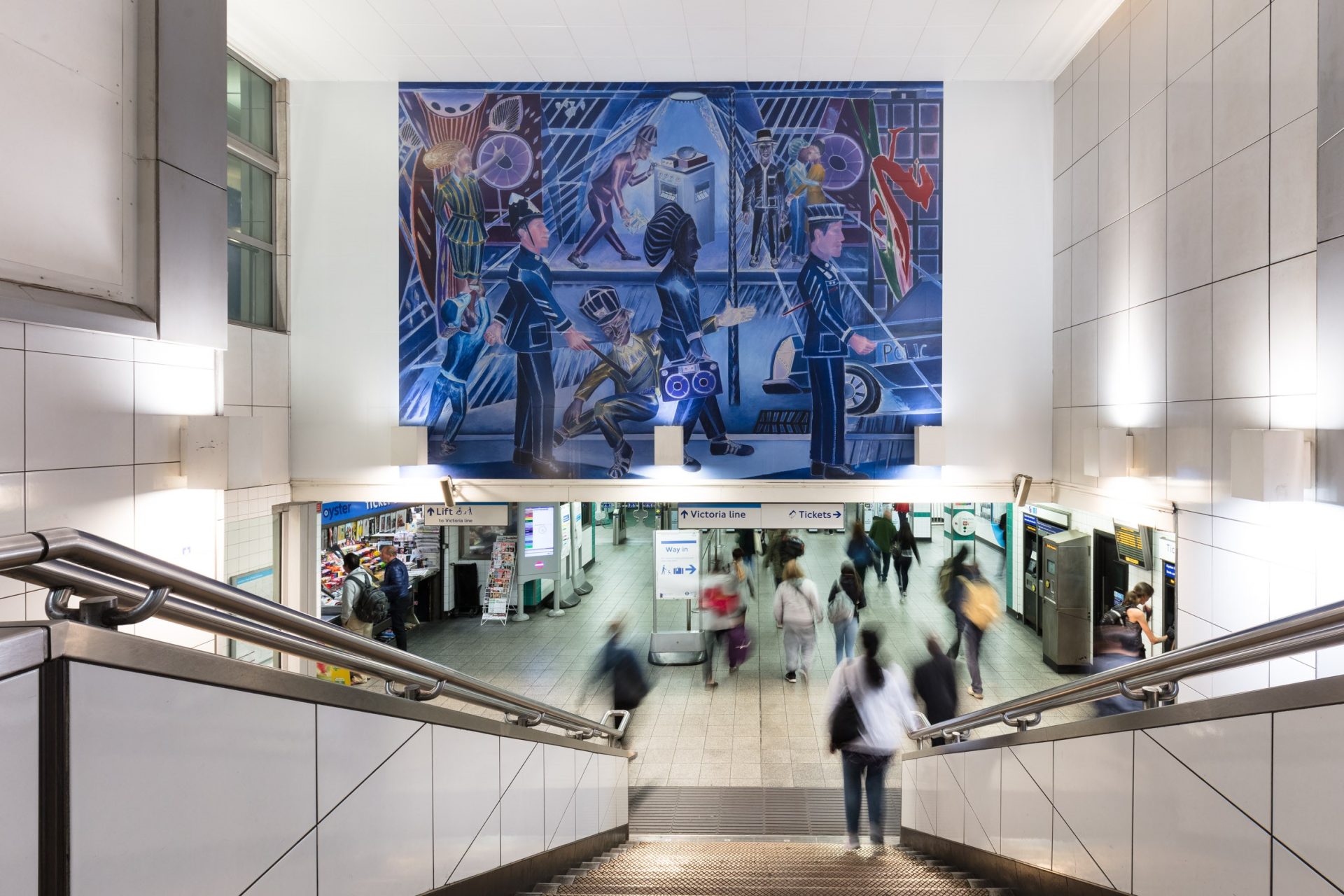 At the heart of the installation, Forrester has plucked key elements from dub-infused dancehalls and made them the centrepiece of his mural.
In the foreground, a man is seen holding a stereo, whilst in the background, two large sound systems can be seen blasting the sounds of a central DJ figure.
He said: "Music and dance were, and still are, my main source of inspiration.
"I was lucky to be in Hackney at the right time – the 80s. I had access to all the major 'dub' blues nightclubs: Phebes, All Nations and Four Aces.
"For the very first time I was in a big space with dub reggae playing at the maximum volume, it was a piece of heaven on earth."
Much of Forrester's work documents the rising tensions between the police and the Afro-Caribbean community during the 1970s and early 80s, the culmination of which resulted in the 1981 Brixton Riots.
Eleanor Pinfield, head of Art on the Underground, said: "Brixton Blue engages with the diverse reality of London and its alternative scenes whilst referencing complex histories of injustice.
"Forrester's dynamic composition will reverberate with the millions of people using the station."
This is the third Art on the Underground commission at Brixton, following on from works by Njideka Akunyili Crosby in 2018 and Aliza Nisenbaum earlier this year.
Forrester will have a major solo exhibition of new works at Nottingham Contemporary opening in January 2020.
Feature image credit: Benedict Johnson