Kind-hearted Kingston police officers are helping a terminally-ill seven-year-old boy tick off his bucket list wish of riding in a police boat.
Little Malachi Tyler was diagnosed with an incurable brain tumour and neurofibrosis when he was just 12 months old.
He made a 'bucket list' of things he wanted to experience during his life and many of these things involved the police.
PC Tyler has arrived to show me his new uniform! @MPSKingston @metpoliceuk you guys are incredible for doing this! pic.twitter.com/gv6PGfpVUW

— Matthias Carter (@matthiascarter) January 9, 2015
Having completed his initial list, which involved visiting 'a real police station, being locked in a cell and working the control room' in Kingston last September, Malachi's parents Emma and Graham encouraged him to update his wish list.  
Pc Tyler, Pc King & Ch Supt Tunstall at today's parade. @MalachisJourney pic.twitter.com/PzZLWBXbMG — Kingston MPS (@MPSKingston) January 9, 2015
Following the same theme of his initial list two of the things he wants to do achieve the police – riding a police boat and having a police station bed and bedroom. After his parents published the list on the Facebook page offers of help came flooding in.
Kingston Borough Commander Glenn Tunstall, who signed off as 'The Chief' has liaised with the Met Police Marine Unit who have agreed to take him out on a trip.
This follows him being the guest of honour at Metropolitan Police's first passing out parade of 2015.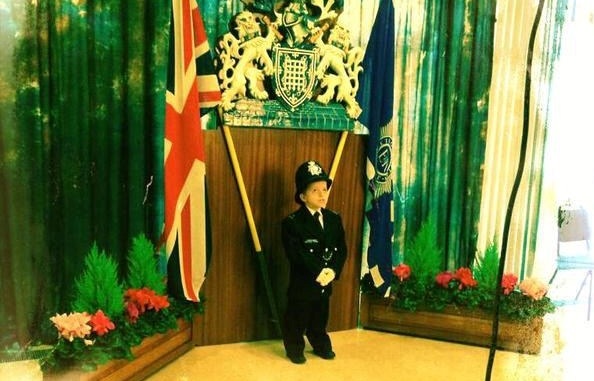 SUITED AND BOOTED: Malachi at the passing out parade in January 
Chief Superintendent Glenn Tunstall said: "Malachi is an inspiration to us all and it's our absolute pleasure to be able to provide him with the opportunity to tick of these wishes from his bucket list."
Mum of England and Great Britain B1 blind futsal team player Lewis Skyers, Lorna Skyers has also offered to help with point 14 – 'meet up with my friends Kieron, Lewis and Will again' by arranging tickets to the The IBSA Blind Football European Championships in August.