Kensington and Chelsea is the most dangerous southwest London borough for pedestrians, new data reveals.
The Royal Borough poses the greatest risk of death or injury to pedestrians due to traffic incidents, with an average of 668 casualties per billion walking trips between 2013-2016.
Following closely behind is Croydon with 651 casualties per billion journeys. At the other end of the spectrum are Richmond and Kingston, with 389 and 365 casualties per billion respectively.
The research comes from Dr Rachel Aldred, reader in transport at the University of Westminster.
The study looked at risk to pedestrian places as opposed to just the numbers of injuries, with the data revealing that for every billion walking trips in London, 600 people on average are killed or injured.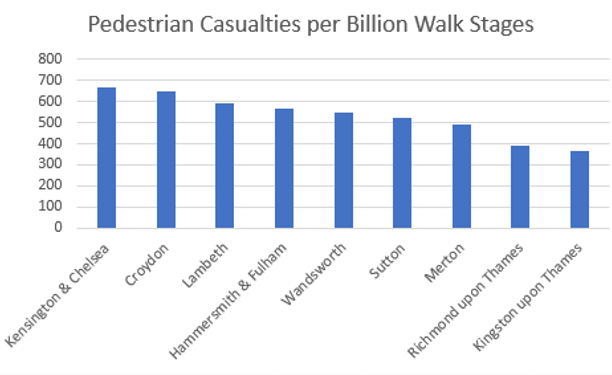 Dr Aldred combined data from the London Travel Demand Survey, the Census and the London Data Store.
These allowed her to look at resident, commuter and tourists walking trips in each borough, which formed her estimate of the number of walking trip stages on a typical day in each borough.
Kensington and Chelsea Council published in September 2016 that there were fewer road traffic collisions and injuries in 2015 than in any year since records began in 1990, according to Transport for London data.
There were 632 collisions overall on Royal Borough streets in 2015, resulting in 708 casualties.
But looking just at the number of injuries, Dr Aldred said, may result in some boroughs being forgotten because risk is not considered.
She said: "It is about reducing risk because we want more walking, and if you have a doubling in walking then you would expect some increase in injuries, but a doubling in walking is still a good thing because walking is healthy and environmentally friendly.
"I would say it's about reducing risk, and that's why it's important to measure risk."
Mayor Sadiq Khan pledged a 'Vision Zero' approach to road traffic casualties in June last year, which sets out the goal that, by 2041, all deaths and serious injuries will be eliminated from London's transport network.
A spokesperson for The Royal Borough of Kensington and Chelsea Council said: "Kensington and Chelsea's figures for road traffic accidents fell by 38 per cent between 2000 and 2016, although our figures remain high, road casualties are a major problem for all central London boroughs.
"In July we joined forces with the police and TfL as part Vision Zero, which aims to reduce road deaths and serious injury, to take advantage of the latest tool in combating the tragedy of those killed or seriously injured and we hope it will be success over the coming years.
"We have spent many years trying to combat road casualties and are currently looking at the possibility of introducing 20mph speed limits in some areas to improve pedestrians experience.
"We want everyone to feel as safe and secure as possible when they are travelling in the borough."