Previously unseen artwork created by prizewinning artists especially for Tooting's Springfield University Hospital will make its public debut at a west London exhibition tonight.
The likes of Turner Prize-winning group Assemble combined with several young talents to rejuvenate the hospital's Phoenix Unit for the rehabilitation of those with severe mental health conditions.
The show at Notting Hill's Griffin Gallery, which runs from July 1 – 12, offers visitors a first look at the impact by The Hospital Rooms project has had on the lives of patients on the unit.
Artist and co-organiser Tim A Shaw said: "We're just overwhelmed with how positive the response has been.
"From the very beginning we had prepared ourselves for it to be very difficult, but we also thought we're not sure how positive or well received this will be."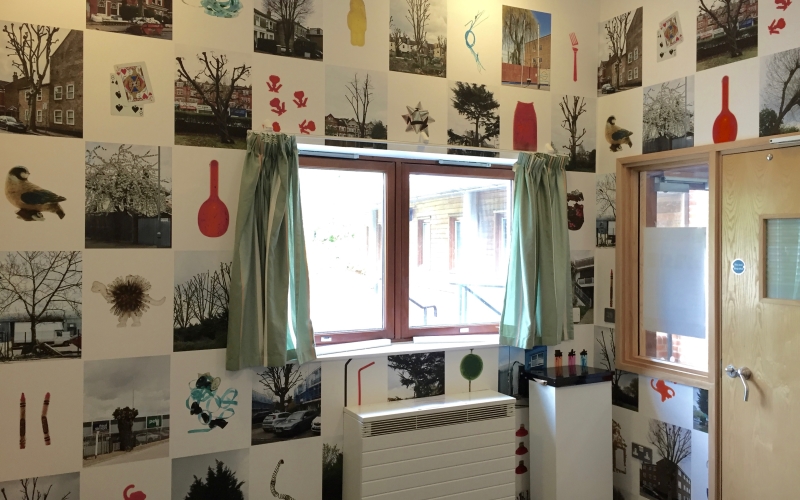 The Relatives Room — © Mark Power and artist Jo Coles
Business partner and curator Niamh White added: "This self-contained little unit, which is its own little community, has become this really energetic thing, and I don't think we could have predicted it."
The secure unit is home to 18 residents with schizophrenia, who can stay for up to three years while they learn to become independent again.
Niamh and Tim approached the hospital after seeing the cold and clinical conditions of other units while visiting friends in similar conditions.
The success of the project, funded partly by the Arts Council, is something they hope will inspire further change.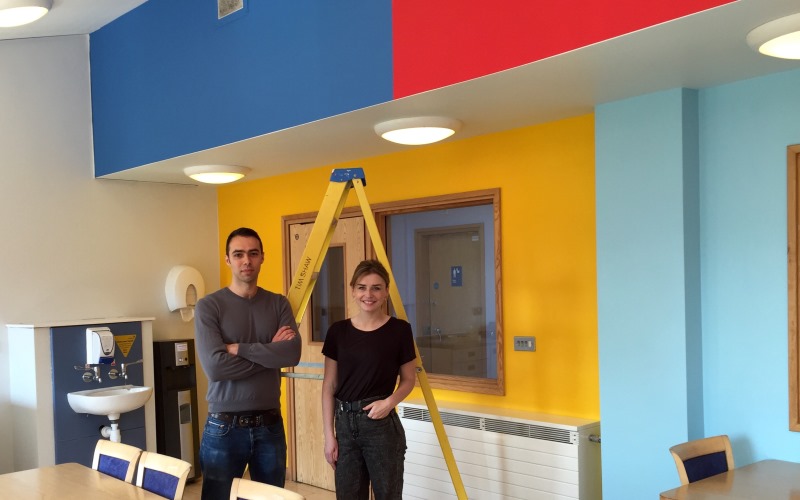 Niamh and Tim — © Hospital Rooms 
"This is a transferrable idea. Ideally, with all our ambitions, we'd like this to be a standard practice," said Niamh.
"We're trying to make it so that it's cost effective, to try and provide a basis for some evidence-based research that shows that the benefits outweigh the costs.
"This could be something that should be applied to clinical settings if it's conducive to recovery. That's our big aim."
Photographer Nick Knight, who's worked with Alexander McQueen, was joined by London-based Assemble, who created a hardwood ornamental notice board.
Magnum photographer Mark Power and artist Jo Coles combined to make an immersive, image-laden wallpaper for the relatives room.
Their work sits alongside a mural by rising star Aimée Parrott and 12 individual images created by Royal Opera House apprentice scene painter Michael O'Reilly for the unit's quiet room.
Assemble's beautiful new bespoke noticeboard for Phoenix Unit. #mentalhealth @SWLSTG #europeanoak #noticeboard pic.twitter.com/zWglY6dfPs

— Hospital Rooms (@Hospital_Rooms) June 25, 2016
The whole process was collaborative however, with staff and patients contributing designs and works of their own throughout.
Tim said: "It wasn't just a case of who is our favourite artists — let's ask them.
"They're all artists we respect and like the work of, but at the same time we had to think of people who would be sympathetic to the brief, and who also would take the restrictions and physical limitations as a challenge."
While their upcoming exhibition is a chance to celebrate, Niamh and Tim feel the success of the project is more visible elsewhere.
"Almost as important as having the artwork is the relationship we've had, and the artists have had, with the service users," Tim said.
"We've actually been able to encourage their own creative practice and also to start discussions about art works that haven't been had before. That's been part of the joy of this project."
The work of the patients will feature proudly alongside photographs of the professional's, which Niamh and Tim hope will spark more conversation about how the arts can assist clinical rehabilitation.
For more information contact The Hospital Rooms at [email protected]
Featured image courtesy of The Hospital Rooms, with thanks