The Brixton Pound, a currency used in the South London area of Brixton, has launched a limited edition note featuring former Conservative prime minister Sir John Major.
The politician, who served as PM and party leader from 1990 -1997, will be the first politician of the modern era to feature on a bank note.
He's pipping legendary war-time leader Winston Churchill to the post after the Bank of England announced that Sir Winston will feature on the new £5 note when it's issued in 2016.

IMMORTALISED: Churchill to be honoured on £5 note (© Bank of England)
The note, created by South London design agency This Ain't Rock'n'Roll, sees Major as the face of the new B£5 note.
B£ co-founder and economist Josh Ryan-Collins praised Major's monetary policy credentials.
He said: "I think it's a fantastic choice. John Major rose up from being a lowly bus driver to Prime Minister – that's a typical Brixton story.
"By signing the Maastricht Treaty, he also ensured that the UK's monetary system would forever be sensibly constrained by officials in Brussels – a vital step in stabilising the economy.
"He's a true 'One Nation Brixton Tory'."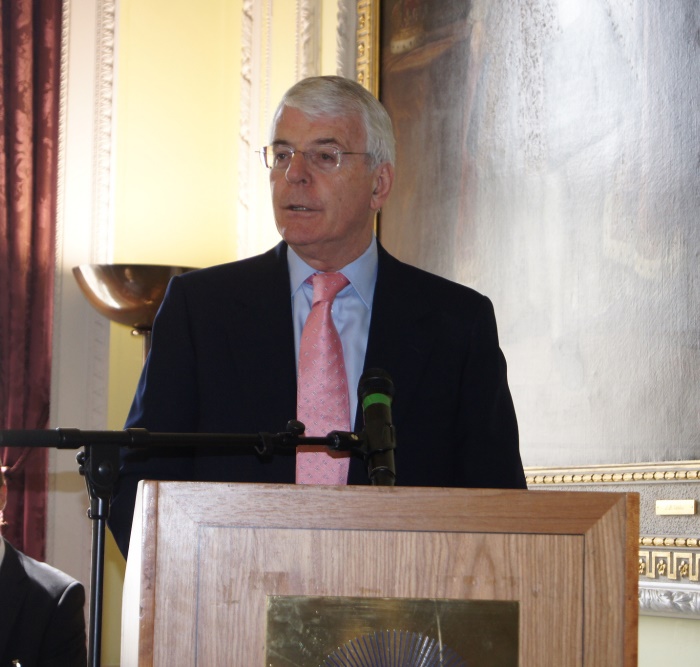 'THE CHOSEN ONE': Sir John recognised for Brixton links (© Commonwealth Secretariat)
Brixton Pound engagement manager Tom Shakhli, who oversaw the selection process, hailed it as a victory for diversity and equality.
"It's no small feat to be a nominee, let alone 'the chosen one'," he told SW Londoner.
"The judging panel were presented with a number of strong options, all of whom could have credibly emerged as the winner.
"However once it was pointed out that the Brixton Pound currently does not have any old men with grey hair on its notes, the panel were unanimous that Sir John was the outstanding choice."
He joins other note-able faces including musician David Bowie, British professional basketball player Luol Deng and a World War II French-British secret agent Violette Szabo, among others.
Some people have welcomed the news.
Love the new @brixtonpound note. Old white people are never represented on sterling notes so glad to see someone addressing this imbalance.

— Susan Steed (@SusanSteed) March 31, 2015
But Guardian writer Zoe Williams was among many who questioned the selection of Sir John, who is yet to comment on the honour.
I can't believe they did this http://t.co/ut2wXea6wr

— Zoe Williams (@zoesqwilliams) March 31, 2015
To get your mitts on your own Brixton pound currency visit http://brixtonpound.org/shop