Despite the imposition of a national lockdown, a minority of Londoners continue to breach COVID-19 restrictions. 
New legislation introduced from 5pm Friday states anyone attending a party or illegal gathering of more than 15 people now faces an £800 fine. 
According to the National Police Chiefs' Council, 42,675 Fixed Penalty Notices were issued in England and Wales for a breach of COVID-19 rules between Friday 27 March and Sunday 17 January.
Here are the five worst Covid-19 breaches in south west London in January:
1) Shisha Bar in Southall
A shisha bar in Southall was found operating with 29 people inside on Scotts Road in Southall on 11 January.
The owner of the property was reported for consideration of a FPN.
Deputy Assistant Commissioner Matt Twist, said: "Astonishingly there remains a small minority who are ignorant to these risks and who continue to make reckless and dangerous decisions.
"The NHS is under significant strain and the actions by some people to hold parties or large gatherings is frankly shameful."
2) Over 200 people attended an illegal party in Kensington & Chelsea
Over 200 people attended an illegal party at Beauchamp Place on 17 January.
Around 30 Fixed Penalty Notices were issued to attendees.
Police also prepared a three-month closure order for the owner of the establishment. 
Two officers were injured after some attendees pushed through officers to try and avoid being fined.
This was not the first time the establishment breached COVID-19 legislation. 
The establishment was previously given a £1,000 FPN as well as a prohibition notice by the council.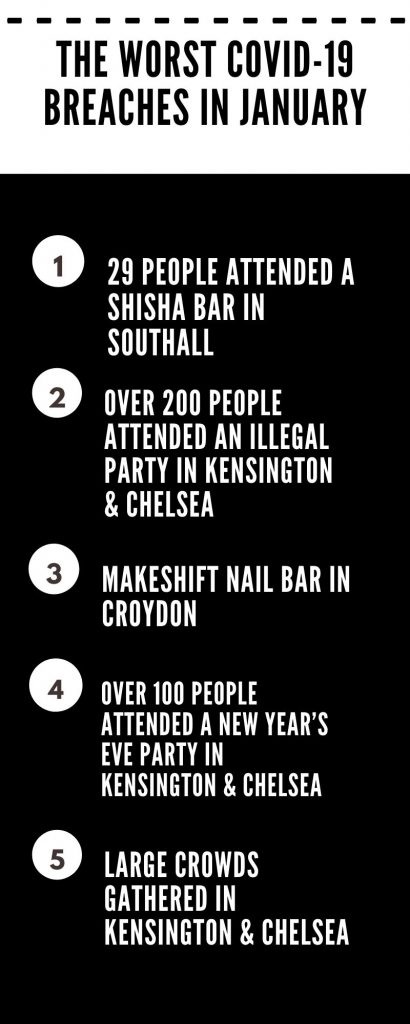 Superintendent Michael Walsh, of the Met's Central West Basic Command Unit, said: "Attending or organising such parties during this critical period is an incredibly selfish decision to make and we will continue to take action against those who flout the rules.
"While the majority of breaches have been resolved without incident, it deeply saddens me that some individuals have chosen to assault police officers who are simply doing their part in the collective battle against this deadly virus.
"We will absolutely not tolerate assaults on police officers. It goes without saying that anyone who harms an emergency worker will face the full force of the law."
Councillor Emma Will, Lead Member for Communities, said: "Most businesses are doing the right thing to protect their local communities during the pandemic but those who flout the rules will face consequences."
3) Makeshift Nail Salon in Croydon
A makeshift nail salon was discovered at the bottom of a garden of a private residence in Croydon on 18 January.
Two women, who were having their nails done, were put forward for consideration of £200 FPNs.
The owner of the business is being considered for a £1,000 FPN.
Officers had responded to calls from concerned members of the public.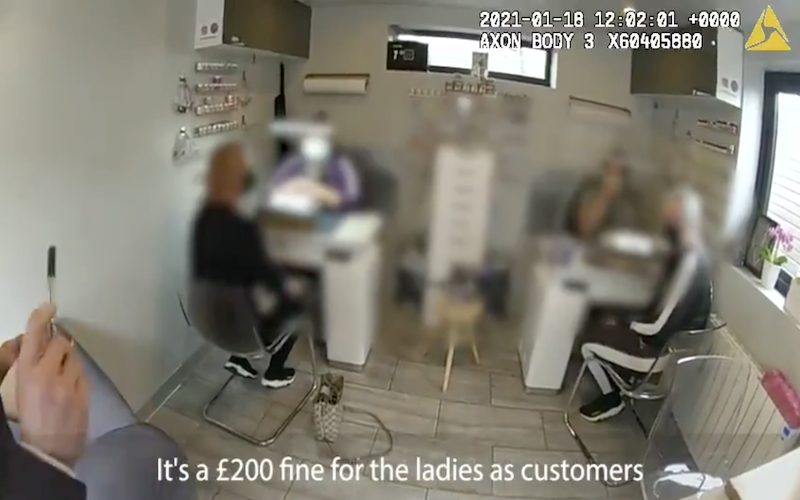 4) Over 100 people attended a New Year's Eve party in Kensington & Chelsea
A New Year's Eve party in Kensington for more than 100 people was reported to the police.
The woman, who planned the party on Exhibition Road, is being considered for a £10,000 fixed penalty notice.
The police were on a proactive patrol in the area and saw a large group crowd outside the address at 11:30pm.
Officers tried entering the property but were denied.
The police revisited the premises on 4 January and the planner was given notice of her referral for the FPN.
Acting Inspector Ganesh Rasaratnam, from the Met's Central West Basic Command Unit, said: "The organiser, and those who attended, deliberately breached the restrictions and decided that the rules did not apply to them.
"We will continue to take tough action against those who think they are above the law and put others in danger with this sort of reckless behaviour."
5) Large crowds gathered in Kensington & Chelsea
More than 30 people were founding 'socialising in close proximity' on Harrow Road on 16 January.
Police arrived after receiving reports of large crowds within the venue.
Officers arrived at the address at around 8pm and the venue owner was reported for consideration of a FPN of £10,000.
Five serving Metropolitan Police officers and staff have lost their lives to Covid-19 in January.
Camden Police Constable John Fabrizi, Police Constable Michael Warren, Traffic Police Community Support Officer Chris Barkshire, Police Constable Sukh Singh and a Custody Sergeant from Met Detention all passed away from COVID-19 in January.
The majority of FPNs in England and Wales were issued to men – over seven in ten, and 80% of all FPNs were given to those aged between 18-39.
Feature Image Credit: Metropolitan Police