Battersea Dogs and Cats Home has announced today that HRH The Duchess of Cornwall is to be the charity's new Royal Patron.
The news comes on the day Her Royal Highness received a tremendous welcome from Battersea Dogs and Cats Home staff and volunteers during her first visit to the Home's Old Windsor centre in Berkshire.
Vet nurses, receptionists, kennel and cattery staff and current Battersea animals looking for homes, all gathered excitedly to meet their new Royal Patron.
Battersea's chief executive Claire Horton said: "Battersea has long considered The Duchess of Cornwall to be a very close and dear friend and a huge supporter of our work, so it's absolutely wonderful to now welcome Her Royal Highness as our new Royal Patron.
"Having rehomed two Battersea dogs, Beth and Bluebell, and visited us on numerous occasions, we feel The Duchess is already part of our special Battersea family and we look forward with such enthusiasm to an even closer connection in the years to come."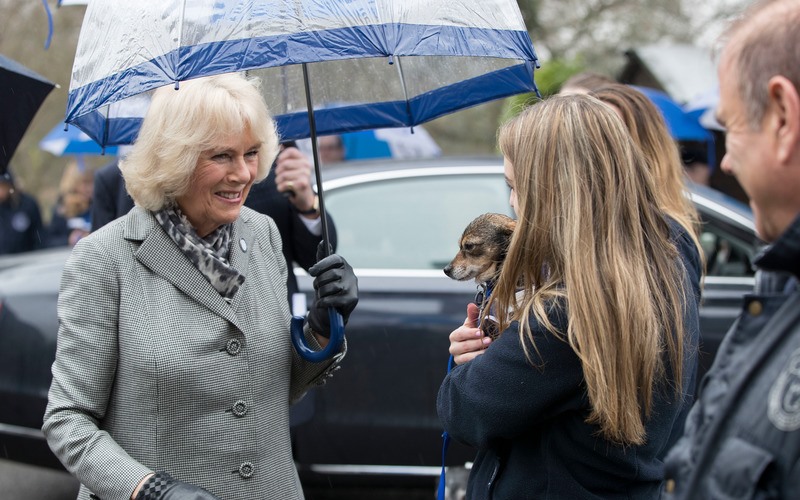 ROYAL WELCOME: The Duchess of Cornwall meets dogs on arrival
The Duchess of Cornwall's relationship with Battersea stretches back to October 2010, when she visited the charity's iconic south London centre to open its state-of-the-art Cattery, in its 150th anniversary year.
A huge animal-lover and supporter of rescue dogs, she chose Battersea when she rehomed two Jack Russell Terriers – Beth in August 2011 and Bluebell in September 2012.
The Duchess returned to Battersea in 2012, accompanied by Beth and Bluebell, when she met the dogs in the charity's care, alongside Battersea Ambassador Paul O'Grady.
The Duchess' most recent visit to Battersea's London centre was in September 2016 when she opened the charity's new Veterinary Hospital and Centre of Excellence.
Today at Battersea Old Windsor, Her Royal Highness was introduced to Willow, a very sick Cocker Spaniel that was nursed back to full health at the Windsor centre, having been found tied to a tree.
She also met Brody, a five-year-old Labrador with arthritis of the spine, who is looking for new owners who can provide him with ongoing medical care.
And Luna, a nine month old black kitten who came in because her owner could not afford to look after her.
The Duchess of Cornwall was also greeted by Battersea Ambassadors David Gandy, Dame Jacqueline Wilson, and Amanda Holden.
And she enjoyed a world-famous Battersea 'Guard of Honour', where Battersea dogs and their handlers line up to create an unmissable and unforgettable welcome.
The dogs were also present to wave The Duchess goodbye at the end of the Old Windsor tour.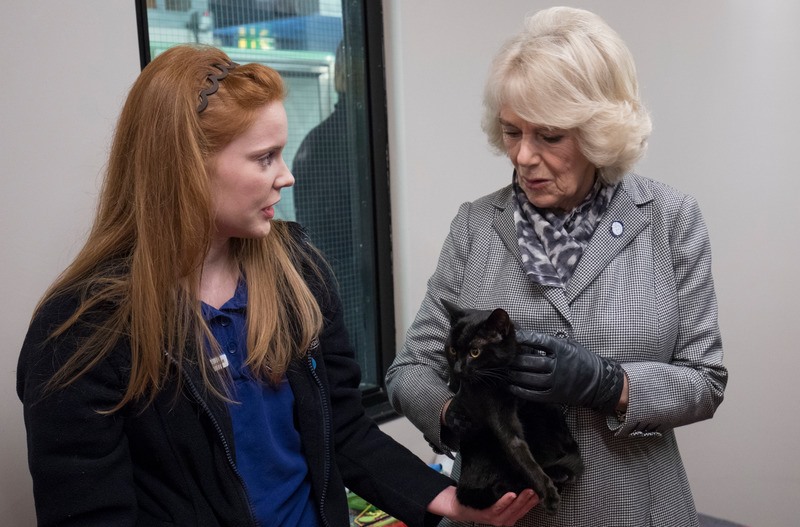 A-PAW-ABLE: The Duchess of Cornwall meets Luna the cat
Ms Horton added: "We were so thrilled to welcome our new Royal Patron to Battersea Old Windsor for the very first time.
"Today's visit was a great opportunity to show Her Royal Highness behind the scenes of our Berkshire centre and explain the many benefits such a rural setting offers our animals.
"It's a peaceful, country haven, particularly for those dogs who long to romp around in grassy fields.
"We know The Duchess really enjoyed her visit and she will be a tireless supporter of our vital work, for which we are truly grateful."
Images courtesy of Battersea Dogs and Cats Home, with thanks