Just a ten-minute walk from Wimbledon station is Bar + Block, a brand new vibrant steakhouse which opened just three months ago.
The staff at Bar + Block give you a pleasant welcome and are very polite, Francisco was our waiter for the evening.
It has a modern take on traditional steakhouses, which is what makes it such a family-friendly restaurant offering a unique twist, suited to the younger audience.
There was such a variety of choice on the menu, which made it hard to choose. Upon arrival you are given a pot of popcorn, which was one of my favourite things about the customer service as it's different from other restaurants.
Although this is the most recent branch to have opened, there are two more in London which can be found at Kings Cross and Aldgate, and they both offer the same quirky interior and atmosphere.
The service was impressively quick, it took just under ten minutes for our starters to arrive. I tucked into pulled beef tacos which were rich and creamy from the avocado. The beef pulled apart so easily, which was satisfying.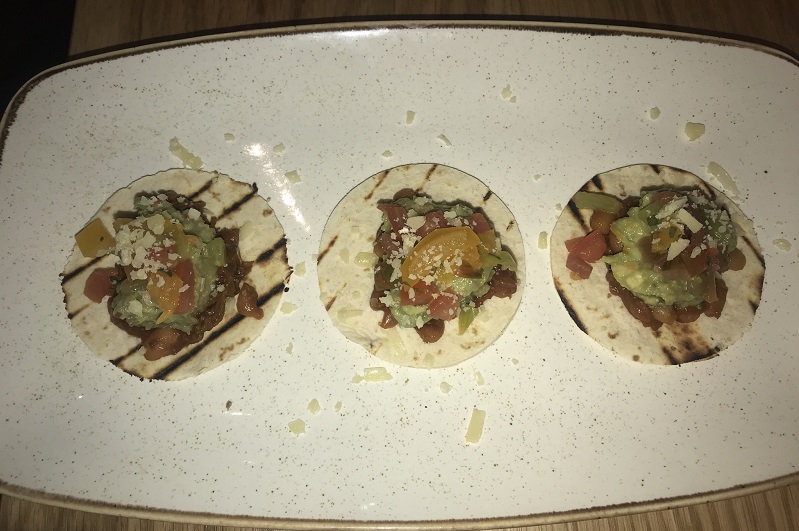 SATISFYING: The pulled beef tacos were rich and creamy.
My friend had the Korean BBQ pork ribs, which were new to the menu. He said they were tender and the sauce gave the ribs such flavour. We also shared a bottle of Pinot Grigio Prospetti at £18.95 a bottle that was recommended to us to complement our meals.
We both had a 12oz sirloin steak for our mains, served with thick cut chips and peppercorn sauce. I was so excited to try this, and it was no disappointment. The steak was cooked perfectly, and the portion size was just enough.
Throughout our meals, Francisco was sure to recommend his favourites and would always check up on us to see how the food was and if we needed anything else.
For dessert, I went for the most popular on the menu – the chocolate churros sundae, followed by a latte. The sundae was served in a glass jar with chocolate toffee sauce, ice cream and chunky brownie pieces, as well as cinnamon coated churros – it looked just as good as it tasted! I was just about ready to lie down afterwards.
My friend had the triple chocolate brownie with a hot chocolate. It was served with warm chunks of chocolate throughout and topped with chocolate toffee sauce and vanilla ice cream. He said the texture was quite nutty, but also sweet and sickly.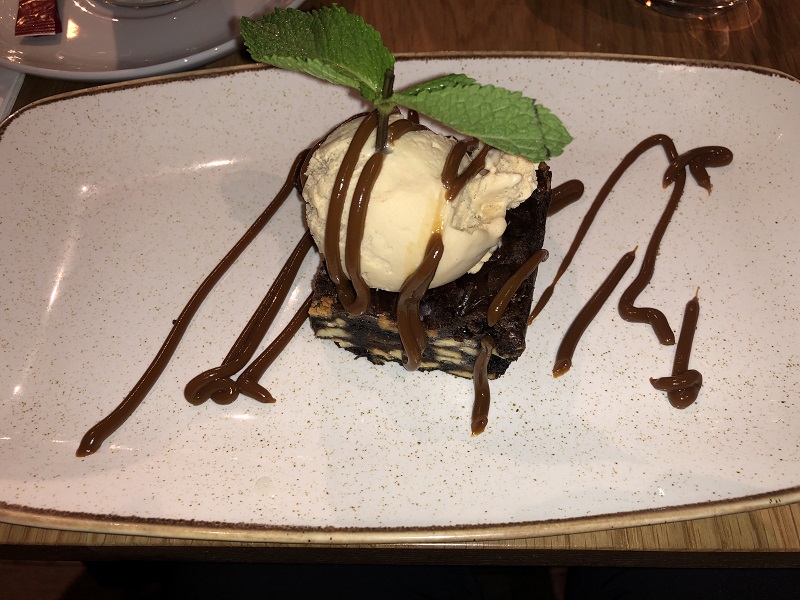 SWEET AS A NUT: Triple chocolate brownie.
After a great experience at Bar + Block, I would highly recommend this restaurant if you're looking for a more casual steakhouse. The prices are reasonable for an occasional meal, especially for a family. It's in a convenient and easily accessible location, has lovely staff and offers a relaxed but bustling environment.