Claire Sweeney will be exploring the mysteries of men, dating and finding Mr Right in Sex in Suburbia, a new comedy written and performed by the actress.
The scouse sweetheart has come a long way since her Brookside début and early stint on Celebrity Big Brother.
Claire is established as a West End talent who has wowed audiences in Chicago and Guys and Dolls and can count performing with international opera star Jose Carreras as a career highlight.
SW Londoner caught up with new mum Claire ahead of her first self-penned stage show opening in New Wimbledon Theatre before a three-month nationwide tour.
"I'm bringing Jaxon (her 4-month-old son) with me! I have a very good friend helping out and he doesn't have his eye on the stage yet but he's a very active and social baby."
Although Sex in Suburbia is technically about the mysteries of men, it's also about the other side in the battle of the sexes, about the humour and camaraderie shared by women.
Set in a radio station phone-in, Claire plays an agony aunt as she and a selection of callers navigate the murky waters of romance.
Anyone who has ventured into the world of dating, at any age, can fall foul of any number of faux pas and partner pitfalls.
We asked Claire about the inspiration behind her play.
"I was in a show called Tell me on a Sunday about looking for love, at the time I was also looking for love in all the wrong places, going on lots of disastrous dates and telling the producer, my friend Jamie Wilson, about them.
"He said write a show and I'll put it on. I wrote it together with (actor and comedian) Mandy Muden it was great, great fun – there's so much material we haven't even used.
"We didn't even know if we were funny but we had a fantastic response the first time it was performed – we got a standing ovation!"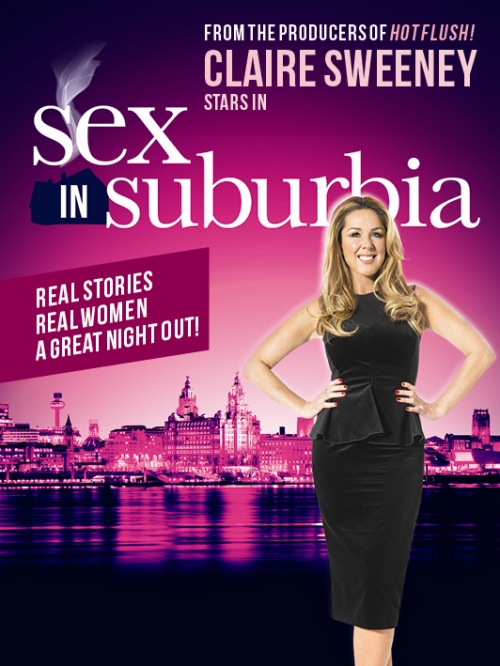 The trials and tribulations of the casts' love lives resonate with the audience, and Claire promises to break the fourth wall as the cast interact directly with the crowd.
Brave audience members are invited up into the agony aunt's radio show to share their own dating disasters.
She told us about the embarrassing experiences daring daters had shared on stage.
"One bloke got up on stage and told us about a girl he took out. He was taking her home, to her family home.
"But when he got there he realised he had taken her mother out the week before! He didn't see her again."
As the stage show is based on the actress' own haphazard amorous adventures, she shared her best and worst dating experiences.
"I think the worst date was when I was 16, I was going out with a guy who worked for the gas board, he picked me up in a gas van.
"I was wearing a beautiful yellow strapless dress from Topshop – this was from the time before spanks and we used to wear panty girdles, so I had this panty girdle on.
"As I got out of his car on the way home the dress ripped from the bum right to the top, I was mortified!
"As I got out of his car on the way home the dress ripped from the bum right to the top, I was mortified!
"I walked back up the path when he dropped me off backwards – waving goodbye – I didn't see him again either!"
Claire confirmed what we all know to be true, the best nights out are always with your best friends, raucous rather than romantic.
"Dates with my gay friends are the best, going to the theatre is always the most fun night out, but as for love – Jaxon is the love of my life now!"
It's clear that Claire has a real passion for theatre and musicials especially, as she said herself 'If I'm not performing them I'm out in the audience watching!'
As she prepares to add another string to her bow and tour nationally with her first stage show Sex in Suburbia, what's next for the versatile and ambitious actress?
"I have a new show on Magic FM talking about musicals, I'm a real theatre buff so talking about them every week and playing the best show tunes is a dream job."