Almost immediately after receiving the all clear from three different types of cancer in 2015, Patrick McIntosh boldly trekked to the South Pole in aid of cancer research. Fast-forward four years, and his appetite for adventure has shown no signs of abating.
The 63-year-old from Surrey is on track to complete his 7,500-mile cycling odyssey – a feat which will see him cycle half way around the world from Twickenham to Tokyo in under five months, arriving in good time for the opening game of The Rugby World Cup on September 20.
Speaking over Skype from the city of Vladivostok – Russia's answer to San Francisco – the cheer and excitement in McIntosh's voice is tangible. "Walking around Vladivostok, I might just as well be in Vienna. It really is quite extraordinarily European," he says.
It's here that Patrick will spend a few more days preparing for the last leg of his impressive journey that has so far seen him cycle through different time zones, northern Europe, and the entire breadth of Russia. Explained in numbers, this equates to 139 days, more than 50,000 metres of ascent and an average of 59.5 miles covered per day.
On the cusp of completing his challenge, I am curious to hear about the memories he'll cling on to in years to come. McIntosh is quick to point out his amazement at the sheer remoteness of large swathes of Russia. "There are so many places like Tobolsk – the original capital of Siberia – that nobody's ever heard of. We were even allowed to sleep in the Kremlin which was an absolutely extraordinary experience."
But like with any extreme, physical expedition, Patrick assures me there have also been plenty of slightly less euphoric moments. He says: "Some of the roads are really terrifying. You've got to see it to believe the size of the potholes."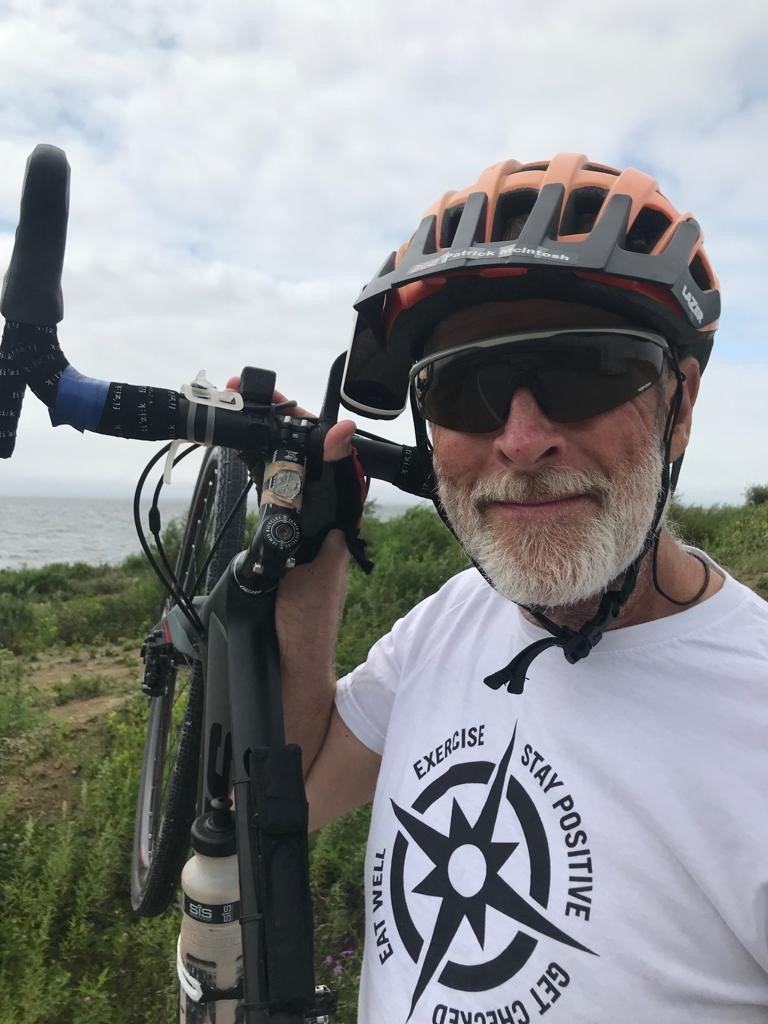 STAYING POSITIVE: Patrick says the hardest part is the mental challenge. Image credit: KMG Foundation. 
In terms of the weather, he recounts the time himself and friend Glen (driving the support van), got stuck in Chita for a few days when it rained so hard that the city streets flooded to become great, roaring rivers. Worse still was the time his bike got stolen. "We'd been too complacent and bolted it onto the back of the van, and then in the middle of the night somebody came along and very cleverly manged to cut through two bike locks," he says.
With 750 miles still to go, I wonder to what extent Patrick has been challenged. "Physically, it hasn't been that difficult. If you eat the right foods and you keep yourself hydrated, then actually, getting into the rhythm of cycling 70-100 miles a day really isn't that difficult", he explains.
"I've sailed oceans, I've climbed mountains, I've walked to the South Pole – and yet, with all of those things, physically, if you approach them in the correct way, they aren't that difficult to do." He goes on to explain that the toughest element of all has been the mental challenge. For all the physical preparations that these sort of challenges demand, it's clear to see that a person's staunch willpower will get them much further than they think.
He says: "It's about remaining positive and getting out there when the weather is boiling hot or pouring with rain. It's like doing an Ironman race every day for several months – it becomes extremely exhausting. You go into a bit of a zombie zone, try and get into a rhythm and do the same things at the same time every day. You become a bit like a metronomic clock, you just tick along and suddenly wake up three and half months later and think 'blimey, what happened there?'"
And of course, he is no stranger when it comes to tackling adversity. He's survived bowel, prostate and skin cancer all thanks to an early diagnosis and a steadfast determination to recover his strength. Part of his life-saving surgery saw him have 17 inches of his bowel removed. A gruelling experience to say the least.
When he talks about his recovery process, there is a steeliness to Patrick that is hard to ignore. "I have learnt the hard way. If you change your diet, do a bit more exercise and get to grips with your microbiome then you are much more likely to live a long, healthy life.
"Apart from my wife, nobody knew I had cancer for two years. She had to cope with the fact that I was in and out of hospital receiving treatment."
Fortunate enough to have defeated cancer three times, it's easy to see why this challenge means so much to Patrick. He's raising money towards the World Cancer Research Fund and St Catherine's Hospice in Surrey- the very place Patrick himself visited when he was undergoing treatment. He emphasises the importance of getting checked out as soon as possible. Certainly, it's encouraging to hear that if cancer is caught in either its first or second stage, then a person's life expectancy tends to be far greater.
For someone with such enormous drive and impeccable self-discipline, I am not the least bit surprised when Patrick discusses his spring 2020 plans to cycle across America from Seattle, through Iceland, Ireland, Scotland and Wales, before heading back home to Surrey. What already started off as an epic journey halfway around the world is set to become an astonishing expedition around the entire world.
Feature image credit: KMG Foundation.