At Christmas it's easy to become immersed in the trivial tasks associated with the festive period.
Wrapping presents, preparing dinner and enjoying a tipple or two with friends and family are all high up on the agenda.
But for more than 250,000 people ten years ago, the day became a poignant reminder of the moment their lives changed forever.
In the early hours of December 26, 2004, all festivities were swept away when the Indian Ocean tsunami invaded areas of Indonesia, Sri Lanka, India, Thailand, Maldives and Somalia.
While many of us will be able to recollect the horrific scenes that filtered through the news ten years ago our imaginations can only go so far in conceiving what was, and still remains, the absolute unimaginable.
Yet for survivor Charles Hewawasam, a priest who was conducting mass in Matara, Sri Lanka when the Tsunami struck, the day's tragedies remain firmly impressed on his memory.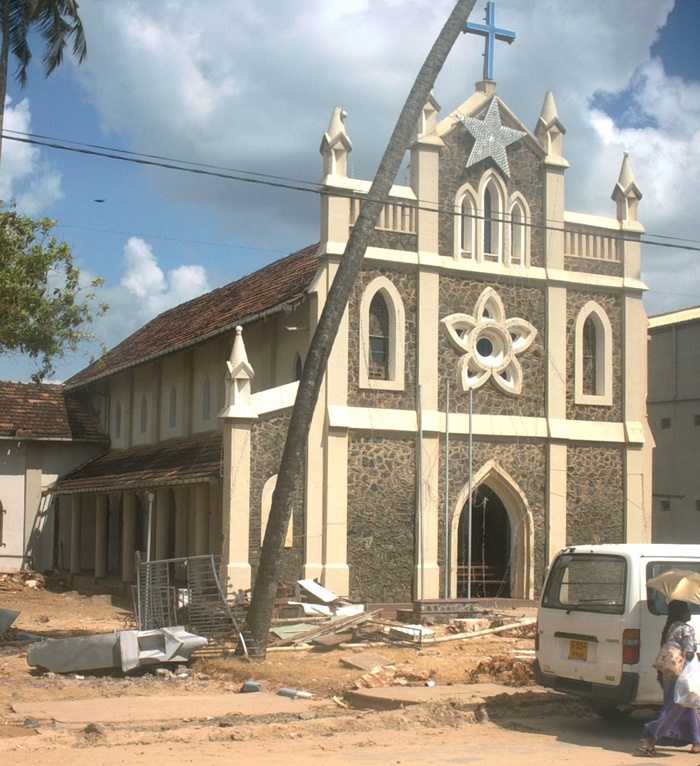 DAMAGE: St Mary's church in Matara, Sri Lanka, in the aftermath of the Boxing Day tsunami

Speaking officially for the first time to South West Londoner about his narrow escape from death, Father Charles recalled the last few moments of that fateful day ten years ago.
He described how he was standing at the front of St. Mary's Church at around 9.10am ready to hand out communion when a member of the congregation screamed: "Father! Run, please run now!"
Confused and concerned, Fr. Charles explained it was then that he looked straight ahead and saw what was to be the first of three mammoth waves carrying a large vehicle, fast approaching the church.
The 55-year-old of Weligama, Sri Lanka, said: "Up until that moment, the word 'tsunami' was an unfamiliar concept for us people in Sri Lanka.
"I did not know that this was a tsunami, nor what a tsunami really was.
"It was never something I ever had to worry about or fear. But of course, that was all to change."
According to Fr. Charles, there was no time to think or feel. That all came later. Panic-stricken, people ran in all directions alert, energised and full of adrenaline.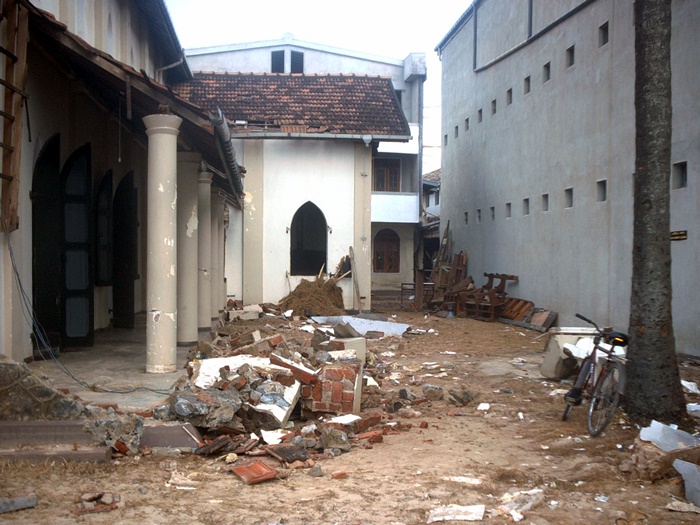 DEVASTATION: The aftermath of the tsunami in Matara
He said: "Urging everyone to run for safety, my first thought was to run and save our miraculous statue of St. Mary, otherwise known as 'Our Lady of Matara'.
"But it was too late, the water swept it away within moments. Everything had gone."
Yet three days later on December 29, after the water had receded, an unexpected visitor came to tell Fr. Charles that the miraculous statue had reappeared just 400m away from the church.
Despite being swept away among all the wreckage and ruin, it remained intact with only its carving of baby Jesus missing its hands.
Fr. Charles knew that if he wanted to survive he had to take refuge immediately and did so shortly before the second and third waves struck.
He said: "Again there was no time. No thinking. They just hit us.
"In comparison to the first wave, the next two were even more powerful and on a much more epic scale.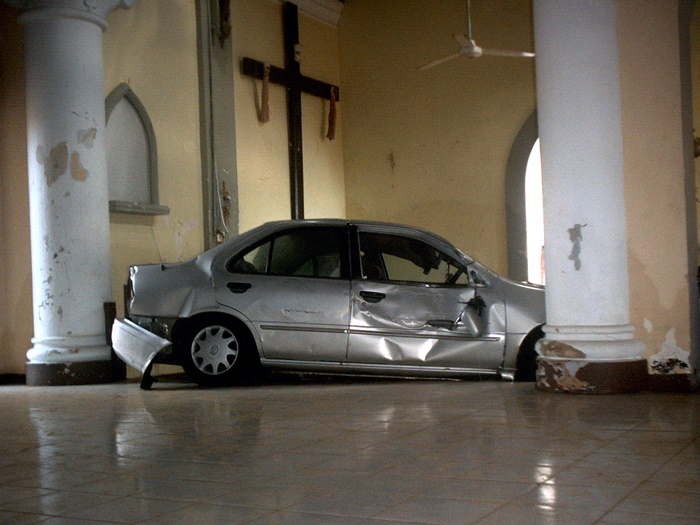 DEBRIS: One car that was swept away by the water and deposited in the church
"They just swept through. No words can adequately describe the unfathomable water that was before us."
"On noticing more deadly waves were on their way, I remember being urgently pulled away to the back of the church.
"There, many of us retreated into a building that had only been recently built.
"Oh my goodness without that building, that would have been it. I would not have been here today."
Not everyone sought seek shelter in the building.
"Some instead fled, tragically falling into the clutches of the raging waters.
In the aftermath of the first wave alone, Fr. Charles still recalls the countless injured and mangled bodies that surrounded him – some of whom were people he had spoken to only that morning before mass.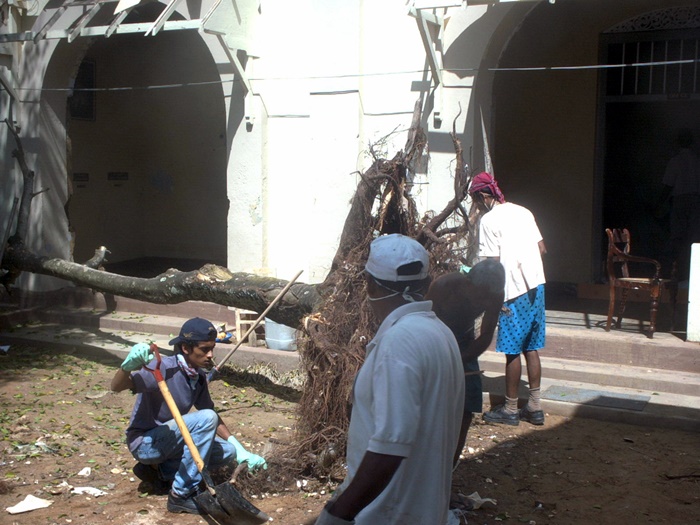 AFTERMATH: The clear-up operation in Sri Lanka
"Even with all this pain and suffering engulfing us, there was no feeling. There was only water, gushes of water," he said.
"There were cuts, injuries and physical wounds. But in the unreality of the situation, it was not possible to emotionally feel – not then. That happened later."
In the aftermath of such devastation how did people, like Fr Charles, piece their lives back together?
He said: "The tsunami took everything but it did not take away our love."
In the aftermath of the Boxing Day Tsunami there was immense suffering and grief, but also what Fr. Charles regarded, 'a real Christmas'.
He explained: "It was a time when the world came together.
"It didn't matter what nationality or religion people were – whether German, French, Sinhalese, Tamil, Buddhist or Catholic.
"There was one language we all had in common – the language of love.
"Within seconds our surroundings had turned into nothingness, but still we had each other to help get through the despair.
"It was a Christmas of sharing. Sharing clothes, sharing food and sharing shelter."
"In my eyes those who died are martyrs. They shut our eyes to open our eyes.
"Life as we knew it was washed away – for the first time we all saw each other as equals. We were all poor, vulnerable and suffering."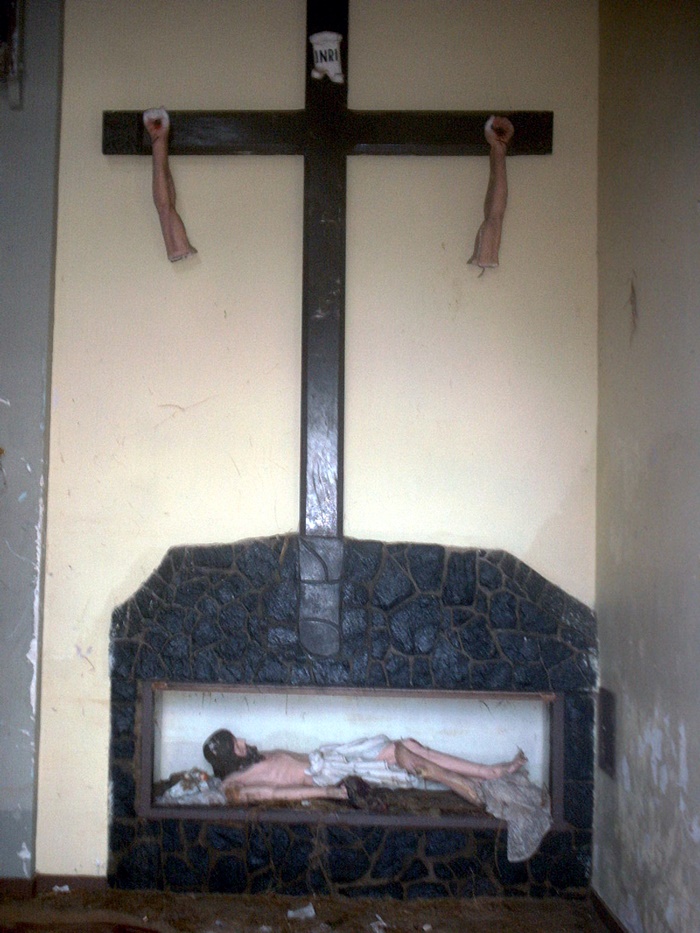 DAMAGE: The statue of Christ on the cross was swept away leaving only his outstretched arms
Now on the 10th anniversary of the tsunami Fr. Charles is helping to prepare a memorial in honour of all those who were tragically lost and affected by the deadly disaster.
Though now residing in Weligama, an area close to Matara, Fr. Charles said St. Mary's Church and its people, who he served for 13 years, will remain forever close to his heart.
He said: "The memories of that tragic day will always be with me, no matter where I go.
:It is something that I and so many others will have to permanently live with.
"I now know what hunger is. I too was wearing other's clothes, I too was crying for food and was thirsty for water…even though we had been surrounded by water."
"While I have not been the same person since, I am confident that God will not let this happen to us again.
"The tsunami was powerful, but not as powerful as our love."
 Featured picture courtesy of Australian Civil-Military Centre, with thanks