A Brixton boxing club formed in the wake of the London riots is after volunteers to help it continue its work with the community's youth.
Football coach Steadman Scott decided on the day of the 2011 riots that Brixton's young people needed something positive to focus on and he came up with the idea for Afewee Boxing Club.
With the aim of inspiring the area's disaffected youth and installing confidence and self control, the club has gone from strength-to-strength thanks to the help of volunteers.
"It's a very structured club and we have disadvantaged kids who really benefit from coming here," said head coach Bobby Miltiadous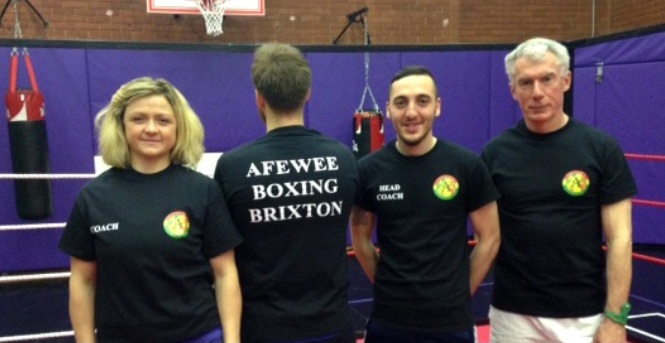 HARD HITTERS: The coaching team at Afewee Boxing Club
"A lot of them come from single parent backgrounds. The club gives them discipline and focus. It goes way beyond boxing.
"One of the dads told me that his kid gets into a lot of fights, but since he's come in here, he's channelled his aggression.
"He told me how he got into a fight but stepped away. That's a really big story for me to hear.
"It makes what I'm doing worthwhile. The club has had a very positive impact on him."
Despite its success, Afewee has been struggling to recruit enough volunteers to keep it running smoothly.
They work with Join In, a London 2012 legacy charity that helps put more volunteers into community sport, and a recent appeal for help was answered by female boxing coach Laurie Cooper.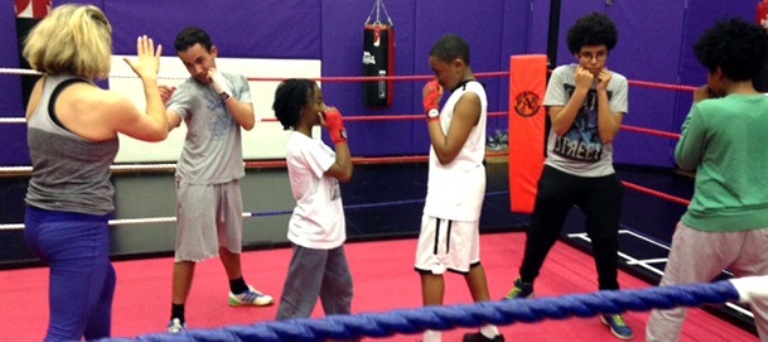 KEEP THOSE HANDS UP! Club members practise their defence
"I used to be a personal trainer," she said.
"I've always been involved with sport and fitness and Afewee was a great way to carry that on.
"I've always been a volunteer in some regard. When I moved to Brixton, I wanted to volunteer in the community and as I used to do some boxing myself, the club seemed the right thing for me to do.
"A lot of people think London is an isolated place and it's every man for himself, but when you volunteer, you realise there are communities still out there in London. It's good to be part of it.
"Obviously you are giving but you receive a great deal from it, becoming part of a team, helping people for the greater good.
"The drive is not money. I really like this because too often people in London are caught up in money."
As membership continues to grow though, the club are still in desperate need of more coaches.
"Volunteers are the heart and soul of boxing clubs," added Bobby.
"Boxing clubs don't make money, so volunteers giving up their time are so important. They are priceless to boxing clubs.
"Three months ago I was pulling my hair out because it was just me running all the sessions. But now people like Laurie are coming in. The team is definitely growing."
If you're interested in getting involved then email the club at [email protected], or for more information on other volunteer projects, visit www.joininuk.org.