In their pre-match tardiness many sporting fans may run to a game desperately hoping not to miss the referee's triumphant opening whistle.
However very few have pounded the pavement for 175 miles over six days to see the first kick of a ball.
Meet 41-year-old swimming pool engineer Ashley Varley, who arrived at Twickenham stadium last weekend to watch his beloved Harlequins at the London Double Header, running more than six marathons in six days to get there.
By dragging every altruistic bone in his body from Hastings, East Sussex via the rugby grounds of Wasps, London Irish, Saracens and Harlequins, Varley raised £2350 for the Lewis Moody Foundation.
The foundation facilitates experience days for families with seriously ill children and also funds brain tumour research.
For Varley, who's efforts would leave Pheidippides himself impressed, the run was merely a means to an end and with a small dedicated team around him, the goal was reached.
Over half way now and the first sign for Twickenham! Oh yes! http://t.co/uwAqAatjOB pic.twitter.com/hq27z3gwkP — 6in6 (@AshleyVarley) September 6, 2014
He told SW Londoner: "I'd hoped to get to £1500 and having the Cabbage Patch Pub in Twickenham on board was fantastic. They took just over £500 alone on the day – they were wonderful.
That's what it was all about. "I can run as far as I like but without the people who are willing to part with their money and people who are willing to get on board to help out it means nothing.
"As it went on it got longer and longer. Day five was a 30 mile run, it got harder as the days rolled on but it's just about pushing on through.
"Momentum really began to build, the amount of people that offered support and words of encouragement fuelled me to keep on going. It was just marvellous."
This outpouring of support from the rugby community extended to the Aviva Premiership clubs he visited.
He revealed: "When I went to Quins they gave me a pair of Nick Evans' signed boots and they took me on a tour round the stadium which was just incredible. It's quite humbling really, I didn't really expect all that.
Thank you @nick10evans for the signed boot! I shall treasure it my friend. I ran for the @LewisMoodyFdn raising £2350 pic.twitter.com/V3IFthuubK — 6in6 (@AshleyVarley) September 13, 2014
"Rugby promotes the values of teamwork and togetherness and looking out for each other so it's the ideal sport to do something for charity.
"The Aviva Premiership themselves do a lot to promote the charity. They did stuff on their website, The Rugby Paper were promoting us as well so it worked out fantastically, and Lewis was an absolute gentleman."
Ex-England captain and British & Irish Lion Lewis Moody, whose foundation inspired Ashley's run, said he was truly proud of the runner's generosity.
He added: "It was an incredibly difficult undertaking for him to do but for him to choose to do that for my foundation was very humbling", said Moody who won 71 caps for his country.
"It was an incredibly difficult undertaking for him to do but for him to choose to do that for my foundation was very humbling."
"We've been very lucky to have a lot of co-operation from people and clubs, it particularly helps to put the name of the foundation out there and we can now start doing other events around the country."
And not only did Ashley meet 'mad-dog' Moody himself at rugby HQ, but the family that inspired the creation of the foundation and the famous trophy that the 36-year-old flanker won in 2003, the Webb Ellis Cup.
"To actually be holding the World Cup next to an ex-England captain was phenomenal", revealed Ashley. "As a rugby fan it's one of the most wonderful experiences of my life. Third only to holding my daughters for the first time – an incredible moment."
None of this could have been achieved without plenty of hard work and a successful social media drive.
Thanks to everyone involved in 6in6 You were awesome! @QuinsRugbyUnion @premrugby @PaulMorganrugby @TheRugbyPaper pic.twitter.com/SExCzXlfT4 — 6in6 (@AshleyVarley) September 6, 2014
Ashley explained: "Support [on Twitter] like that is just fantastic, it is such a great network for a charitable exercise, it really gets people's focus of attention.
"I try to build it to a crescendo, to build momentum with the photos I post on social media. "I posted a picture of me with an ice pack on my knee and achilles as they were beginning to suffer and it sort of started from there.
"Then bizarrely people like Sharron Davies, Alec Stewart and Will Carling were posting my tweets which was quite surreal to say the least.
"I think once I was three or four days in people thought, 'he's going to pull this off, he's actually out there running' and it just skyrocketed.
The awful daily ice bath That must to be worth a donation on its own! http://t.co/uwAqAatjOB @premrugby @LewisMoody7 pic.twitter.com/RLZAuq7EE7

— 6in6 (@AshleyVarley) September 5, 2014
"On the last day the donations just went mad, people I've never heard were donating to me.
"I had people coming up to me at the game who had heard about 6 in 6, knew what it was about and what we were doing so the power of social media, Facebook and the internet is incredible now."
Moody said: "When Ash was undertaking it it was much easier to get people to buy in and tweet because he was actually doing it rather than preparing to do it.
"That is the nature of social media, it was wonderful to see how many people were re-tweeting, clubs and individuals, not always within rugby."
Day 5 & marathon 5 is in the bag! http://t.co/uwAqAatjOB @LewisMoody7 @LewisMoodyFdn @premrugby @CabbagePatchPub pic.twitter.com/LJP1mEdV0f

— 6in6 (@AshleyVarley) September 5, 2014
Moody, the former Leicester and Bath man, set up his foundation in 2013 having been moved by meeting Josh Rowley-Stark, a young Sheffield rugby player who sadly died from a brain tumour at the age of 16 back in 2012.
In Josh's final few months Moody arranged a day at a Six Nations match for him and his friends and later realised the impact this had had on the boy's life.
"It got me thinking that just by doing that one thing it made such a difference. So we set up the Lewis Moody Foundation in his memory.
"The biggest cancer killer of under-40s in the UK is brain tumours and yet it is one of the least supported cancer charities so I linked up with the Brain Tumour Trust.
"Part of the money raised will go to the experience days and part will be for funding research to stop brain tumours which claim so many lives.
"We are at the beginning process but things like Ashley's [run] and other events we have going on, like the bucket collections at the Premiership Final last year, have started to raise that money."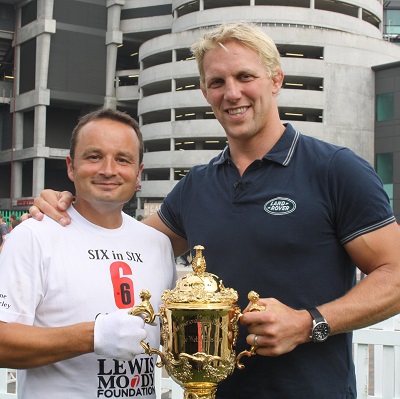 With 6 in 6 raising so much awareness for the foundation Moody predicts an exciting year ahead, especially with the Rugby World Cup on the horizon.
"We are hoping to have a big launch do in April and we are looking at some big fundraising in 2015 and we have set ourselves a target to raise £5 million by 2018 so there is a lot of work to be done," he said.
"Now the season has begun it is all starting to kick in and I'm quite excited about the year ahead seeing the amount of money we have been able to raise over the last 12 to 18 months.
"People like Ashley are key to it. The fact that people are prepared to give up their time and go out of their way to raise money for my foundation is massively humbling and the more people we have like Ashley the more successful we will be as charity so it is a great credit to him and all the other guys who are raising money."
As for Ashley plans are afoot for a new challenge including seven marathons in seven days, for the 2015 Rugby World Cup, and Moody has agreed to run alongside him for one leg of the journey.
For now however it's back to the daily grind for the Sussex marathon man.
Those swimming pools won't fix themselves.
To donate visit https://www.justgiving.com/Ashley-Varley1/
Pictures courtesy of Ashley Varley, with thanks