Stars flocked to central London on Saturday for a very special event. Photographers snapped, fans squealed and divas barked at their entourages. What made this different to any other A-lister gathering?
The celebrity guests were all dogs.
More than 70 of the UK's top Instafamous pooches hit Fitzrovia for Dogs of Instagram – a first-time gathering of the country's big names on social media, and four legs.
The day was organised by Emma Li, 28, founder-director of digital creative agency Familiar Kin and owner of Koda "the cloud" – a Japanese Spitz with his own Instagram page (@kodathecloud) and 2,651 followers.
"Earlier this year, I held a London Fashion Week event for Instagram influencers. The idea was to help them share ideas and sample products from different brands," Emma said.
"I wanted to see if the formula could transfer to the animal world, but had no idea if we could pull off having so many dogs in one space. Today was a real experiment."
Luckily the experiment paid off – the event was a sell-out hit.
Among the day's illustrious guests was Rocky (@RockytheTraveller), an English bull terrier who travels the world with his owner Danny, picking up Instagram followers as he goes – he's currently on 37,000.
Also delighting fans was Barry the pug (@barry_the_puggy). The social media sensation has starred in adverts for Virgin Media and LADbible, landing him with a following of 57,000 and rising.
Acquiring this many admirers is no walk in the park, as Barry's owner Nicole Lane, 31, explained.
"We constantly get requests from small businesses asking us to post a picture of Barry promoting their brand, but they don't realise it takes a lot of time, and sometimes money, to do this," she said.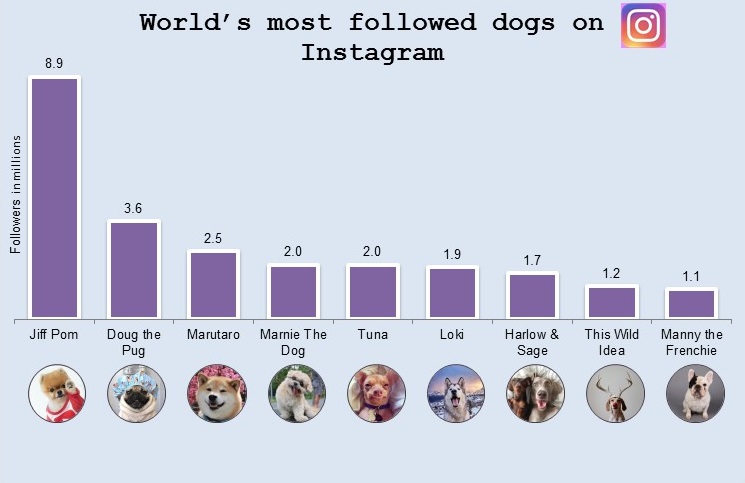 Specialist software and equipment is often needed to create picture-perfect content that social media users will 'like', and curating a popular social media profile requires hours of dedication – someone's got to respond to fans on Barry's behalf.
Still, there's a reason why companies keep pushing animal Instgrammers to promote their brands.
Pets sell.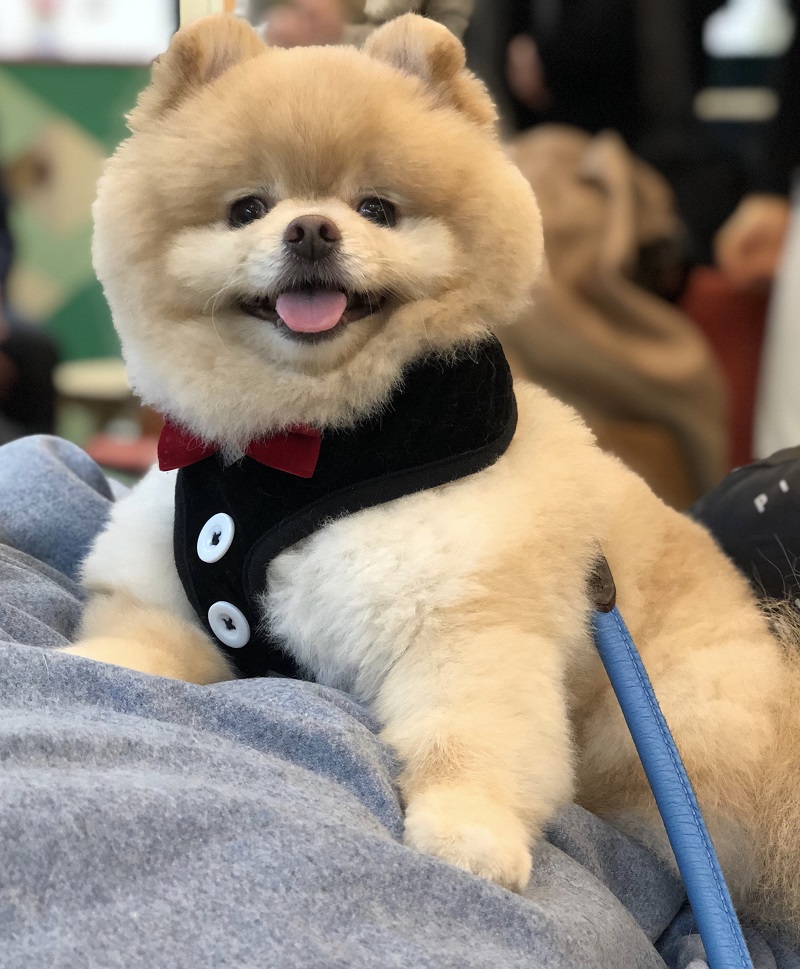 FLUFFED TO BE HERE: Cedric the pomeranian (@cedric.the.pomeranian) attended the event.
A 2016 study by NewsWhip showed Instagram user engagement increased by up to 295% on brand content that featured pets, with Coca Cola, Sotheby's and Nissan all reporting marked rises of 68%, 194% and 235% respectively.
Fortunately for pups and their owners, these results are not going unnoticed. Sponsors are rewarding pets handsomely for their support. Dogs with more than 3,000 Instagram followers can expect to earn an average of £50 per post.
The international market is a whole other ball game. Jiffpom, an LA-based pomeranian, is a three time Guinness World Record holder with over 30 million followers across all social media channels, including 8.9 million on Instagram.
His earnings per sponsored post are currently estimated at around £20,000 – a figure that will continue to rise as his fan-base grows.
Yet most dog Instagrammers will tell you they don't do it for the fame or the money – they do it because they love their dogs and want to share their pride.
Martin West, 37, who brought his pug Lilly (@little_lil_pug – 16,200 followers) along on Saturday, said: "The best thing about these events is that they bring like-minded people together."
"Of course we have friends from day-to-day life, but they're certainly not all mad about pugs. It's nice to meet people with the same funny old passions and to give the dogs a chance to meet too."
Martin and Lilly met Nicole and Barry at an organised dog walk last year. They've been friends ever since.
Judging by events like Dogs of Instagram, our canine celebrities are quite happy with the limelight.
Just as long as it keeps coming with artisanal treats, toys and plenty of cuddles.
Feature image shows Nicole Lane, 31 (with @Barry_the_puggy) and Martin West, 37 (with @Little_lil_pug).