A visually-impaired Kingston University student who unveiled her unique collection at Graduate Fashion Week last week has been shortlisted for two prestigious student fashion awards.
Bianca Von Stempel from Twickenham revealed her creations on the runway as part of Kingston University's show.
The 23-year-old was one of just 22 students who unveiled their looks on the runway during the 25th year of the annual fashion extravaganza at the Old Truman Brewery in east London.
Bianca was named one of six students shortlisted for the prestigious Sophie Hallette University Design Challenge, which celebrates innovative and creative use of lace, as well the Gala award.
The fashion student, who is registered blind and suffers from three conditions affecting her eyesight, bases her collection on how she sees the world.
One of Bianca's conditions means she does not have central vision so she can only see things an inch away, as a result she views the world in pastel shades.
To show this she used beige, pink and cream colours in her collection.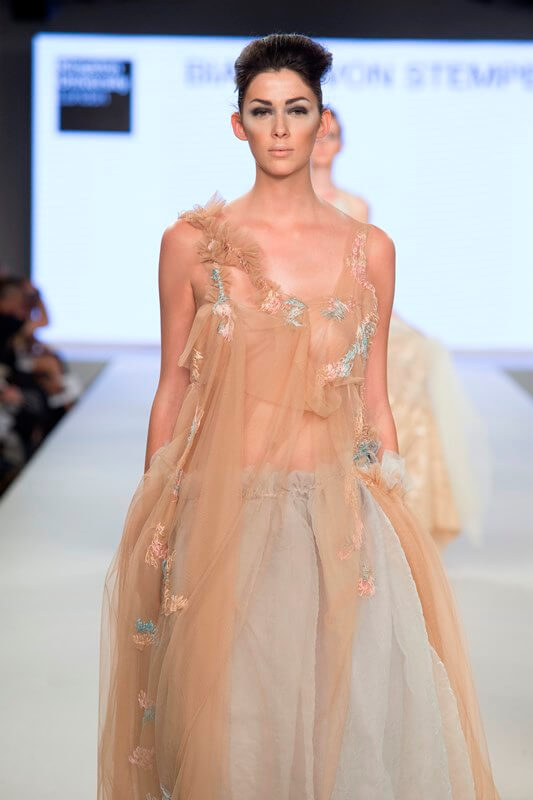 BEAUTIFUL: Bianca's feminine, asymmetrical designs are made from sheer and mottled fabrics such as organza, lace and silk chiffon
She said: "I can see colours to a degree, but they merge together, for example blue and green become a pastel turquoise to me."
Touch is an integral part of Bianca's work, and the fabrics she chooses are based on their feel.
She particularly enjoys working with organza, a sheer fabric made from silk, as while partly see-through it also creates a blurry effect.
She said: "It's like a frosted glass window, it moves really delicately and it's beautiful, you can manipulate it so much."
Bianca estimates it takes her 80 hours to make one piece.
After sketching her ideas, she places the fabric on a mannequin and uses her sense of touch to move the fabric into the desired place and then stitches together.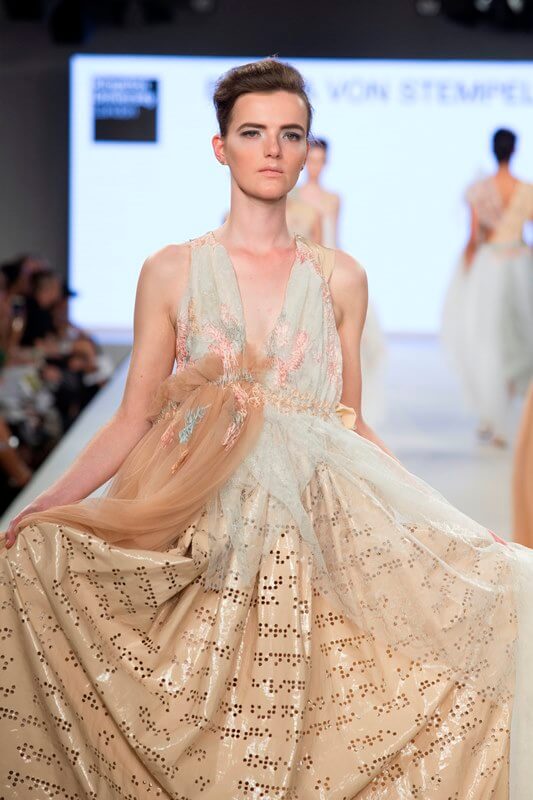 STUNNING: Bianca uses her heightened sense of touch to decide how pieces of fabric should be put together
The designer said: "All my work is done by hand. It's a really old way of working, and is similar to the haute couture methods they used to use at the high-end fashion houses.
"I find it so exhausting, I have to stand up so I can hold the material closer to my face.
"Sometimes I lose all track of time and have no idea how long I have been working for."
Bianca is a skilled braillist, picking up the tactile writing system aged just four.
She used braille in her work and her dresses feature a quote from American author, Helen Keller, the first deafblind person to earn a Bachelor of Arts degree.
The quote reads: "The only thing worse than being blind is having sight but no vision."
When asked about the future Bianca said she was looking forward to a well-earned rest, but also thinking about her own haute couture label and maybe a trip abroad for some design inspiration.
She said: "My grandma, Raphaela, passed away two years ago, she was a clothes-maker and she always made me these beautiful fairy dresses.
"I think if I started my own label I would like to call it 'Bianca Raphaela' in her memory, and if I could have anyone wearing my designs, I think it would be Kate Middleton."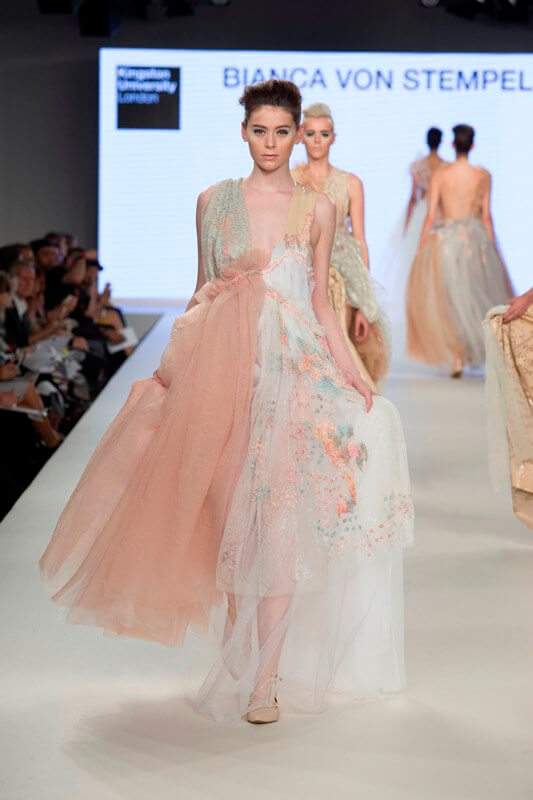 INSPIRING: Bianca uses her lack of sight in a positive way
Principal lecturer in fashion Andrew Ibi said working with Bianca had helped sharpen his tools as an educator.
"My role has been to help empower someone who's visually impaired to take ownership of their work.
"This has meant deconstructing some of the design processes and coming up with solutions that work for Bianca.
"We've had to re-write some of the usual rules — but that's what designers have been doing for years," he said.
"Bianca's an amazing hand sewer, illustrator and embroiderer — she has incredible tactile skills and is capable of really understanding clothing.
"She works like a sculptor, reverting back to an almost couture technique."
To see Bianca's collection in full visit www.biancavonstempel.com
Images courtesy of Bianca Von Stempel, with thanks