A west Londoner's pot-plant subscription business is aiming to make gardening more accessible for urban dwellers.
Sam Smith, born and raised in Shepherds Bush, launched his side hustle, Pot Gang, which offers a monthly fruit, veg and herb growing kits last July.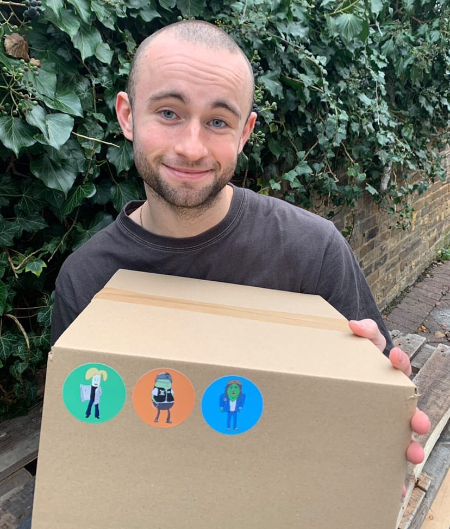 The 24-year-old founder, who works in advertising, began growing his own veg and herbs on his flat balcony last year, and spotted a gap in the market.
Sam said: "In the first lockdown I fancied the idea of growing some veg and herbs, and started getting really into it.
"I noticed that a lot of other people were doing the same thing, it was all over Instagram stories and on Whatsapp groups.
"But I felt like anything that was out there relating to pots and gardening was very serious, stuffy vibes!
"I felt like there was nothing out there that made it really easy to grow your own, in the sense of where to get the different pieces from. If you don't have a car, particularly living in the city, it's hard to know where to get all the compost, seeds and pots from." 
So Sam's solution was Pot Gang.
He hoped that through providing simple instructions, pots, seasonal seeds and soil, Pot Gang will make gardening fun and accessible, and reach those with limited amounts of space.
Sam and his small team of drivers deliver the monthly subscription kits across London.
He also launched 'Potline' a Whatsapp service where subscribers can send Sam queries about their plants or pictures of their progress.
Pot Gang not only aims to be accessible but also a fun and sustainable hobby.  
Sam said: "I wanted it to feel young, urban and fun and not that serious. Just something that brings a bit of happiness to people, open and joyful!
"If you're someone like me it was a new world and it's a bit of an uncertain thing which can easily go wrong. With Potline I feel like I've got a personal relationship with a lot of our members."
Despite many businesses suffering due to lockdown, Pot Gang has thrived.
Sam added: "I think starting off in the lockdown has actually only been a good thing for me. The more time you spend at home, the more appealing the idea of having nice activities to do becomes.
"But I don't think this is just a lockdown idea, I think people are becoming more environmentally conscious, perhaps reset by COVID lockdowns.
"For me the intention is to make growing veg and herbs at home as easy as possible for as many people as possible. For now we've barely scratched the surface in London.
"But doing it has made me see the best of humanity in so many ways. People are generally so nice about it and so positive, it's made me feel really fulfilled."
Sam hopes to develop more growing kits in the future and expand Pot Gang to other UK cities.
Featured image credit: Sam Smith