We've all been there. Had a couple of drinks, put a tie around our heads and rocked out with an air guitar to the synthesised strains of Journey's Don't Stop Believing.  
Although the instrument itself is imaginary, those who take Friday night's pub antics to the next level and perform in front of thousands will tell you that the performance is very much real.
Just ask two-time air guitar world champion Zac 'The Magnet' Monro what's so special about air guitar and he'll tell you that if you have to ask the question, you'll probably never understand the answer.
"It's escapism but only in the sense that it's more real than real," he explained.
"It's something about living in the moment that's very defining as a thing for people.
"You can't hide behind skill or talent, you're forced to bare your soul on stage in front of thousands of people, and you live or die by charisma."
The Brixton architect was 31 when he drunkenly bought a ticket to Oulu, Finland, to take part in the 2001 Air Guitar World Championships.
Asked for a stage name, he came up with 'The Magnet' on the spot knowing the importance of magnetics in music.
That performance in Oulu was the first time Zac performed competitively in air guitar, playing a cover of Blur's Song 2, and in winning he became the first non-Finn to scoop the coveted title.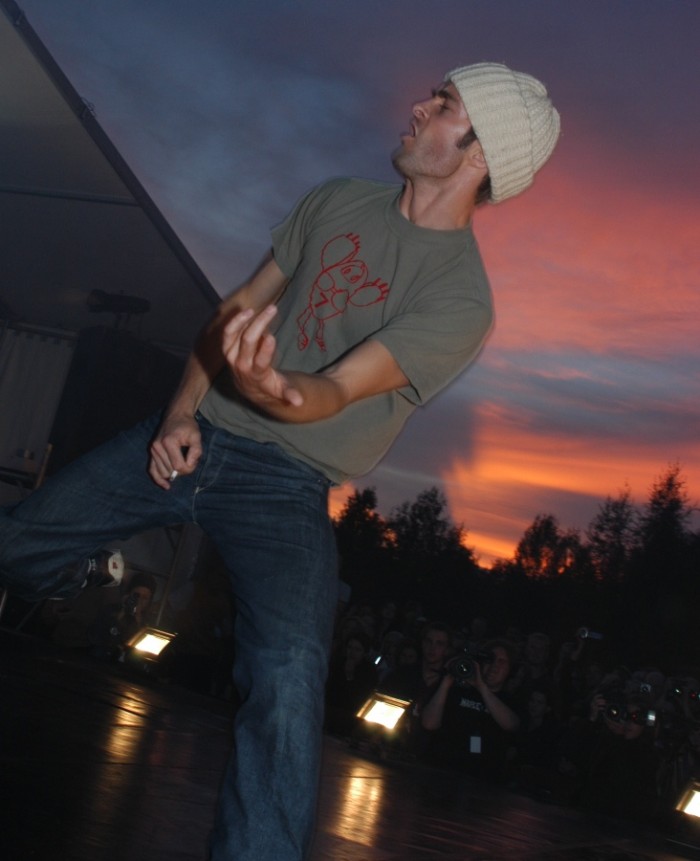 ROCKIN' OUT! Zac Monro performing in 2002
He said: "I was p***ing myself, but I think you just discover something inside.
"If you don't it's just a bit embarrassing, but if you do it's a wonderful revelation which in my case it was."
Another record was to follow, as The Magnet returned to Oulu in 2002 to become the first double world champion air guitarist.
At the peak of his air guitar prowess, he shocked the air guitar world by announcing his immediate retirement after his second victory, but his involvement in air guitar was not to end there.
It was in 2006 that he founded the Air Guitar UK (AGUK) Championships.
His aim was simple. To find a UK champion to represent the nation at the World Championships and spread the global message of how 'air guitar will bring world peace'.
For five years Zac ran the non-profit association, raising money for Teenage Cancer Trust and packing out venues.
He reminisced: "We originally put on the most successful and the biggest shows in air guitar at the Academy up in Islington.
"They were absolutely amazing shows with a thousand people and proper pyrotechnics and everything.
"They were extraordinary moments and everyone there was transformed by them."
Fast forward to today though, and the air guitar legacy Zac created is in serious trouble.
Fewer than 100 people attended last July to see long-time competitor Charlotte 'Boy Named Sue' Clarke become the first female AGUK Champion at The World's End in Camden.
With the cost of holding the event including the license fee to the World Air Guitar Championships and return flights plus two nights stay in Oulu, the costs were too high.
Air guitar may be built on honourable values of ending war, but all that counts for nothing when the championships are unsustainable to run.
The 2008 UK champion Danny 'The Midnight Moses' Robertson has been running AGUK since 2012, and he decided that the only way to keep the championships alive was to start a crowdfunding campaign.
He said: "I absolutely pushed it as hard as I could. I pulled out all the stops to let people know what the situation was but we didn't get enough pledges of support – barely half what we needed, so that was it.
"It was a heart-breaking decision, particularly in what would have been the 10th anniversary of the competition, and on the big 20th anniversary of the world competition, but that was that, there just isn't the fan base to support it."
For now, the UK championships are on hiatus. The Midnight Moses is winding up the AGUK in its current form, but feels if the publicity was there, the concept could survive, encouraging someone else to take up the air guitar baton.
"Whenever I talk to people about air guitar they say 'what the hell, a proper air guitar competition? That's f***ing amazing!'
"I just couldn't translate that to enough punters through the door to keep going."
As the UK struggles though, the World Air Guitar Championships go from strength to strength.
The Finns embrace everything that is air guitar, and this year a special postage stamp featuring 2014 winner, Japan's Nanami 'Seven Seas' Nagura, has even been released to celebrate the 20th anniversary.
Hanna Jakku, press coordinator for the World Championships, to be held from August 26-28 in Oulu, said this year will be the biggest staging yet.
She said: "It feels great to see how something this absurd can connect people all over the world, and has been doing so for two decades!
"That's where the message of world peace really becomes true.
"It's sad to see the UK nationals won't happen this year and therefore we're lacking the official national champion however, we're looking forward to check out the best UK challengers in the Dark Horses' qualifying round.
"Since the UK is traditionally one of the strongest air guitar countries, we're hoping to get some good entries in the Oulu qualifiers."
Featuring in the qualifiers will be two former UK Champions – Thom 'W!ld Th!ng 37' Wilding, champion in 2009, 2010 and 2013, and Guy 'The Bandit' Thompson, champion in 2011.

TO AIR IS HUMAN: Thom 'W!ld Th!ng' Wilding at 2013 world champs (© Maiju Torvinen)
This offers some hope that there will be UK representation in the finals next month.
While The Magnet has moved on with his life he will always be a part of the air guitar community.
Just last week he had dinner with former Chicago regional champion Aaron 'Dry Ice' Alonso and Dan 'Bjorn Turoque' Crane, author of To Air is Human and star of film Air Guitar Nation.
Zac explained: "It's a brotherhood, all be it men and women, and it's just wonderful."
Today he is kept busy by his architecture business, from working on what he describes as the most socially responsible development in Brixton for 50 years, to filming a show for Channel 4 creating bold home improvements, set to be broadcast next summer.
Nevertheless the spirit of air guitar lives on within him, and he encourages everyone to give it shot.
"There's no way of knowing if you've got it or not, the best actors in America have tried and they've failed horribly, and nobodies from the streets of Brixton have tried and they've succeeded."
"I think it's just a wonderful truly democratic activity that is very true in its ridiculousness."
Although the future of UK air guitar looks a little bleak, as the chaps from Journey would say. Don't stop believing.
To enter the Dark Horses' Qualifying Round, or for more information on the Air Guitar World Championships, visit http://www.airguitarworldchampionships.com
Pictures and videos courtesy of World Air Guitar Championships, with thanks