Gin and tonics feature in many people's summery weekend but few would claim their passion lasts longer than it takes for ice to melt in the glass, apart from one Tooting ginthusiast that is.
In her small kitchen she is lovingly brewing a gin of her own, Graveney Gin, and the first batch will be ready for July.
Victoria Christie was born in Malawi a country whose colonial heritage is synonymous with the juniper-based spirit and the origins of Britain's beloved G&T.
Used to counter the unpalatably bitter flavour of quinine, gin served a necessary function as part of the most commonly available form of anti-malarial medicine.
"The smell of gin and tonics always takes me back to my childhood. My Mum drinking gin with this wonderful Indian tonic is a permanent memory etched in my mind," the 32-year-old recalled.
"But it was only when I moved to London that I truly developed an appreciation for it."
I only drink Gin on two occasions: when i am in love and when i am not – slightly modified from Coco Chanel

— Graveney Gin (@graveneygin) February 20, 2015
As a digital banker in the City, Victoria's life became split between her passion and her day job but if early indicators are correct, this may be about to change.
"What I'm doing now is not necessarily the dream job and I can't help but think how amazing it would be to get into an industry I am excited by," she said.
"I've bought loads of books and done so much research online but the main thing I have managed to do is tracked down a beautiful copper still from Germany."
The ornate piece of equipment, central to the distilling process, takes pride of place on her kitchen counter but a big part of Victoria' s plans stretch beyond the gin itself and into the Tooting community.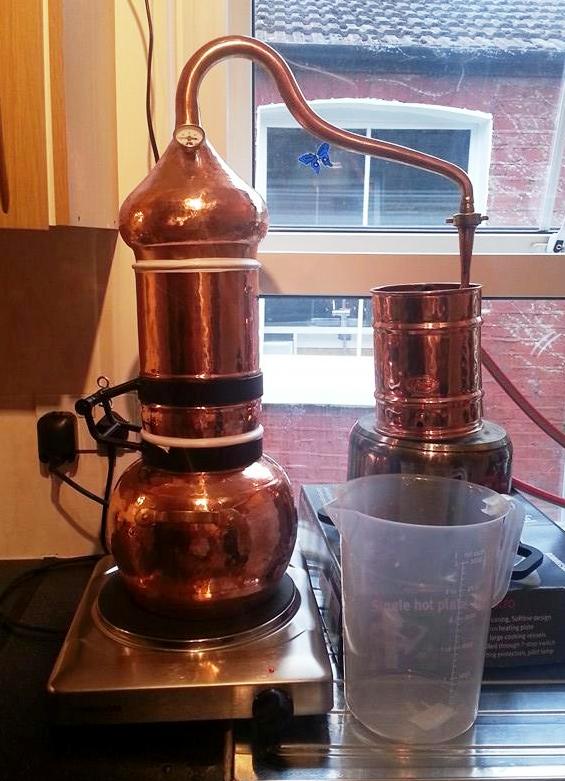 All of the botanicals, such as pink peppercorn and the unusual baobab fruit (with its earthy, fruity tang carrying strongly into the gin's flavour profile) have been sourced from Tooting High Street.
Even the water, used to make the base spirit, is purified in the area.
Victoria said: "I feel a sense of responsibility, a sense of ownership and I'm not sure what yet but Tooting means so much to me that not only do I want to help local traders but I want to give something back."
Wish I could do smellatwitter, deep breath in hmmmm #newgin pic.twitter.com/f1bMGAqgCZ — Graveney Gin (@graveneygin) August 23, 2014
Through establishing a charity of her own or handing a percentage of the profits to a community scheme, she hopes her passion can touch the lives of others.
Victoria would also love to educate people about gin. She plans to run lessons on how to appreciate the spirit and how people can follow her footsteps in distilling their own.
But, she laughingly admittted: "For now I think I need to focus on getting my own gin ready!"
Beautiful day in London, perfect day for a G&T

— Graveney Gin (@graveneygin) March 10, 2015
By late June, Victoria plans for all the packaging and design to be complete with the first consumer test sessions coming soon after in Tooting bars.
"I am connected to Tooting. For me, it has the best curry in the whole entire world along with so many butchers and funky bars. You can find absolutely everything here, it has a mixture of all walks of life," she said.
"If I can get to do what I really love and eventually give up banking then this is what I will do for the rest of my life."
The final step to make Victoria's dream a reality will be an alcohol license from HMRC but until then there's nothing she can do but wait… and maybe pour another G&T to pass the time.