Goggles, flippers and jelly babies are at the ready as two Wandsworth women prepare to swim across the Straits of Gibraltar for the Royal Marsden Charity next week.
Swimming the Channel wasn't enough for Lisa Williams and Kerry O'Hara as they fly out to Spain tomorrow to swim to Morocco.
Lisa, a national account director, swam the Channel in memory of her friend Elaine D-Costa who died of cancer at the age of 39 in 2013 and has raised more than £8,000 for The Royal Marsden Cancer Charity to date.
Lisa hopes to complete the swim from the coast of Spain in between four and six hours — but there are a lot of obstacles between her and shores of Morocco.
The water across the Straits of Gibraltar will be around 16/17 degrees — ten degrees less than the average swimming pool.
The 38-year-old said: "The swim is a lot shorter than the Channel but there are more problems with the wind and currents etc.
"There are more water mammals which we are not looking forward to, including dolphins, whales and sharks.
"The Channel is a lot wider so the boats are further away but with the Straits the distance is a lot closer so you get a lot closer to the boats so we have to have to deal with that as well."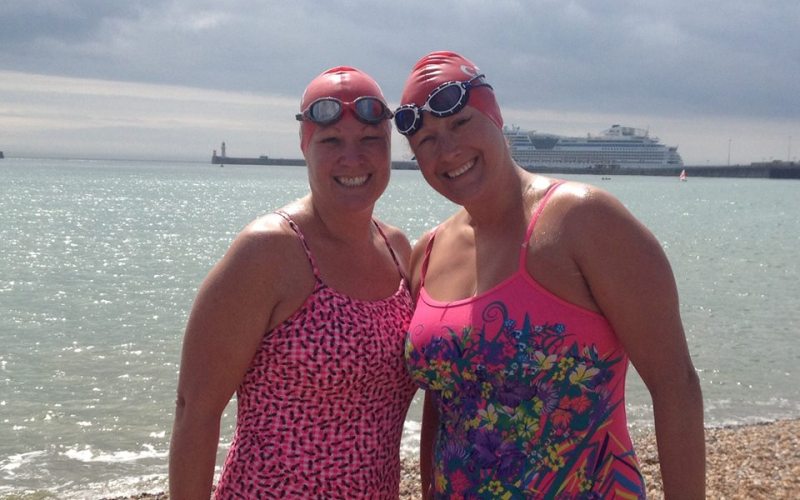 SWIMMING SUPER STARS: "Every time I have started on a beach getting ready to go I have always believed in myself"
The pair met on a Facebook group a year and a half ago. They now both swim at Tooting Bec Lido and are members of Spencer Swim Team.
As well as the tests of the physical training, Lisa has had to battle with mentally coping too.
She said: "Last year when we were training we would be swimming for six to seven hours and I would just burst into tears and Kerry looked at me like 'Why are you crying?'
"I generally struggle quite a lot with the self-belief and so Kerry is great for that. She will just give me a hug and a jelly baby — we hide sweets down our swimming costumes!
"If you are feeling down you can have a sweet and the world is a better place.
"It's great having someone there to remind you that you can get through it."
Lisa and Kerry fly out tomorrow and have been given a week slot from Saturday-Saturday when their swim might take place.
Lisa explained: "With long distance open water swimming you never know exactly when you are going to get to swim due to the weather.
"Pilots give you a week slot and you hope for some good weather during that week."
Lisa has already swam across Lake Windermere, Lake Zurich and the English Channel.
After she completes her swim from Spain to Morocco she would have completed two of 'Ocean's Seven' — seven long-distance open-water swims considered to be the marathon swimming equivalent of the Seven Summits mountaineering challenge.
But she isn't stopping there. Lisa has already planned to take part in the Scilly Swim Challenge later this year.
She said: "We are doing another swim in September which isn't as well known. It's around the Isle of Scilly. You swim between the islands then walk then swim etc. It's a bit more sociable!"
To sponsor Lisa click here.