Two mums who run a Fulham community group are fundraising to make coach trips more affordable for families living in deprived areas this summer.
Part-time school assistant Jemma Greenslade, 34, and beautician Ashlie Stephens, 34, from Fulham, who run Community Days Out aim to raise at least £1,000 towards costs for families to be able to afford to go on beach day trips.
The pair organise coach trips for the community and started a JustGiving page to fundraise after a few families reached out to the group on social media about costs.
Miss Stephens said: "They were just saying they'd love to go, but because they've got say four children, even those prices are still too much."
Miss Greenslade said: "That's why if we could get a little bit of funding, if they're on benefits or on a very low income, we can then slash their price because we've got a little bit of a budget to be able to."
Coach trips started initially for family and friends of the two mums, who grouped together as Community Days Out in summer 2018.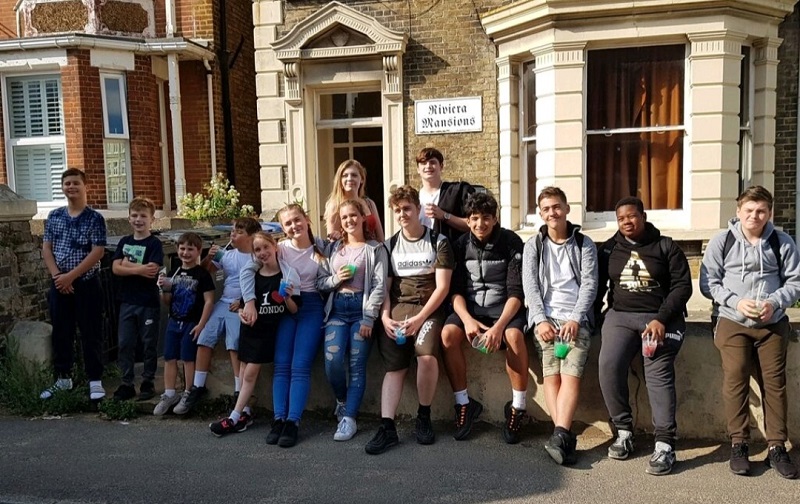 ALL SMILES: The children and parents often from friendships on the day trips.
Coach trips are £16 per person which covers everything, with an extra £5 deposit, but there is a payment plan available to make it more affordable.
Full-time carer Claire Whittington, 41, a previous trip member, said: "My son gets to make new friends out of his school because they're all in different years and different areas."
She added: "He still maintains friends because of the last trip we went on."
Both the mums bring their own children to the trips, including Miss Stephen's children Noah, 9, and Aubrey, 5, and Miss Greenslade's children Jamie, 9 and Joey, 6.
Miss Whittington has previously brought her daughter Shauna, 21, and sons Robbie, 18 and Jay, 9, on coach trips.
She said: "They've all been, it's great for even their ages to come along."
Miss Greenslade said their main aim was to get the community together and to stop isolation.
According to the index of Multiple Deprivation (IMD) 2010, Hammersmith and Fulham is ranked 13th of deprived local authority areas out of the 33 London Boroughs.
Miss Stephens said: "The whole reason we wanted to do this was to give more of an opportunity to those in deprived areas within Hammersmith and Fulham to be able to enjoy and do stuff with their kids."
She added: "You tend to find as well you get new mums to the area who don't really know anyone, but coming on the trips they make friends because they find that their kids get on and then they end up building friendships outside of the trips.
"Everyone has such an amazing time, the feedback is all brilliant, it's so good."
Miss Greenslade said if a family of four were to go by train to Broadstairs it would cost about £140, and that's just for the train.
Community Days Out summer trips will take place in the six weeks holiday.
Miss Whittington said: "I think if there wasn't community days, my kids wouldn't get a day to the seaside this summer because it's too expensive."
The group will visit Broadstairs Viking Bay in July, Alum Chine, Camber Sands, Margate Beach, Greatstone Beach, Herne Bay Beach and West Wittering Beach in August.
There's a mixture of elderly people, adults and children who attend the trips.
The mission for Community Days Out is to have their own coach.
Miss Greenslade said: "It would be amazing."