A Twickenham actor will appear in a new Shakespeare production with a twist next month.
Jonathan McGarrity will perform in a production of Taming of the Shrew where actors are only given their own character's lines and cue lines, a process known as 'cue-scripting'.
The actor said he had no idea what roles his fellow performers would be playing, which would be revealed on opening night.
The process of cue-scripting dates back to Shakespearean times when playwrights would not give actors full scripts for fear they would be copied by rivals.
Jonathan described the process as a little frightening, but said it brought a great deal to performances.
He explained: "Because you don't know what's coming, you are absolutely, always, 100% listening, not only for your own lines but also to get a feel for what in fact is happening.
"It brings a certain electricity to the performances that you might not get where you've had the benefit of seeing the full play beforehand."
The 41-year-old actor appeared in the same theatrical company, Shake-Scene's, production of The Merchant of Venice last year and is looking forward to working with director Lizzie Hughes again.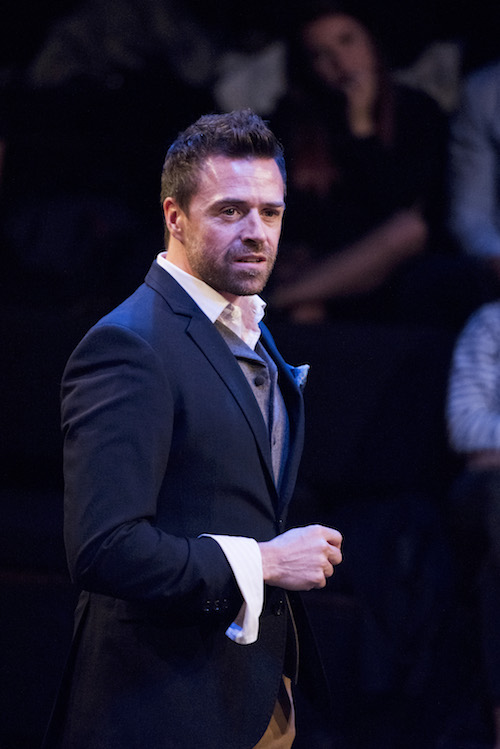 Photo by Camilla Greenwell
"Her enthusiasm just rubs off on you, she's someone that you want to work with, simple as that," he said.
While cue-script performances are very rare, McGarrity believes they bring a special dimension to plays that more traditional performances cannot.
He said: "Cue-scripting can be messy, but it does bring a more everyday, human reality that you just don't get with other performances."
Many of Shakespeare's plays feature cue lines that are repeated throughout speeches, which leads to interruption and overlapping in cue-script performances.
Jonathan said: "All of these mechanisms were put in for a reason.
"To ignore this would be to gloss over his intricacies.
"Shakespeare's characters have a real need to speak, and cue-scripting allows that to proliferate."
The Taming of the Shrew is considered one of Shakespeare's more controversial plays and has faced accusations of underlying misogyny.
The Twickenham thespian, who moved to south west London after graduating from performing arts school ArtsEd in Chiswick, said he was looking forward to exploring these themes during the performance.
"Shakespeare is pointing out the ridiculousness and the ludicrousness of trying to tame someone else.
"It's a play that underlines the stupidity of the actions of trying to be misogynistic."
The Taming of the Shrew opens on Monday 8 October at the Tristan Bates Theatre in Covent Garden.
Feature photo by Camilla Greenwell.