A 5,000-mile cycle around the British coast is the daunting task ahead of a south west London builder who pedals off today to raise awareness about the mental illness that almost ended his life.
Tim McKenna, 45, struggled with his mental health for many years, without understanding the cause, and attempted suicide on multiple occasions before finally being diagnosed with bipolar disorder in 2012.
He said his life changed for the better when he contacted charity Mind and the Time to Change campaign who helped him come to terms with his illness.
"They made me realise that having a mental illness is nothing to be ashamed of and that I wasn't alone," he said.
"They gave me the tools to deal with my illness and a platform to express myself – I owe them an awful lot."
To give back to the charity, Tim plans to cycle the entire coast of Britain, a 5,000 mile journey that will last for 10 weeks.
Heading off first thing for a two-day shakedown trip to the Cotswolds… I leave on the big trip a week tomorrow! 😊 pic.twitter.com/HgDBt14Yzs

— Tim McKenna (@TimMcKenna5) May 24, 2016
Along the way he plans to camp outside and stay with friends but said he has also been inundated with offers of accommodation on social media.
He said: "I am amazed at the support I have received so far. To have already raised more than £1,300 of my £5,000 target is beyond my expectations."
Two days to go, and I am ready… #cyclethecoast pic.twitter.com/BSBPu35OPo

— Tim McKenna (@TimMcKenna5) May 30, 2016
Tim was initially diagnosed with depression in 2007, a potentially dangerous case which he said triggered a manic episode after he was prescribed the wrong medication.
He said the state of his mental health started to worsen after his sister, Vic, 33, committed suicide in 2006.
Although they had lost touch in the years leading up to her death, Tim said the shock of the news she had hung herself triggered a downward spiral which eventually lead to his first suicide attempt in 2010.
But once he received a diagnosis of bipolar disorder he was able to find ways to stay on top of his illness, taking up exercise and mindfulness as well as attending support groups.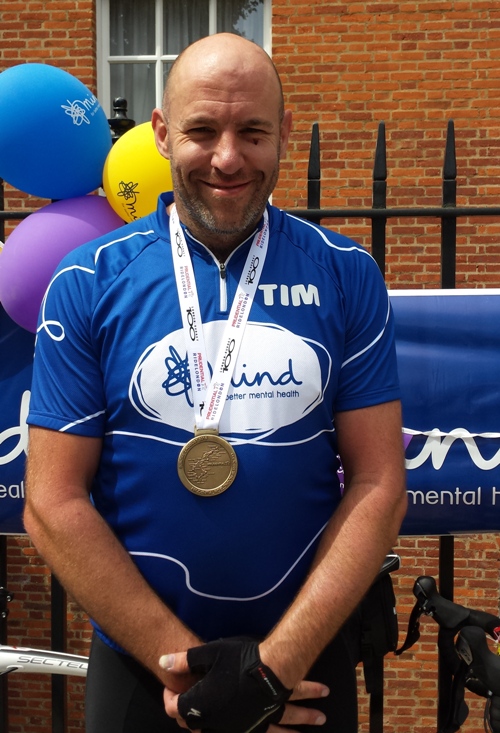 He said: "It's not easy to stay on top of it – I had a relapse last year and ended up in hospital – but life has got a whole lot better now.
"I can recognise the warning signs of a manic episode coming and can make adjustments if I need to."
Tim particularly credits cycling with helping him to cope with the effects of bipolar disorder.
He said: "I call it Mindfulness on Wheels because when I am out on the country lanes I can forget about my worries and just think about my immediate surroundings."
My film with @TimetoChange about how the little things can be so important when you're struggling #mentalhealth https://t.co/llc6mNvWlA

— Tim McKenna (@TimMcKenna5) March 27, 2016